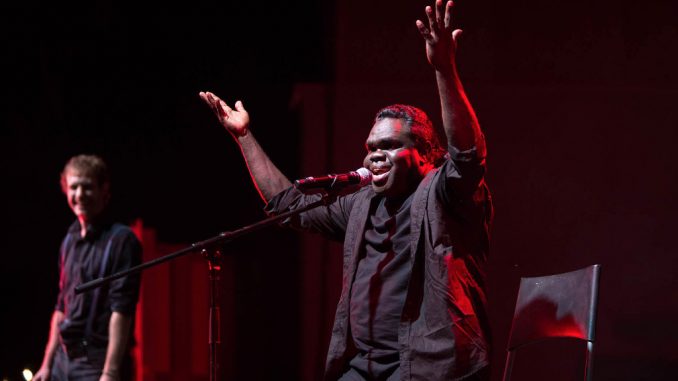 Newcomer and rapidly rising star Gawurra took home a swag of NIMA Awards winning New Talent of the Year,  Album, Cover Art and Film Clip of the year – the latter being presented by Jack Thompson.
Song of the Year was awarded to Briggs for The Children Came Back – featuring Dewayne Everettsmith & Gurrumul Yunupingu.
In remote Aboriginal communities film clips are powerful modes of communication. They play crucial roles in educating communities and delivering important messages of all kinds. This year's National Community Music Clip went to Break the silence a clip produced by the remote South East Arnhem Land community of Ngukurr. The community partnered with the Ngukurr School, White Ribbon Australia and Indigenous Hip Hop Projects to create a film clip and resource touching on the powerful messages of the White Ribbon campaign – Break The Silence.
The NT Traditional Song of the Year was awarded to Ishmael Marika for his song Two Sisters Journey.  The Wäwilak (Two Sisters) story tells of the creation of the world and the establishment of rules, which govern behaviour, of the encounter between human and animal ancestors, who in the process make sense of their world and its creative forces. Expect to hear more from this young artist out of Yirrkala NT.
And last but certainly not least the NIMA 2016 Hall of Fame inductee is the remarkable mentor, Statesman and Elder; Kutcha Edwards.  The Mutti Mutti man from Victoria Kutcha Edwards has been producing music and tirelessly serving his people for more than 30 years.
"The power of music in protest was up on stage for all to hear at the NIMA's.  Witnessing some of the countries leading indigenous voices bringing new light to seminal songs of protest brought home the continued relevance of those songs in the current political landscape," says Mark Smith – Executive Director of MusicNT & NIMAs.
The highly anticipated "Protest Song" segment kicked off with emerging artist Yirmmal and his father, the Elder Witiyana Marika [Yothu Yindi]. Father and son sang in a special traditional dance (Bunggul) by members of the Rirratjingu Clan from N.E Arnhem Land in honor of the 'Father of Land Rights' Roy Marika.
This was followed by a breathtaking rendition of They Took The Children Away by Alice Springs based Father and daughter duo Rayella. Then came the night's biggest winner Gawurra with his inimitable version of the Goanna Band classic Solid Rock. Kahl Wallis gave the audience a sneak peak of his solo material with an original composition titled Children of the Revolution. Shellie Morris also chose an original with her new song Man of the Land, a composition inspired by the stories of two old men losing their land due to bullying from the higher powers of society. Shellie also joined newcomer and NIMA nominee [New Talent of the Year] Chris Tamwoy with a spiritually toned version of My Island Home. Then the night went upbeat with powerful renditions by NT artists David Spry belting out Beds are Burning and punkrockers Lonely Boys giving Blakfella Whitefella their edge. Just when the crowd thought it couldn't get any better out came YouTube sensations Djuki Mala with a specially choreographed dance piece to the iconic Yothu Yindi classic Treaty. The energy amped up once last time for the grande finale when all performers came together and belted out the Yothu Yindi classic Tribal Voice; holding its power more than ever since its release 30 years ago.
This year's triple j Unearthed NIMA competition winner Kuren opened the show and was followed by AB Original, Kahl Wallis, Gawurra, Shellie Morris, Warren H. Williams with Danielle Young and emerging artists Rayella, Chris Tamwoy, David Spry, Lonely Boys and Yirrmal with his father Witiyana Marika [Yothu Yindi]. These musicians were augmented by exclusive dance performances by The Rirratjingu Clan from North/East Arnhem Land who brought to Darwin one of the largest group of dancers in years for a special traditional performance (Bunggul) by members in honor of Roy Marika the 'Father of Land Rights. ' Djuki Mala won the hearts of the audience – young and old with their specially choreographed performance of the increasingly relevant anthem – Treaty; now 25 years old and more relevant than ever.
2016 National Indigenous Music Award Winners
Artist of the Year
Gurrumul Yunupingu
Album of the Year
Gawurra
Song of the Year
The Children Came Back – Briggs
Written by Gurrumul Yunupingu, Archie Roach, Corey McGregor, James Mangohig and Adam Briggs
Performed by Briggs, Dewayne Everettsmith & Gurrumul
New Talent of the Year
Gawurra
Cover Art
Ratja Yaliyali – Gawurra
DESIGNER: Jalyay JAJA Thompson
Film Clip
Ratja Yaliyali – Gawurra
DIRECTOR & PRODUCER: Pippa Samaya
Community Music Clip
Break The Silence
Ngukurr Community, Indigenous Hip Hop Projects, White Ribbon
For a more detailed insight >>: Starting A Conversation – Ngukurr Community and White Ribbon
Traditional Song of the Year
Two Sisters Journey
Ishmael Marika
Hall of Fame – Kutcha Edwards
Also announced at NIMA for the first time this year was the best Unearthed High entry from an Indigenous artist. Tia Gostelow from Mackay won the Inaugural award which includes the prize of ongoing mentoring from the Association of Artist Managers (AAM), as well as a song-writing workshop at their school by the APRA AMCOS Song makers program.
This year NIMA aligned with the 33rd Telstra National Aboriginal And Torres Strait Islander Art Award (NATSIAA) and the Darwin Aboriginal Art Fair (DAAF).  These three key events held annually in Darwin for years combined their efforts and presented a weekend rich with culture showcasing the best of Aboriginal and Torres Straight Islander excellence.
NIMA Awards Ceremony & Concert: was held on Saturday 6th August at the Darwin Amphitheatre, NT. Over 1.2M listeners had the opportunity to tune into NIMA live on the night through the Community Radio Network.
This evening of Indigenous greatness hosted by Catherine Satour was filmed by NITV for a special two-hour program scheduled for screening on Saturday 20th August at 9.30pm.
For more information please visit> nima.musicnt.com.au
The National Indigenous Music Awards are an initiative of MusicNT and are presented in partnership with the Northern Territory Government and are part of the Darwin Festival.