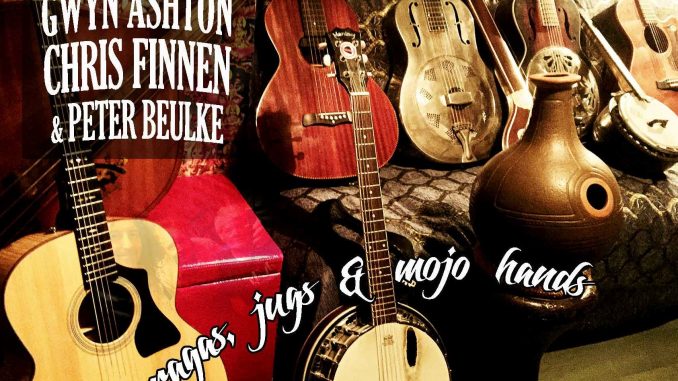 Australian bluesmen and pals Gwyn Ashton & Chris Finnen are both inductees into the South Australian Rock Hall of Fame. Ragas, Jugs & Mojo Hands now marks the first time these axemen have collaborated on a recording. The result is not the usual acoustic blues/roots album you'd expect from a couple of cracker Aussie blokes. Raw and spontaneous, Ashton and Finnen have got their musical mojo working overtime. One would never be able to guess that they recorded this release over a mere two days.
High energy acoustic soldiers Gwyn and Chris weave wicked blues grooves, infused at times with occasional Indian vibes (as on "Moravian Rhapsody" and "Migration"). Gwyn's and Chris' resonator and steel string acoustics are assisted on the disc by upright bassist Peter Beulke. Extensive slide sections abound, along with banjo and exotic percussion. The vocals are split up equally between Ashton and Finnen, with plenty of dual harmonies. Gwyn's vocal lines on lead-off track "I Can Feel That Mojo Working on Me" sum it all up for these two honky-tonk men – though they've never been shackled on a Mississippi chain gang or hoboed cross country on a freight train, Ashton and Finnen channel the blues as though they've lived and breathed it.
Gwyn Ashton will be touring solo in Australia throughout December in support of Rags, Jugs & Mojo Hands. Check his website, www.gwynashton.com, for tour dates.
By Perry Grayson