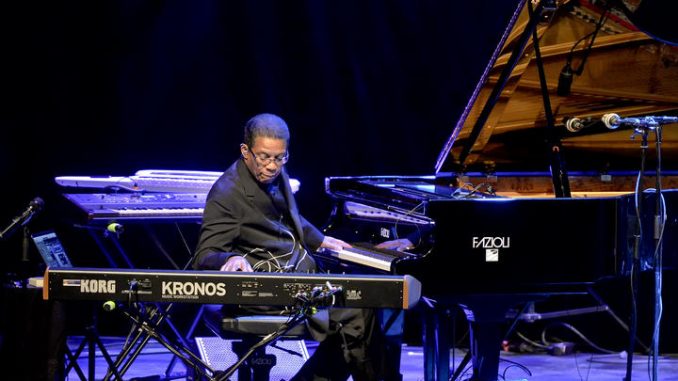 By Tony Hillier
Herbie Hancock runs hot at Hamer Hall (2019 Melbourne International Jazz Festival)
Melbourne, Saturday, June 8
Like great artists in other realms, American jazz musicians seem to defy Anno Domini. Age has not wearied octogenarian Wayne Shorter's recording career, while another saxophone supremo, Sonny Rollins, only called it a day at 87. Meanwhile, Sun Ra Arkestra's remarkable leader and reeds player Marshall Allen continues to perform in his mid-90s.
Judging by his effervescent performance before an adoring throng at the Melbourne International Jazz Festival on Saturday night, keyboards king Herbie Hancock — a comparative spring chicken at 79 — might well outlast all of his contemporaries. The first of the legend's Hamer Hall shows came only a month or so after he masterminded the launch of International Jazz Day at the same venue. He's now on a 26-date world tour that will finish in Belgium in November, with August gigs with young gun Kamasi Washington in the States en-route.
With a full head of (presumably dyed) black hair and a comparatively svelte figure, Herbie could easily pass for a man a dozen years younger. Practicing Buddhism might well account in part for his youthful appearance and luminous zeal, though more likely it's the on-going pursuit of jazz's cutting edge and the continued penchant to innovate and collaborate — no doubt inculcated during his time in the stellar mid-1960s' Miles Davis Quintet — that has kept him young.
Saturday's show started with the oomph of a full-scale rock-concert, Herbie alternating between electric Korg Kronos keyboard and acoustic grand piano — as he did frequently thereafter — while aiding and abetting his superlative sidemen with a palpable sense of fun and enjoyment. The concert culminated nearly two hours later in similarly in-your-face mode, with the jazz leviathan strapping on an unwieldy and clamorous keytar to render a stunning updated version of 'Rockit', a hit single and video from his prescient 1983 LP Future Shock that foreshadowed scratching, hip-hop et al.
In between, there were pyrotechnics aplenty from all four band members, ending in an ultra-busy revision of 'Actual Truth', from Hancock's mid-1970s' post-acoustic days at the head of jazz-funk visionaries, The Headhunters. In several numbers, Herbie teasingly alluded to 'Watermelon Man' and 'Canteloupe Island', without actually visiting his best-known tunes. He crooned one number through some sort of electronic processor.
The dialogue between the maestro and Benin-born guitarist Lionel Loueke was furious and intense as they exchanged rapier riffs over ascending and descending runs and the thundering electric bass genius of James Genus and the dynamic drumming of Vinnie Colaiuta. The leader came out from his stage-left keyboards' corner mid-way through the concert to pay handsome tribute to his sidemen. "I've been working with these players for a few years … they're the best," he told a packed house.
I would have preferred more grand piano from Herbie, especially since for most of the night Loueke had the effects' pedals attached to his small headless acoustic guitar set up to sound more like an electronic keyboard. When Hancock played Korg or the pitch-bending keytar, it was often hard to distinguish between the instruments.
A master of the digital whammy pedal, Loueke provided one of the night's highlights when he magically converted the guitar into talking drum for a spellbinding solo that drew on the musical and vocal traditions of South Africa, as well as his native West Africa. On his party piece, Genus engineered mesmerising melodic patterns on top of looped bass lines. Colaiuta swapped superbly accented and robust rhythm on the skins with Hancock's hammered chords, but like his boss played sensitive figures when required, which in truth wasn't that often. Several times during the show, Hancock swung round to his grand after establishing a number on the synth. Some of the block chords on the piano were straight out of the Thelonious Monk playbook.
A bit more of Herbie Hancock's transcendent acoustic piano playing and more light and shade in place of thumping chords and arpeggios would have been appreciated by this punter. However, judging by the protracted standing ovation he (and the band) received at the show's conclusion, the appetites of most fans were fully sated with what they received from the Oscar and 14-time Grammy Award winning jazz legend.