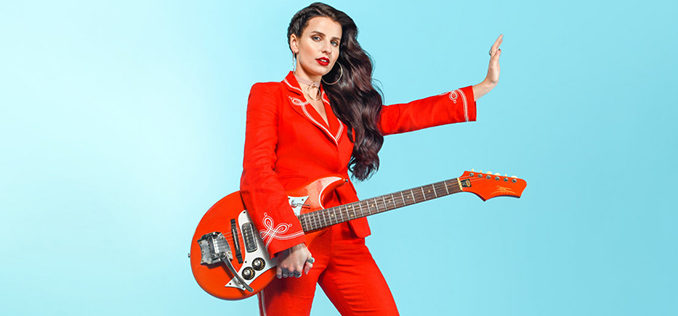 By Megan Gnad
Recorded in LA, Imogen Clark's new EP, The Making Of Me, showcases a range of new styles and influences from the Australian singer-songwriter, and features two Rock & Roll Hall of Famers.
The record was written following back-to-back European and North American tours. It's lead single 'Found Me' was co-written with Nashville musician and television star Clare Bowen (who also sings on the track) and her husband Brandon Robert Young, at the end of a US tour in July last year.
Also, collaborating with the likes of Alex Lahey, Emma Swift, Bowen and more, meant she had a vast selection of songs to consider when the time came to narrow down the EP's song selection. "It was very much a gradual process," she says. "I wrote so many songs since my last album which was two years ago now, called Collide, and it was a great problem for us to have because we had a wealth of songs to choose from. This sound is also very new for me…I'm now embracing the fact that in equal parts I love Bruce Springsteen and Taylor Swift, and one of them shouldn't exclude the other. You can have all these different influences and make music that reflects that. It's just saying goodbye to the boundaries, and it feels very liberating."
Produced by Mike Bloom (Jenny Lewis, Julian Casablancas) in LA, Imogen was joined on the record by a talented bunch of musicians, including Benmont Tench (Tom Petty and the Heartbreakers) and Pete Thomas (Elvis Costello and the Attractions). "It was amazing," she says. "I'm such a huge fan, so having them play on my songs was a beautiful, beautiful experience.
"Mike is a wonderful producer. He had a beautiful vision that took this EP in places I wouldn't have guessed, but couldn't have been happier with the result…He brought a lot of great synths, electronic drums and ideas to these songs I wouldn't have thought of myself, but ended up being so important to the songs, and so I'm so glad he did."
Thankfully, the recording of the album was completed prior to the COVID-19 lockdown and, with the wonders of modern technology, Imogen has been able to introduce new ways of getting music out to her fans. Throughout June, she held the Live From The Backyard virtual tour performing acoustic, piano and electric shows; and filmed the 'My Own Worst Enemy' music video remotely to accommodate social distancing.
"It's amazing we live in an era we can connect with people so well online. We just finished a fun streaming tour online and all the shows sold out. We had people on there from all over the world. I thought, 'even if I was still touring, I wouldn't be getting to all these people's home towns anyway', so it's a chance to connect with them from across the other side of the world."
With a new-found confidence to release the music she is passionate about, Imogen is embracing a variety of styles and sounds. "I tend to describe my music now in the pretty broad singer-songwriter category," she says. "I love artists like I said Bruce Springsteen and Taylor Swift, but also Maggie Rogers and Lennon Stella, people who use a lot of electronic influences in their music, but at the core of it is always songwriting with integrity, and songwriting with something to say."
The Making Of M his available at: www.imogenclark.com.au