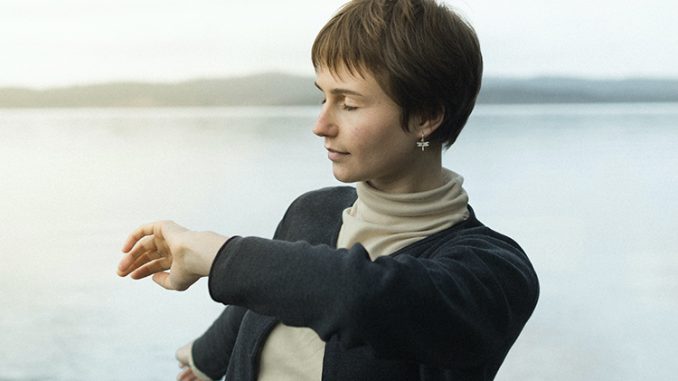 By Michael George Smith
Singer-songwriter Isabel Rumble is very much the still-point at the core of the worldview she explores on her debut album, Bird Be Brave, as the light, the stars, the sky, the river, the wind, all the things that flow through her songs are filtered through her calm, gentle, peaceful voice and vision. And it all began with her decision to move from Melbourne (or Naarm) to Hobart (or Nipaluna) in Tasmania, as she explains to Michael George Smith.
"I was spending a lot of time in the beautiful Tasmanian forests and noticing the effects of the seasons on my body. I'd just spent a year living in Austria where I was right next to another beautiful forest and I think that it was a time when I was really reflecting on how nature has really played such a big part in my life and the people around me – everyone's lives really – and reading lots of different things, books and poetry. I also started to teach yoga, so I feel like that was quite an integral part of the process of the writing."
It's all there too, in the sounds that wash across the album and in lines like "I see with my skin" from the song "Ghosts". "I studied visual art at uni in Melbourne," she continues, "and my body of work kind of revolved around movement and the physical body in relation to space and I think that song in particular I was really drawing on that older body of work in visual art."
Her first record, the EP Warm Wind, released in 2021, had been very much a solo affair, performing her songs to the accompaniment of her acoustic guitar as she recorded its four songs alone in the Towamba Valley on NSW's far south coast where she grew up. The Folk Federation of Tasmania obviously recognised the quality of Isabel's music as the EP's title son won her its annual Songwriting Award. In recording Bird Be Brave, Isabel has certainly surrounded herself with some superb musicians, sumptuous performances when needed yet still understated and subtle. "That was really thanks to Luke Plumb, who produced it. He had some really great connections in both Tassie and Melbourne, so I was really lucky in that regard.
"I met Luke through (fellow folk singer-songwriter) Lucy Wise, who has also just released an album produced by Luke. I'd met Lucy a while ago and after moving to Tasmania, I was just had this seed of an idea about making an album and reached to as many people as I knew whose music I liked asking about producers and Lucy got back to me saying that Luke was down in Tassie and gave me his number.
"We also worked with one of Luke's good friends Matty Forbes, over in Scotland, who did the drums and percussion on the album, and he also mixed and mastered it. We did the first three songs (the album title track, 'Precious Burden' and 'Solitary Dreaming', which were released as singles) as a group and then we did the rest after the singles came out. Luke had quite a clear idea of what he could hear and I was just so grateful for that because I've made a body of work like this before. I didn't really know the process and didn't realise the scope and the possibilities that would unfold with it all.
"I hadn't really played live or done much music before I moved to Tasmania, and this record really feels like it captures quite a specific time, six to eight months in the writing. I only had three or four songs that I knew I wanted to record when I began working with Luke. I didn't know it was going to be an album – I just wanted to record some songs, I thought maybe another EP – and Luke was, like, let's make an album! I hadn't even let myself think that I could make an album, but then it became this whole evolving body of work there that was tangible; I had this huge burst of creative energy."
While it's not a concept album, the songs on Bird Be Brave inevitably connect in one way or another, even when similarly themed songs are separated by others in the sequencing.
"I think of 'Story of a River' and 'Float' as sister songs. One leads into the other, and 'Float' was written from the perspective of someone older looking back on life, and the river turned up as this metaphor the flow of life I guess, and 'Story of a River' from a childhood perspective. As kids, me and one of my close friends would spend most of the summer in this river in New South Wales where I grew up."
Isabel Rumble plays Kickstart Arts at The Royal Oak in Launceston, TAS, Saturday 29 July; and the Wheatsheaf Hotel in Adelaide, SA, Saturday 12 August.