Brian Wise's guest in this week's podcast is Jason Isbell.
You can listen here: JASON ISBELL PODCAST 
Or you can listen at Apple Podcasts, Amazon Music or Spotify (just search for Rhythms Magazine).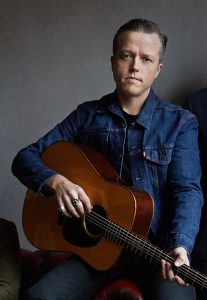 To call Isbell the King Of Americana is not an idle claim. Since 2009 he has won 9 Americana Awards and been nominated for another ten – to add to his four Grammy Awards!
Born and raised in Alabama and got a publishing deal with Fame Studios in Muscle Shoals when he was just 21, joined Paterson Hood in the Drive By Truckers and after five years began his solo career which included forming the 400 Unit and releasing 8 albums, the latest of which is Weathervanes, which follows the album Georgia Blue in 2021.
Brian first spoke to Isbell when he was in Australia for the first time with Justin Townes Earle in 2012 and they have chatted frequently since. Last year they caught up by Zoom to talk about the Fender Jason Isbell Signature model while Isbell was on the set of Martin Scorsese's latest film Killers of the Flower Moon in which he plays the role of farmer Bill Smith. 
This time Brian and Jason met to talk about the new album Weathervanes prior to Isbell's show at the Palais in Melbourne during his April tour of Australia with the 400 Unit, supported by Allison Russell.