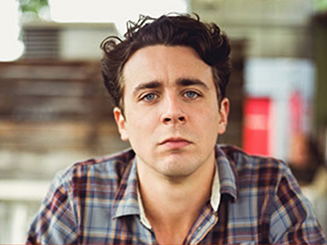 On the eve of releasing his new studio album, Singer-songwriter Joe Pug has today announced he will bring his The Flood In Color tour to Australia this November.
The new album is produced by Kenneth Pattengale of theMilk Carton Kids, is available now via Nation of Heat Records.
Joe will play shows in Sydney, Newcastle, Brisbane, Melbourne and Castlemaine plus Mullum Music Festival and Queenscliff Music Festival.
Tickets for all shows are on sale to the general public Tuesday, July 23 at 10am.
Joe Pug's new record The Flood In Color is nearly four years in the making. The album started with the goal of focusing on the simplicity of musicians playing together, live, in the same room. Recently relocating back to his childhood home in Prince Georges County, Maryland after many years spent in Chicago and Austin, Pug wanted to take a new approach. The partnership with Pattengale proved to be an irresistible opportunity to do just that.
"The past couple of albums haven't always been the most enjoyable to record. The process can really bring on all sorts of pressures about what you should be doing and how you should be doing it, both internally and externally.  Lots of  'Songs need to be 3 and half minutes long' and 'You need something that will work on AAA radio'.  And the end result is this strange gravity that just weighs you down." Pattengale, a fan of Pug's music since the days so of his 2010 EP "Nation of Heat", was eager to try a back-to-basics approach.
Supporting Joe on all Victorian dates only will be the incredible Kentucky born singer-songwriter Ian Noe. His debut album Between The Country,  released in May 2019, was recorded at Nashville's RCA Studio with Grammy Award Winning producer Dave Cobb (Jason isbell, Sturgill Simpson, Brandi Carlile) with a fabulous bunch of musicians including singer-songwriter Savannah Conley on backing vocals, Chris Powell on drums and percussion, Adam Gardner on bass and keyboards and Cobb on acoustic and electric guitar. The album has been acclaimed with Rolling Stone calling it "a stunning folk album full of despair, defiance" and NPR "Ian Noe fills and carves out on his often stark, beautiful collection of short story songs."