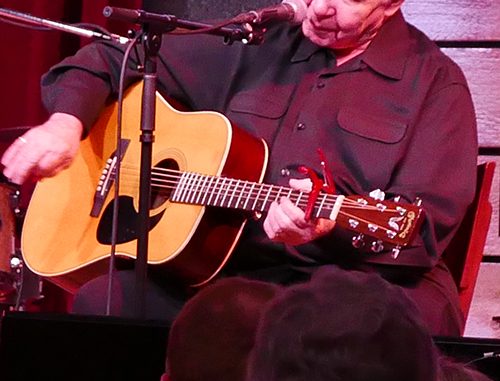 "When I was a mailman, song writing was my hobby. It was my get away from the world. Now, it's my job. So, when anything resembles work, I run the other way." – John Prine 
When I get to heaven, I'm gonna shake God's hand
Thank him for more blessings than one man can stand
Then I'm gonna get a guitar and start a rock-n-roll band
Check into a swell hotel; ain't the afterlife grand? ('When I Get To Heaven from The Tree of Forgiveness)
By Brian Wise
Last time I saw John Prine in Australia was more than quarter of a century ago. It was the second Womadelaide Festival in 1993 and flight delays meant that Prine's set was cut to less than 40 minutes. It was all too short an appearance, and illness and scheduling problems meant that Prine's return has been way too long overdue.
I have seen Prine in America several times since 1993 but until last September in Nashville had not had the chance to catch him in the intimacy of a club – though it turned out to be a battle to get tickets. 
Prine opened the Americana Music Festival at the City Winery, a newer and excellent venue that is one of a small chain of such clubs. It was an email invite only gig with an RSVP for those who were registered for the Conference that is parallel to the festival. Problem was that when the invite went out we were still flying on route to Nashville. By the time we arrived and replied all the tickets were gone.
Well, almost all the tickets were gone. There were just a few (five as it turns out) left for members of the City Winery's club and for US$90 and another $25 a ticket we could get in. Consider that this was a rare chance to see Prine close-up; that he had just released one of the albums of the year in The Tree of Forgiveness (produced by Dave Cobb, Nashville's hottest producer); and, that it still only cost US$70 each to sit within touching distance of him. It was a no brainer. 
It turned out to be one of the best investments we made on the trip. Prine's set featured not only some long-time colleagues but also Dan Auerbach of The Black Keys as guest guitarist and vocalist. It was an absolutely brilliant hour and twenty minutes that made you glad to be alive and certainly made you glad that Prine had overcome several bouts of cancer and was still with us. It was followed by the stunning all-women trio I'm With Her – who you will see at Bluesfest – and then Jerry Douglas! Turns out to be the bargain of the year.
John Prine was born in Maywood, Illinois in October 1946. His father worked in a factory and was a Hank Williams fan. Prine learned guitar in his teens but ended up serving in the US army in West Germany after moving to Chicago in the late '60s where he worked as a mailman for five years. In concert he talks about those days and how he wrote songs while delivering the post.
The career with the US Postal Service came to a halt after he was discovered by Kris Kristofferson and released his self-titled debut for Atlantic Records in 1971. It was an auspicious release, containing songs that have gone on to be classics in the Prine canon: 'Sam Stone,' 'Hello In There,' 'Illegal Smile,' 'Angel From Montgomery,' and 'Paradise.' Of course, he was briefly given the 'new Dylan' tag until everyone realised that was not an adequate appraisal.
After another album for Atlantic and three for Asylum he co-founded the indie label Oh Boy Records, releasing Aimless Love in 1984 and becoming a trailblazer in the industry. Oh Boy has been Prine's home ever since and,, in the decades since its foundation, he has released another 14 albums, including two live recordings and several collaborations. His songs have been recorded by Johnny Cash, Bonnie Raitt, the Everly Brothers, John Denver, Kris Kristofferson, Carly Simon, Ben Harper, Joan Baez, Old Crow Medicine Show, Norah Jones and many more. Along the way he has also picked up two Grammy Awards, an Americana Lifetime Achievement Award and induction into the Nashville Songwriters Hall of Fame. He has also been nominated for induction into the 2019 Rock and Roll Hall of Fame. 
Prine has also battled several bouts of cancer in 1998 and 2013, first in his neck and later in his left lung. In concert, he tells the story of how the first diagnosis helped him to quit smoking.
The Tree of Forgiveness, Prine's latest, is not only his most commercially successful release but it is also one of his most highly acclaimed ever. Not bad for someone who has been recording for 47 years. It is an almost perfect example of Prine's writing (and co-writing) in its ability to touch the listener with its melancholy ('Summer's End') and then have them chuckling with its humour ('The Lonesome Friends of Science').
Prine lives in Nashville with his wife, Fiona, and their 3 sons, daughter-0in-law and grandson. Fiona fielded our phone calls to talk about the forthcoming tour. First, I caught Prine in the plane on his way to Mexico with Fiona for a few days break. Our chat was interrupted by the take off!
Then, a few days later, I caught Prine in a more relaxed mode somewhere in Mexico. It just happened to be the day after his 72nd birthday (which reminds me that I also spoke to Ry Cooder this year on his birthday).
"I'm still celebrating," he laughs when I congratulate him.
"I didn't expect that at all. So, it was quite a surprise," he responds when I also congratulate him on the nomination for the Rock and Roll Hall of Fame
You have some interesting company amongst those nominees, don't you?
Yeah. I mean, Devo, and Stevie Nicks. Last time I saw Stevie Nicks, her and Lindsey Buckingham were opening for me. It was before Fleetwood Mac.
One of the stories you told during the performance at the City Winery, which I guess relates to the song, 'When I Get To Heaven', was about your health and about seeing the doctor, and giving up smoking. Can you tell us about that?
I had cancer surgery around 1996. Anyway, the doctor told me the night before surgery, he said, 'I can't tell you if this is from your cigarette smoking or not.' Because I smoked for 35 years. He said, 'But, wouldn't it be a great time to quit.' So I said, 'Yeah, I guess so.'
So, I quit. But, I never quit liking them. I've always liked cigarette smoking, because it tasted good, and back then, it was just a good thing to do. I figure the only place I could smoke, is probably when I get to heaven and that's how I got the title to the song. I already had chorus in my mind. The chorus is like a song I sing to myself when happy hour's coming near. Going to have a cocktail, vodka, and ginger ale, going to smoke a cigarette that's nine miles long. And that's how that all came about.
I believe that for the latest album – and you were talking about this, as well – you booked a hotel room and you sort of hid yourself away so you could write the songs for the album in Nashville. Is that right?
Well, actually it was my wife, and son Jody, that booked the hotel to put me in. They figured I operated better in a hotel than I do at home. So, they put me in a hotel with three guitars, and a ukulele, and 10 boxes of unfinished lyrics. And I came out a week later, with the songs for The Tree of Forgiveness.
I read a quote, where you said, you're scared of writing.
Yes, I guess so. I mean, I don't know much about myself. I enjoy writing a song but I think there's a certain fear there, too. Otherwise, I would do it more often. Sometimes, I do everything I can to not write. You know, I'll do every possible thing, to stay away from it. So, I figure there's got to be a certain amount of fear there.
It obviously came easy to you when you locked yourself away in that hotel room though.
Yeah, I know. But, as soon as I got it done, I couldn't wait to be out of there. I don't know why. I tell you what, when I was a mailman, song writing was my hobby. It was my get away from the world. Now, it's my job. So, when anything resembles work, I run the other way. That might be it, because like I say, back then I didn't tell anybody I wrote songs. I just did it for my own entertainment. And, it became really easy.
Are there any writers of prose, for example, that you enjoy reading that might inspire you, or other writers? How does that inspiration work for the songwriter?
Yes, when I was a teenager, I read a lot, of John Steinbeck. So, I don't know if that influenced my writing or if it was just entertaining to me. But, I really liked his voice. I liked the way the words fell together. In songwriting, I always admired Hank Williams Sr., and Bob Dylan, and Johnny Cash, and Kris Kristofferson. I would hope that some, of the stuff they did rubbed off on me.
From my observation, you tend to write about things that happen around you. Is it just incidents in your life that inspire these songs?
Yeah, I know. Sometimes, when I'm not looking for it songs just pop up all around me. I seem to think I'm a magnet for them. I don't know what it is.
You also have a really humorous way of looking at the world. I know that my favourites of yours should be some of your serious songs, like 'Sam Stone', and songs like that but, you know what one of my favourite songs is?
'In Spite of Ourselves'?
No, it's 'Let's talk Dirty In Hawaiian.'
Oh yeah, they really love that one in Hawaii, I tell you. I wrote that with a friend of mine, named Fred Koller. And Fred, and I, we just made up all the Hawaiian words we could, you know, in a suggestive way.
It always tickles my funny bone. And it kind of exemplifies the way you look at the world. I think maybe the way you look at the world, is why you've stayed in music for so long. I won't say that you don't treat it seriously, but you have a particular humorous view of it.
Yes, I do, in general. I tend to see humour in some things that other people don't. The human condition to me is usually humorous. If you see a guy with a fender on his car where he had an accident, they usually park with that part sticking out, for people to hit it. And that seems funny to me.
There's [also] a beautiful song, 'Summer's End.' Can you tell us what inspired that? There are a couple of songs along a similar theme really, and that's one of them, I think.
Well, I wrote that song with Pat McLaughlin, the same fellow I wrote 'Crazy Bone' with. Me and Pat, have written quite a few songs together. Sometimes we're able to finish each other's thoughts, or sentences. So, I'll just write, and then eventually Pat will come back to me with one. We don't really discuss the subject we're writing about, it just goes back and forth, like a tennis match. I don't know, it just works out, really well, when the both of us write kind of what the meaning of the words are, but also in, a melodic way. At the end of the song, it all comes out, really nice, when we aren't pursuing a particular subject, is what I'm trying to say.
Well some people might think that's a melancholy song in a way.
It is, very much so, yeah. I didn't write the chorus until about a month after we wrote the song. The 'come on home, you don't have to be alone,' part, I didn't write that until a month after we wrote all the verses. That's what the song seemed to be saying to me was, it is melancholy, for sure. Come on home.
The other song I wanted to ask you about – and the more I read the lyrics, the more I get out of it – is 'The Lonesome Friends of Science,' which has got a fascinating story with it.
Yeah, I had a good one with that one. It was basically, that I didn't like the fact that a group of scientists decided to Pluto was no longer a planet. I mean, I never thought we'd just wake up one morning, and demote a planet from our solar system.
It was something I'd been thinking about for quite a while. That, and the second verse is about a statue in Birmingham, Alabama of a Vulcan. And I read up on that, I read a pamphlet on the Vulcan. Over the years, they let the thing really go to. They didn't have the money to tear it down. So, they used it for various things.
It was a huge statue, looking over the city of Birmingham, Alabama. At one point, they took the sword out of his hand, and replaced it with a giant pickle. They wanted it advertising pickles. Another time, they had bib overalls on with checkers on, and he was selling dog food. And this is a mighty statue, that's struck, I believe there's a lot of iron foundries around Birmingham, Alabama. This was to celebrate this iron city. I wanted to write about the humiliation that the statue suffered over the years. And the humiliation that Pluto suffered, when told he was no longer a planet.
Well, you know John, some people might say that this is a very timely song, given that science is under attack in certain places around the world, from governments.
Yeah, I do know. Some people mentioned it – that maybe I was talking about climate change. But, I'm not at all. That is something that's real. And you know these guys, they need to do better things than demote planets from our solar system.
I mean how do you take this, I'm not sure about there, but when I was in school, it took me a long time memorise these planets. And then four guys in a room, all of a sudden tell me that one of them is not a planet, it's a star. I don't want to believe that.
Well, I was particularly disappointed because I went to the observatory in Flagstaff, Arizona, which discovered Pluto. So, I was devastated when I found out.
For real?
Yes.
That was a wasted trip.
It was a completely wasted trip. Thank you very much for that.
You're welcome. Well, you should get your money back.
Can I ask you about your relationship with your songs that have been covered over the years and have become classic songs. You know, 'Sam Stone', 'Angel from Montgomery', 'Paradise', they've been covered a lot by other people.
Oh yeah. Pretty Good, too.
How do you feel about those songs now, like I mean, I know you still perform some of them. But what's your feelings toward them?
They've been very good to me and I enjoyed having other people do my songs. Sometimes it read something else into the song, that I didn't previously think of. It's just that, I enjoy it. I got my favourites you know, the Bonnie Raitt, doing 'Angel'. Elizabeth McGovern, and Bette Midler, doing 'Hello in There'. There's a lot of blue grass lyrics at the beginning of the song Paradise.
I don't know if you've ever heard of a fellow named Jerry Williams Jr. His nickname is Swamp Dogg. He does 'Sam Stone', and he just kills it. He is so good when he does it. He goes into a preacher thing at the end where he spends about 10 minutes on the homeless Vietnam veterans and it's just really good stuff.
John Prine toured Australia in March, 2019. The Tree of Forgiveness is available on Oh Boy.