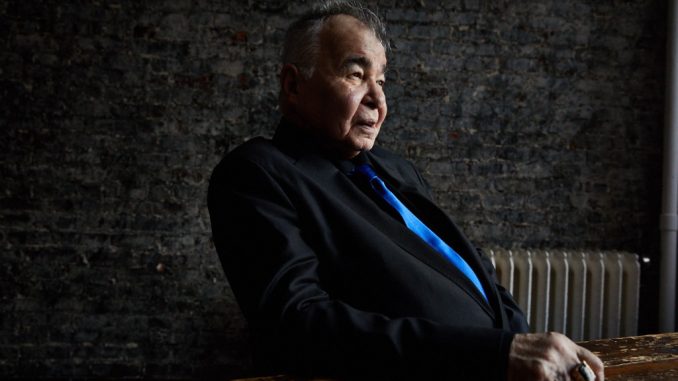 JOHN PRINE
 THE TREE OF FORGIVENESS
OUT APRIL 13
FIRST ALBUM OF NEW SONGS IN 13 YEARS!
Legendary singer, songwriter and performer John Prine will release his highly anticipated new album,The Tree of Forgiveness, out April 13 on his own independent label, Oh Boy Records. Produced by Grammy Award-winning Dave Cobb, the album is Prine's first featuring new material in over 13 years.
Prine has unveiled a new song from the album, Knockin' On Your Screen Door, an uptempo folk song with a downbeat message from the perspective of a lonely, destitute man whose only possession is a George Jones 8-track tape.
PRE ORDER THE TREE OF FORGIVENESS HERE
Recorded at Nashville's historic RCA Studio A, the album includes ten new songs written by Prine along with co-writers Pat McLaughlin, Roger Cook, Dan Auerbach, Keith Sykes and Phil Spector. Along with Prine (lead vocals and acoustic guitar), Cobb (acoustic guitar, mellotron, claps, kazoo) and Prine's longtime band, the album features special guests Brandi Carlile (harmony vocals on tracks 2, 4, 10), Jason Isbell (electric guitar on track 7, slide guitar and background vocals on track 9, 10) and Amanda Shires (fiddle and background vocals on track 9, background vocals on track 10).
The landmark album follows a noteworthy 2017, which included an "Artist of the Year" award at the Americana Music Honors & Awards and a Chicago/Midwest Regional Emmy Award for his "Chicago Voices" performance with Renée Fleming. Last year also saw the release of Prine's debut book, John Prine Beyond Words, which includes a selection of favorites songs, photographs and stories from Prine's beloved catalogue.
A two-time Grammy-winner, Prine is among the English language's premier phrase-turners. Almost 50 years into a remarkable career that has drawn effusive praise from Bob Dylan, Kris Kristofferson, Bonnie Raitt, Roger Waters, Tom Petty, Bruce Springsteen and others who would know, Prine is a smiling, shuffling force for good. He is a Nashville Songwriters Hall of Fame member and a PEN New England Lyrics Award recipient whose classic debut album, simply titled John Prine, is recognized as part of the Recording Academy's Grammy Hall of Fame and whose songs have been recorded by Johnny Cash, Carly Simon, Bette Midler, Bonnie Raitt, Norah Jones, George Strait, Miranda Lambert, Zac Brown Band and many others.
Following the 2015 death of his friend and business partner Al Bunetta, Prine is now President and sole owner of Oh Boy Records.
THE TREE OF FORGIVENESS TRACK LISTING:
1. Knockin' On Your Screen Door (by John Prine and Pat McLaughlin)
2. I Have Met My Love Today ft. Brandi Carlile (by John Prine and Roger Cook)
3. Egg & Daughter Nite, Lincoln Nebraska, 1967 (Crazy Bone) (by John Prine and Pat McLaughlin)
4. Summer's End (written by John Prine and Pat McLaughlin)
5. Caravan of Fools (by John Prine, Dan Auerbach, and Pat McLaughlin)
6. The Lonesome Friends of Science (by John Prine)
7.No Ordinary Blue (by John Prine and Keith Sykes)
8. Boundless Love (by John Prine, Dan Auerbach, and Pat McLaughlin)
9. God Only Knows (by John Prine and Phil Spector)
10. When I Get to Heaven (by John Prine)