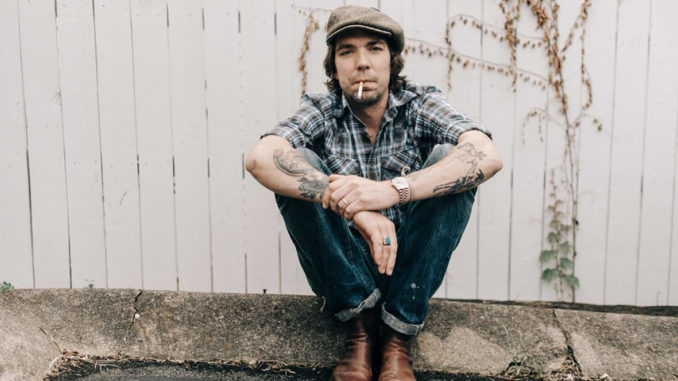 Justin Townes Earle passed away in Nashville on August 23. The talented son of Steve Earle had fought his demons for many years, by his own admission, but had come out the other side and was devoting himself to his music. 
Last July,  Marty Jones interviewed Earle prior to his forthcoming tour and said that the singer-songwriter had hit his stride as The Saint of Lost Causes on his recently released eighth album.  (Earle's tour here afterwards featured gigs that were replete with stories about his life and they often involved him playing shirtless at the end of the set).
The Rhythms feature on Justin Townes Earle appeared in our July/August issue:
"I've had my time of being a strung-out drunken idiot. That time's over for me, it's time to get down to work." That's what Justin Townes Earle told me on the release of his debut album back in 2008. Ten years and eight albums later, Earle has proven his dedication to his profession.
Justin Townes Earle emerged fully formed as a songwriter and performer a dozen years ago. By the time he emerged with his first recordings, he'd already been writing and performing for over ten years (including a stint in his father's band The Dukes). He just hadn't made a complete commitment to becoming a singer-songwriter.
On the phone recently to talk about his latest album, The Saint Of Lost Causes, Justin confirms that he's surprised himself with his dedication: "Especially the amount of records that I've released in that period of time. That I've been able to be that productive for that period."
"I mean, it's all I ever wanted to do and so I put every day that I had into it – you know I used to buy white cheddar popcorn, a jar of peanut butter and a loaf of bread. And then a bunch of beer. And that's what I would live off – peanut butter sandwiches and popcorn, just so I could sit at home and write."
That dedication has paid off in The Saint Of Lost Causes, his strongest album for some time. A less introspective album in both theme and sound, JTE looking out at the people of America, and the world, and asking what went wrong.
"I just got this idea of I think at this particular time in the world, and not just in America even though we have the loudest idiot in charge, it's not just us that's moving right and mistreating the underclasses and the people of colour and the people of smaller cities. So, I wanted to take with this record, basically looking at what Springsteen would do if he took more of a whole country view as opposed to just the New Jersey view. I wanted to take that idea and apply it to Appalachia, Charleston, Flint Michigan, all of it."
Here Earle is referring to a trio of songs on the new album documenting the mistreatment of small town America – the industrial poisoning of the river in Charleston, West Virginia in 'Don't Drink The Water'; the demise of the auto industry in 'Flint City Shake It'; an all too common cycle of poverty and crime in 'Appalachian Nightmare'.
"People like to talk bad about cities like Detroit and Memphis and Flint and places like that," Earle explains, "and there's a lot of reasons to talk bad about them. They're dangerous. They're dirty. But there's a lot of good people there."
Earle has made no secret of his checkered past. He's seen his share of the dangerous and dirty sides of town and these are places he's remained close to, and comfortable with, as a touring musician.
"That's one of the great things I think that touring artists need to take advantage of… you know it's a really good thing to just go and find the dirtiest bar in whatever town you're in and go hang out with the real people."
From the opening seconds of title track 'The Saint Of Lost Causes', you're presented a soundscape that frames these places and stories strikingly. The deliberate drive of the bass and snare, the crying pedal steel, the reverb soaked electric guitar ringing into space – it's a spooky, affecting stage unlike any of Earle's previous albums.
"Yeah the players that I was able to put together for this record are all guys that I've wanted to work with for a long time," Earle says. "And have worked with in the past, but never worked with them all together. And they're just good at addressing the song, they play to the lyrics, not what they think they should play."
Headed by engineer and bass player Adam Bednarik, the band on The Saint Of Lost Causes includes pedal steel guru Paul Niehaus, drummer Jon Radford, guitarist Joe McMahan, and keyboardist Cory Younts (who played on Earle's first four albums). McMahan's electric guitar playing, in particular, is a revelation.
"Yeah the guitar player on this record, Joe McMahan, he is a monster," Earle confirms. "A soft-spoken monster. He really loves songs. And all these guys are the kind of guys who wouldn't work on the record if they didn't like the songs.
"He's been connected Adam Bednarik who played bass on this and is my co-producer," Earle explains how he came across McMahan. "They've worked together for years. I probably met… I think we borrowed gear from Joe, 'cause Joe has his own studio, we borrowed gear from him for the first record, when we made The Good Life."
Anyone who has seen JTE perform solo will testify to how much space he can fill with his guitar playing – he sounds like three guitarists. Without having to concentrate on providing all the accompaniment to this batch of songs, Earle sounds like he has freedom to focus more intently on his vocals.
"Yeah I think it gives me a bit more ability to work with the melody," he agrees. "It gives me the ability to sing softer. Not have to overpower everything. And it's something that has definitely grown, you know I feel like I'm a better singer than I was ten years ago. And that's the thing that I want to be – I want to be a better singer every time I make a record, a better guitar player, a better writer."
You can Brian Wise's interview with Justin Townes Earle here: