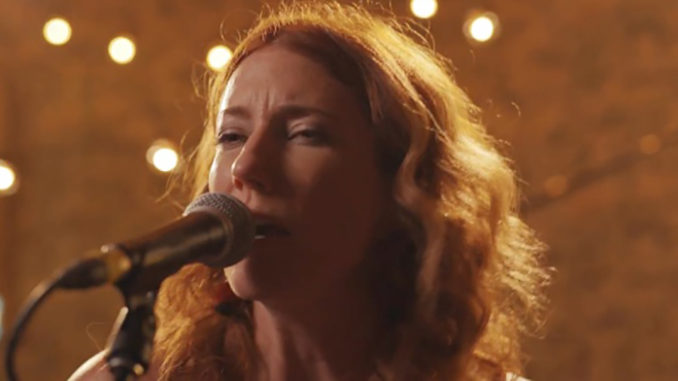 Kathleen Edwards has recorded the song 'Glenfern,' from her latest album, the excellent and highly acclaimed Total Freedom, performed at her coffee lounge Quitters in Stittsville, Ottawa.
"This was one of the first songs I wrote that broke my stalled years of writing," says Edwards of the song. "I had the overwhelming urge to express my gratitude to my Colin Cripps, who had shared so many of my formative music and life experiences, especially after my first album came out. When Voyageur came out, the public narrative of that album was always perceived to be songs about our breakup, when in fact, they were songs I'd written when we were still married. I just had this wave of nostalgia for the funny things you navigate as a couple and how life is always reminding you of memories you hold close in your heart."
Edwards made her long-anticipated return to music with Total Freedom, her fifth studio album in August via Dualtone Records. Written and recorded in Canada and Nashville with longtime collaborator/guitarist, Jim Bryson, and Grammy-winning songwriter/producer, Ian Fitchuk, Total Freedom is both a return to form and a "hard reset," one that empowered Edwards to write and perform entirely on her terms.
Having decided to quit music after the release of her 2012 album Voyageur, Edwards moved back home to Ottawa and opened the coffee lounge Quitters.
"I had no desire to write, no desire to play," she says of what she refers to as her "working sabbatical." "It allowed me all the time and space I needed to even just enjoy listening to music again. There were so many times where, if I was thinking about my own writing or playing, my heart just wasn't in it. Opening a cafe gave me such a clean break from the weight of what I was carrying, I worked my ass off building a shop, I didn't have to be 'just a singer' anymore."
In 2018, Edwards received an unexpected phone call that brought her back to music. Maren Morris, a longtime fan, invited her to Nashville for a songwriting session. Edwards accepted, and 'Good Woman,' their collaboration, wound up on Morris' 2019 album, GIRL. "It reminded me that writing and creating music is entirely my wheelhouse, and it was so easy to just jump back in and do that," she says of her fortuitous time in Nashville. "Funny enough, the third person in the room for those two days was Ian Fitchuk, and [we] ended up starting the process of producing a record."
Total Freedom is available now through Dualtone.