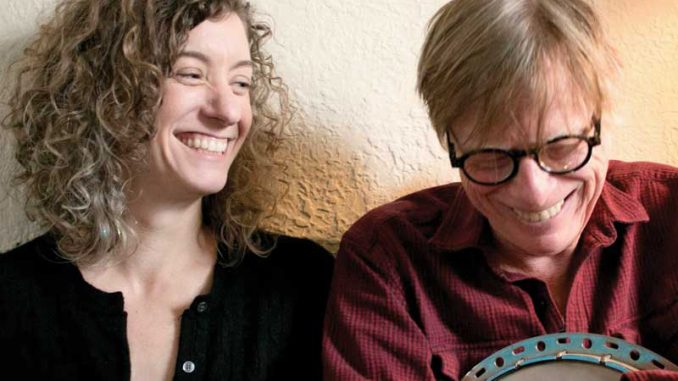 By Jo Roberts.
Kieran Kane has been to Australia so many times that he's lost count. The New York-born, Nashville-based songwriter has been coming here since the 1990s, many of those shows with fellow singer-guitarist Kevin Welch. One of those shows was preserved for all time in a 1999 live album recorded at beloved Melbourne venue the Continental (a recording arranged by the editor of this very magazine).
As for Rayna Gellert, the Indiana-raised Appalachian fiddle player and singer-songwriter, this is her first visit to Australia. When Rhythms speaks to the pair ahead of their current tour – which kicked off with four shows over the weekend at the Port Fairy Folk Festival – Gellert can't wait. "Verrrrry excited," she says on the phone from the Nashville home she shares with Kane.
They both have their musical histories; Kane with the O'Kanes and Kane Welch Kaplin, and as a co-founder of the Dead Reckoning Records, and Gellert with her work with Uncle Earl and artists including Robyn Hitchcock, Scott Miller, Joachim Cooder, Abigail Washington and Toubab Crewe.
But as Kane Gellert, the duo has created an intoxicating brand of country-roots music, now across two compelling albums: 2018's The Ledges and 2019's When the Sun Goes Down.
The pair met at Hardly Strictly Bluegrass in 2015 and started working together in 2016. How that began, says Gellert with a laugh, "is a different story depending on which of us you ask".
"My experience was that hearing Kieran on stage with Kane Welch Kaplan, just immediately homing in on Kieran's playing and singing, I just felt like that 'clearly this is someone that listens to the same kind of music I listen to, and feels things the same way I feel things'," says Gellert. "I just basically harassed the shit out of him until he would hang out with me!"
"Well my version," says Kane with a chuckle, "is that Rayna had mentioned something when we met and sent some email wanting to do something, whether it was produce a record with her, or write some songs, whatever, but she was in North Carolina and I was in Nashville.
"In Nashville we have no shortage of fiddle players, so I didn't really have any idea what we could actually do together, and I wasn't really aware of her songwriting, quite honestly. So when she sent me a couple of songs she had written I sort of went 'Ohhh!' and I heard her singing as well – cos I hadn't heard that at all, I'd heard some fiddle pieces – when I heard her singing and songwriting I just went 'oh wow, this is totally great, I would love to do something'."
The pair began by working on each other's albums. Gellert guested on Kane's 2016 album Unguarded Moments – "that was sort of the very beginning of us trying to write and play together," says Gellert – and Kane co-produced Gellert's last solo EP, 2017's Working Too Hard.
But as a duo, there is something quite special going on. The way their voices meld together is reminiscent of Gillian Welch and David Rawlings. Perhaps it's a couple thing; it's as if they're almost breathing as one.
"That was kind of a really pleasant surprise, to find that our voices blended well together and had, to me, that sense of something being greater than the sum of its parts," says Kane. "Personally, I can get really lost in the sound of it myself, it's a lot of fun singing these songs, I have to say."
They recorded their first album The Ledges at a small house in the Adirondacks in upstate New York.
"We actually recorded it in that little house that's on the cover," says Kane. "We just brought some recording gear and set it up in there, we built a little studio. We would write and then record some and if it was going well, we'd keep going and if it wasn't, we'd just stop and go swimming or fishing or play some golf and then come back later in the day. So, it was pretty ideal."
When the Sun Goes Down was recorded at a cabin in the same area that the duo now live in part of the year. And on this album, they absolutely come into their own. It has a sense of completeness to it. The songs are uniformly strong, the performances tight and emotive.
"With the first one, we still hadn't really been working together that long, so it was still a little bit of a feeling-out process," says Kane. "The second one, I think we'd settled down a bit more on who we actually are as writers and players and so, to me it feels a slightly more cohesive album. Though I really love the first album as well. I'm very proud of both of them."
Without wanting to pry, it sounds like the second album you have solidified more as a couple. There is a pause before Kane answers.
"Well, that's probably true," he says, as Gellert bursts out laughing.
"I never looked at it that way, but it's interesting that you see it that way," says Kane. "I'm actually much more interested in your thoughts than I am in mine."
The beautiful yet devastating 'Can't Live Without You', rather than being a joyful proclamation or realisation of love, has a gravitas and solemnness to it, of two people realising that denial of their love is hopeless. "Hearts will be broken/lives will be changed/I know exactly what I'm gonna do."
But oddly enough, Kane struggles to remember the song. "You know, I'm so used to not knowing the titles of the songs. I always remember them by some line in the song. When you said the title of the song I actually had to sit here and start singing it in my head," he laughs.
The pair are already working on their next album. A new song, 'Bailout Blues', is on their website and is already being played at live shows.
"We played a couple of shows a few weeks ago in Ohio and actually broke out maybe two or three new songs on stage – it's always a great test to play a new song in front of an actual audience," says Kane. "You can sit around the living room, pat yourself on the back and go 'gosh aren't we wonderful?' but playing them in front of an audience is a whole different thing. And they actually went over really well, which I'm happy about."
'Bailout Blues' is a song about the plight of farmers in the US, but it could just as easily be about Australian farmers too.
"We played it for the first time a couple of weeks ago in Ohio and there was an actual farmer in the audience that came up to us at the end of the show and told us that really hit home for him," says Kane. "That was incredibly gratifying."
"We read stuff in the news about how Trump's policies are affecting farmers and how screwed they're getting, and it's so absurd," adds Gellert.
'Ain't Got Jesus' from their latest album also refers to people being left behind in modern-day America, of TV evangelists and politicians "filling up their pockets at our expense".
"We don't set out to write political songs, but sometimes you just can't help it," says Gellert.
Kieran Kane and Rayna Gellert play March 13-14 at the Blue Mountains Music Festival, March 15 at Smith's Alternative, Canberra, March 19 at Lizotte's, Newcastle, March 21 at the Milton Theatre, March 22 at the Petersham Bowling Club and March 26 at the Caravan Music Club, East Bentleigh. More info at kanegellert.com