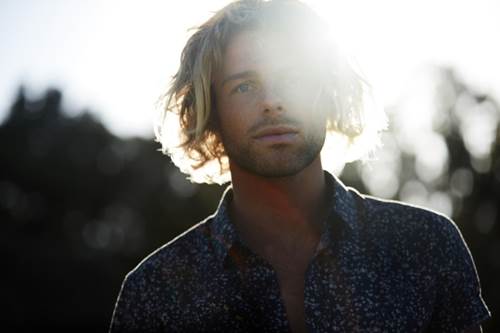 Australian singer-songwriter Kim Churchill has today announced his new album Weight_Falls, along with a new single 'Second Hand Car'.
The album is currently available on pre-order, but will be released worldwide August 25 – just in time for Churchill's Weight_Falls Australian Album Tour to kick off in September/October this year.
The latest single is currently available for download on pre-ordering the album.
According to the release, after spending 18 months working on his follow up album, Churchill threw out everything he'd worked on and wrote a second version of the album in a week – the album which would become Weight_Falls.
"I worked really hard on the follow-up record for a long time," he explains – "and it sounded good. But some very subtle layer of my consciousness was saying to me, 'It's not all that inspiring,'" Churchill explained in the announcement.
The announcement continues, "Churchill credits two years spent "growing up" for much of the shift in sound. After touring Silence/Win around Australia in 2014 and 2015, he embarked on a series of high-adrenaline overseas trips that included performances at the Glastonbury and Telluride Blues Festivals and adventures in the Peruvian Andes and along the coast of Sri Lanka."
With the new album coming up and the singles already under his belt, Churchill will be back on Australian shores in September and October to tour the new album across NSW, QLD, VIC, SA, TAS, WA & QLD.
To find out more, visit www.kimchurchill.com. Tickets on sale now.
KIM CHURCHILL AUSTRALIAN TOUR DATES
14/09: Cambridge Hotel, Newcastle
15/09: Unibar, Wollongong
16/09: Street Theatre, Canberra
21/09: The Jack, Cairns
22/09: The Office, Townsville
23/09: Timberfest, Mackay
29/09: Corner Hotel, Melbourne
30/09: Karova Lounge, Ballarat
01/10: Sooki Lounge, Belgrave
05/10: Fat Controller, Adelaide
06/10: Waratah Hotel, Hobart
07/10: Royal Oak, Launceston
13/10: Fremantle Arts Centre Front Lawn, Fremantle
14/10: Prince Of Wales, Bunbury
15/10: Red Room @ Clancys Fish Pub, Dunsborough
20/10: The Factory, Sydney
26/10: Solbar, Sunshine Coast
27/10: Soundlounge, Gold Coast
28/10: The Triffid, Brisbane