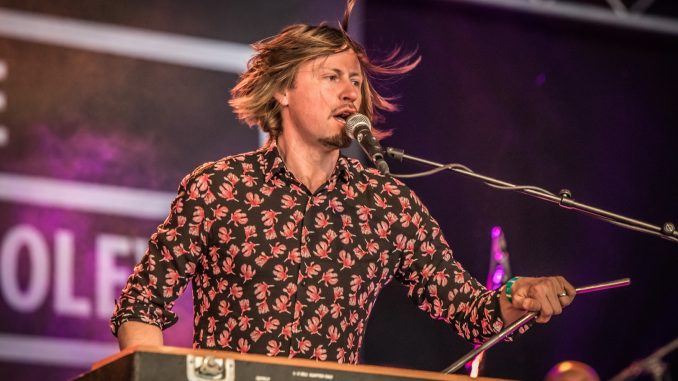 Lachy Doley writes about the Blues On Broadbdeach Music Festival (May 16 – 19)
You know every time I think of Blues on Broadbeach I catch myself smiling. I have so many wonderful memories that I can't count them all. It's a festival whereby the community of musicians and music lovers is just so strong it actually feels, to me, more like a homecoming or a reunion and I can't help but get crazy excited every time I'm invited to perform there either as The Lachy Doley Group or alongside another incredible artist on the bill. So when I was asked if I would like to return for 2019, the answer was undoubtably YES YES YES.
The first time I remember Blues on Broady, I was playing Hammond with Australian blues legends 'Chase The Sun' I think around 2005… and the amount of history and connection I have made to this festival since then is just crazy. From the time I met my future wife, Jem, there in 2009 to performing in 2017 as 'Lachy Doley and the Horns of Conviction', an 11-piece version of the Lachy Doley Group firing in front of five thousand people on the Saturday night main stage. What a night that was!
I've actually been really lucky to have the support of this great festival. My group has performed there 5 times since 2012. First as a duo in 2012 at the small street/cafe stages, then 2013 as the trio playing in the pub and club stages. From that we'd a built such a reputation that we were offered a spot on the main stage in 2014 and again in 2016 whereby we really made the the most of it.
I professionally recorded every main stage performance we've done there since 2014 and in 2016 something really magic happened. It was a beautiful gold coast afternoon and the band played one of the best shows we've ever done. It was filmed and recorded beautifully and the footage from that show became a real turning point for the group. The videos started getting hundreds of thousands of views on facebook and youtube and are now sitting at well over 20 million views collectively.
From this, our international profile went from being fairly small, just playing in little cafes in Europe to being invited to play at major blues festivals around the world. In fact in was so successful I ended up releasing it as a live album which we launched at our performance the following year. I really have to thank B.O.B. for believing in us, putting us on that big stage and letting us film to release it to the world. Otherwise things could be quite different.
2019 will be our sixth year and I can't wait! It's actually perfect timing as our new album 'Make or Break' comes out MAR 1 and rather than booking an album launch club show in the gold coast like I have for the rest of the country, I thought the festival was a much better and more fitting way to showcase it to our Gold Coast fans. I mean that's where most of them discovered me in the first place.
So make sure you come along, not just to see us, but to enjoy all the amazing talent, the wonderful people and this beautiful part of the world. You never know, you might even meet your future husband or wife there like I did. One thing you'll know you have in common is GOOD MUSIC.
I personally can't wait to see all my friends up there again, no doubt meet a whole bunch of new people and just enjoy myself as much as I can. Some of the acts I'm hoping to see are Z-Star Trinity, I think they are a great band with the perfect balance of chaos and emotion a bit like us. Chris Cain, who I haven't seen for a very long time but have always'd love his guitar playing and incredible vocals….and Harts who I got to jam with at the 2017 festival.
We'll be playing 2 big shows this year and it's actually gonna be pretty crazy for us after the second show on the main stage as we'll be jumping in the van, driving to Brisbane airport and flying to the Netherlands to perform the very next night. Woah! Yep…. and a big part of why we have the opportunity to do this is because of Blues On Broadbeach.
So thanks everyone and hope to see you there. Please come and say hello.