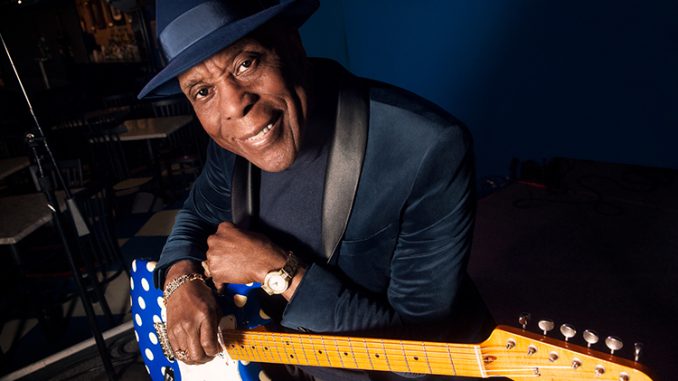 Buddy Guy returns to Australia in 2023 for the final time on his 'Damn Right Farewell' tour. He plays headline shows at the Palais Theatre in Melbourne on Monday, 10th of April, and at the Enmore Theatre in Sydney on Wednesday, 12th of April.
At age 85, Buddy Guy has been inducted into the Rock & Roll Hall of Fame, has influenced rock titans like Jimi Hendrix, Eric Clapton, Jimmy Page, Jeff Beck, Gary Clark Jr, John Mayer, Stevie Ray Vaughan, and just about every guitar player who has played the Blues, Blues Rock, and Hard Rock over the past 70 years.
He has pioneered Chicago's fabled West Side sound and is still the living link to the city's halcyon days of Electric Blues, from since the late 1950s when he was in Chess Records' House Band.
"It is the absolute truth to say that Buddy Guy is the last of the greats of the Blues performing today, who also brought the Electric Blues to the world, alongside Muddy Waters, BB King, John Lee Hooker, Albert King and many others from that time." – Peter Noble OAM, Bluesfest Group of Companies
Bluesfest Touring is honoured to be selected to present Buddy Guy as he bids his fans in Australia goodbye next April.
While the Blues may have fallen somewhat out of favour in the 70s and 80s, Buddy Guy experienced a major comeback in the early 90s, and has been credited with kick-starting the re-birth of the genre, with his 1991 album Damn Right, I Got the Blues. This was his first recording in almost a decade, and features Eric Clapton, Jeff Beck and Mark Knopfler.
Buddy Guy has released a steady stream of albums since then and has received 8 GRAMMY Awards – winning his 8th and most recent GRAMMY Award in 2018 for his 18th solo LP, "The Blues Is Alive And Well", and the Lifetime Achievement GRAMMY Award in 2015.
He has received 38 Blues Music Awards – the most any artist has ever achieved, the Billboard Magazine Century Award for distinguished artistic achievement, a 'Kennedy Center Honor', and the Presidential National Medal of Arts. Plus, Rolling Stone Magazine has ranked him #23 in its "100 Greatest Guitarists of All Time."
The year 2012 proved to be one of Buddy Guy's most remarkable, ever. That was the year he received the 'Kennedy Center Honor' for his lifetime contribution to American culture; and earlier in the year during a performance at the White House, he persuaded President Obama (a fellow Chicagoan) to join him on a chorus of "Sweet Home Chicago." He also published his long-awaited memoir, When I Left Home, in 2012.
These many years later, Buddy Guy remains a genuine American treasure and one of the final surviving connections to an historic era in the country's musical evolution.
In honour of Buddy Guy's 85th birthday last July, PBS American Masters released "Buddy Guy: The Blues Chase The Blues Away", a new documentary following his rise from a childhood spent picking cotton in Louisiana to becoming one of the most influential guitar players of all time. The documentary features new interviews with Buddy Guy, Carlos Santana, Eric Clapton, John Mayer, Gary Clark Jr, and more.
Having never stopped touring, even during his lean years, Buddy Guy remains a regular presence on the road. And while he's slowed down in recent years, his fire for playing guitar and spreading the Blues gospel hasn't waned.
As for what Melbourne and Sydney "folks" can expect from this living legend on the live stage…
"[They] can expect the best that I got," he said. "My dad told me this and I'll tell you the same thing he told me before I learned how to play, when I was driving the tractor and ploughing the fields in Louisiana. He said, 'Son, don't be the best in town. Just be the best until the best come around.'" – Interview with Union Leader, New Hampton.
"After 40+ years on the road and thousands of shows, Buddy Guy will soon be taking a break from extensive touring. He's not retiring! The Blues legend has new music slated for release later this year and a very special tour planned for next year, including these final shows in Australia. We can't wait to see you there on the 2023 Damn Right Farewell World Tour". – Team BG
Buddy Guy 'Damn Right Farewell' 2023 tour dates
Monday, 10th of April 2023 – Palais Theatre, Melbourne
Wednesday, 12th of April 2023 – Enmore Theatre, Sydney

SIGN UP NOW TO ACCESS THE EXCLUSIVE PRE-SALE https://bit.ly/BluesfestTouringSubscribe
PRE-SALE STARTS: Tuesday, 21st of June 2022 – 12PM AEST
GENERAL ON SALE STARTS: Thursday, 23rd of June 2022 – 12PM AEST
TOURING WEBSITE LINK:
https://www.bluesfesttouring.com.au/artist/buddy-guy-damn-right-farewell