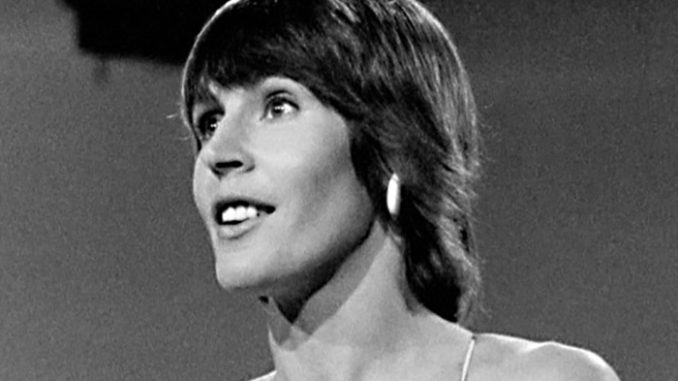 Tribute by Jeff Jenkins.
Legendary Australian singer Helen Reddy, who enjoyed an international hit with 'I Am Woman', has died in Los Angeles at the age of 78.
When I was compiling a book called 50 Years of Rock in Australia, Ian "Molly" Meldrum remarked to me: "I don't think Australians realise the magnitude of Helen Reddy's achievements in America. She is a true legend."
Helen Reddy (25.10.41 – 29.09.20) had three number one singles and 15 Top 40 hits in the US in the '70s to become one of our first international superstars. And her remarkable journey started in a two-bedroom flat on Riversdale Road in Hawthorn.
Reddy won a trip to the US in a Bandstand talent competition in 1965. "It was my dream to go to America," she said. "That was where I wanted to be." She went to the US in 1966, a single mum, with no record deal and no Green Card.
"Somebody from the record company met me at the airport in New York and said, 'Well, we're very disappointed that you won because we were hoping for a group or a male singer. I don't know what we're going to do with you.' The next day, someone from the sales department took me to lunch and then said, 'Well, dear, have a lovely time while you're in New York, and give us a call before you go back to Australia.'
"That was the extent of the audition and record contract I'd been promised when I won my prize. But I stuck it out – I'd waited too long to get to America to turn around and go back to Australia."
Pioneering Australian rock journalist Lillian Roxon helped Reddy in New York, and a lucky break got her a spot on The Tonight Show, where she was spotted by an A&R guy from Capitol Records.
Reddy's cover of 'I Don't Know How To Love Him' hit number 13 in 1971, and then she wrote the anthem 'I Am Woman' with fellow Australian Ray Burton, who had been a member of The Executives and later formed Ayers Rock.
"I'd been involved in the women's movement, something I'd been turned on to by Lillian Roxon, who also encouraged me to write," Reddy recalled. "I was looking for songs for my first album, something that would reflect the feminist consciousness, but I couldn't find any. So, I realised I had to sit down and write one."
Helen wrote in her autobiography, The Woman I Am: "Even though I was only one voice, I knew I spoke for many women. To express that singular collective, I chose the words, 'I am woman, hear me roar' to start the song with what, I thought, was an obvious reference to the roar of the crowd. How easily we can be misunderstood. Although the phrase has long since passed into the lexicon, I hope it's not too late to correct the impression that some still have of me as Jungle Jane with delusions of leonine grandeur."
The story of Helen's debut album is a cautionary tale. "Capitol Records informed me that my first LP was to be titled I Don't Know How To Love Him in order to capitalise on the popularity of the single. For the other nine slots, I was advised to record the nine highest-rating songs currently on the charts as 'name recognition' would guarantee sales. The chance to make an album was something I had waited a long, long time for and, over the years, I had accumulated a list of songs I hoped to record one day. That day had finally come and I was not about to be told what songs I should sing."
'I Am Woman' languished as an album track on her debut album, until Reddy re-recorded it for her third album. She added a final verse, and re-worked some of the lyrics, changing "I can face anything" to "I can do anything".
"The reason I re-did the song was because movie producer Mike Frankovich was making a movie for Columbia (Stand Up And Be Counted) and he wanted to use 'I Am Woman' as the theme." Stand Up And Be Counted, starring Jacqueline Bisset, was about a newspaper reporter named Sheila, who returned to her hometown to write about the women's liberation movement. "The movie opened and closed in four days, it was a bomb," Reddy noted. "But the song became a hit."
The new version of 'I Am Woman' roared to number one – without the help of radio programmers. "DJs and program directors hated 'women's libbers'," Reddy recalled. "I had to turn to television." After singing 'I Am Woman' 19 times on TV, radio was forced to play it. Reddy recalls it was a time when job ads were still listed by gender, and a woman could not get a housing loan or a credit card in her name.
Reddy became the first Australian to win a Grammy when 'I Am Woman' won Best Pop Vocal Performance, Female in 1973. Reddy delivered the show's most famous acceptance speech:
"I want to thank everyone concerned at Capitol Records, my husband and manager, Jeff Wald, because he makes my success possible, and God, because She makes everything possible."
Reddy knocked back offers from advertising agencies wanting to use 'I Am Woman' in TV commercials, but she did allow the United Nations to use the song during International Women's Year, for a token fee of one dollar. She later said: "If someone comes up to me and says, 'I went to law school because of your song', or 'I lost a child to cancer and your song really gave me the strength to carry on', that's how I measure success."
Reddy also topped the US charts with the singles 'Delta Dawn' and 'Angie Baby'.
Reddy was no fan of the Australian media, and she befriended Frank Sinatra when he had his run-in with the Australian press. Sinatra sent her a dozen yellow roses, with the note: "If anyone ever hits you, call me."
Reddy was also critical of Madonna and the female pop stars that she inspired, writing in her book: "I did not see going from 'I Am Woman' to 'Material Girl' as a positive progression. Having spent so much of my life fighting for women to be treated with dignity and respect, I was both dismayed and alarmed by how many pubescent girls I was now seeing dressed in provocative clothing and practising erotic moves. The sexualisation of female children was beginning. I also noticed that as female clothing got skimpier, male clothing became baggier."
Reddy achievements were finally recognised by the Australian music industry in 2006 when she was inducted into the ARIA Hall of Fame.
Actor and singer Toni Collette inducted Reddy, saying: "I can remember when I was a little girl hearing the words of 'I Am Woman' on the radio, and I'd walk around the house singing the lyrics. I didn't have a clue about the significance of the lyrics then, but as I grew into my teens, I understood a little more about what Helen Reddy was saying in her song.
"It is now a timeless song, a song that will always be with us. A classic."
Collette called Reddy an "actor, crusader and mum". "She's Australian [and] we should all roar for her outstanding achievements."
Vanessa Amorosi performed 'I Am Woman' at the ceremony.
Reddy made an emotional Hall of Fame speech. "Most of all," she said, "I thank you for welcoming me home.
"For me, it [the award] represents 55 years as a working musician, with all the highs and lows that that entails.
"I think there is nothing more glorious than being a musician. What other job do you go to work and your boss says, 'Play!'"
Helen Reddy came out of retirement to perform 'I Am Woman' at the 2017 Women's March in LA, the day after the inauguration of President Trump.
Helen Reddy's life was celebrated in the 2020 movie I Am Woman.
'I Am Woman' was also covered by emerging artist Mia Wray for the online music show The State of Music earlier this year.
Helen Reddy died in Los Angeles, aged 78. She is survived by her daughter, Traci, and son, Jordan.
"She was a wonderful mother, grandmother and a truly formidable woman," her children said in a statement announcing her passing. "Our hearts are broken. But we take comfort in the knowledge that her voice will live on forever."