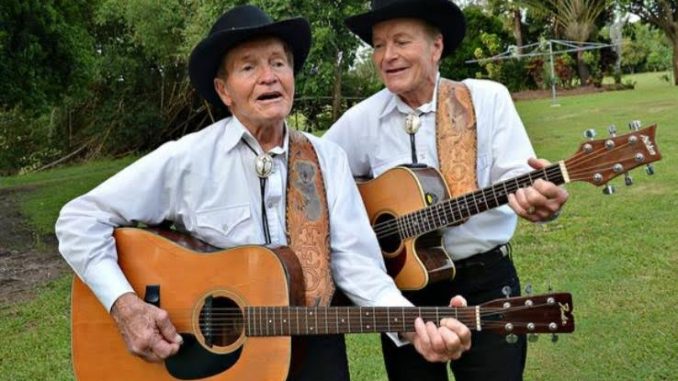 ONE OF THE GREATEST UNTOLD STORIES
SHOWBIZ HUSTLERS
A TRUE LIFE STORY OF LeGARDE TWINS – TOM and TED
FROM SHEER POVERTY TO DREAMTIME THAT BEGAN IN THE BUSH LANDS OF AUSTRALIA
From the bush lands of Australia to the Hallowed halls of Hollywood. The LeGarde Twins, Ted and Tom have followed their dream for over 70 years and are still entertaining audiences with the same enthusiasm and energy that got them to where they are today. "Being raised in the bush lands of Australis in the 1930's and 1940's was a rough and hard life", Ted and Tom LeGarde recollected. "We didn't think about it back then, because that's how life was. You have to live the hard life to understand it. But we also made a picture in our minds of the kind of life we wanted to lead, and it became a beacon that has guided us on our long journey in show business….so grab the reins and ride over one million miles with us from the bush lands of Australia across seven continents, through twenty-three countries and forty-five of the fifty states in America…".
In 1950, they made their first recordings for Rodeo, but between 1952 and 1957, they had several single releases on Regal Zonophone Records.
In 1954, they toured Australia with their boyhood idol. Hopalong Cassidy (William Boyd), but in 1957, they decided to seek success in America. They first played shows in Canada but later hosted their own television series in Los Angeles. Between 1958 and 1963, they relocated to Nashville, where they recorded singles for Dot Records and Liberty Records and made appearances on the Grand Ole Opry, debuting with their own song, 'Cooee Call'. They returned to Australia, where they briefly ran a country show from a Paddington, Sydney theatre, recorded albums for EMI Records and compèred two local country shows. In 1965, they returned to the USA where, under ' Colonel' Tom Parker's management, they worked in Las Vegas and even appeared in television's Star Trek.
In 1987, they were awarded Hall Of Fame status at Australia's prestigious Tamworth Country Festival and during the 80s, they launched their own Boomerang label and made several appearances in the UK, including at the Wembley Festival.
In the early 2013 they attended CMC's Rocks The Hunter Music Festival where they received their life time achievement award. A few months later they began working on their book, "Showbiz Hustlers." The LeGarde Twins are still performing today, cracking their whips and astounding audiences of all ages.