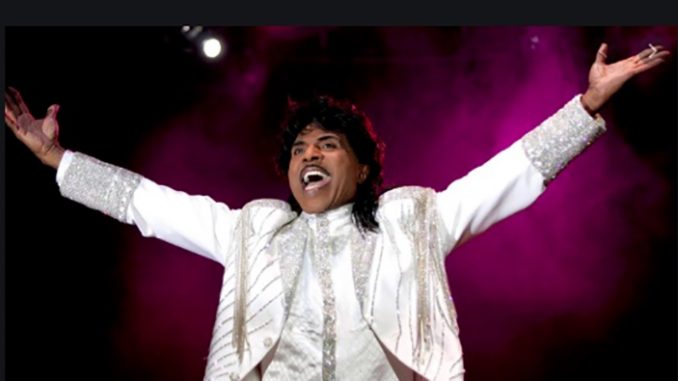 He might have had the stage name Little Richard but Richard Penniman was a giant as well as a pioneer of rock 'n' roll who also coined the immortal lyric: "a-wop-bop- a-loo-bop-a-wop-bam-boom."
Richard died in Nashville on Saturday May 9 at the age of 87.
Born Richard Wayne Penniman in Macon, Georgia on December 5, 1932, Penniman had been in poor health for several years, suffering hip problems, a stroke and a heart attack. His son, Danny Jones Penniman, has confirmed the pioneer's death and a statement from Richard's agent, Dick Alen, read: "Little Richard passed away this morning from bone cancer in Nashville."
"He was battling for a good while, many years. I last spoke to him about two or three weeks ago. I knew he wasn't well but he never really got into it, he just would say 'I'm not well.'"
Richard's career began when in the late 1940s recording for RCA Victor but his breakthrough came when he signed to Specialty Records in 1955, releasing a string of hit singles: 'Tutti Frutti', 'Long Tall Sally', 'Rip It Up', 'The Girl Can't Help It', 'Lucille', 'Keep A-Knockin'' and 'Good Golly, Miss Molly'.
Little Richard influenced a host of rock 'n' rolls artists in future generations including The Beatles (who were his support at the Star Club in Hamburg and recorded several of his songs), The Rolling Stones, Elton John, Michael Jackson, Prince and more. His outrageous stage presence pre-dated Elvis Presley, who called Richard 'The King, and opened the door for many others to follow.
Penniman was one of 12 children he was one of 12 children and sang in church but left his home at the age of 13 to move in with another family. When he started his music career he became 'Little' Richard, after the fashion of the time with such artists as Little Milton and Little Esther.
He retired from rock 'n' roll for five years to become a minister after an incident during an Australian tour in which he saw a comet (actually Sputnik) during a ferry trip across Sydney Harbour and threw his rings into the water. Convinced to return to touring in 1962 Richard never quite regained his initial success but was performing into the latter years of his life.
Fellow artists mourn the loss of their friend and share fond memories that have left them forever moved by the Iconic, Little Richard.
"It is with a heavy heart that I ask for prayers for the family of my lifelong friend and fellow Rocker 'Little Richard,'" said Jerry Lee Lewis in a statement. "He will live on always in my heart with his amazing talent and his friendship! He was one of a kind and I will miss him dearly. God Bless his family and fans. Rest In Peace, my friend."
"I just heard the news about Little Richard and I'm so grieved. He was my shining star and guiding light back when I was only a little boy. His was the original spirit that moved me to do everything I would do." – Bob Dylan
"He was there at the beginning and showed us all how to rock and roll. He was a such a great talent and will be missed. Little Richard's music will last forever." – Brian Wilson
"I'm so saddened to hear about the passing of Little Richard, he was the biggest inspiration of my early teens and his music still has the same raw electric energy when you play it now as it did when it first shot through the music scene in the mid 50's. When we were on tour with him I would watch his moves every night and learn from him how to entertain and involve the audience and he was always so generous with advice to me. He contributed so much to popular music. I will miss you Richard, God bless." – Mick Jagger
Elton John posted: "Without a doubt – musically, vocally and visually – he was my biggest influence. Seeing him live in my teens was the most exciting event in my life at that point. Goosebumps, electricity and joy came from every pore. His records still sound fresh and the opening few seconds of "Tutti Frutti" are the most explosive in music history. I was lucky enough to work with him for my "Duets" album in 1993. He was shy and funny and I was SO nervous. The track we recorded "The Power" is a favourite in my catalogue. We also played live at the Beverly Hilton and I felt like I'd died and gone to heaven.
He influenced so many and is irreplaceable. A true legend, icon and a force of nature. #RIP Little Richard Love, Elton x"

"RIP Little Richard. The man who invented Rock and Roll. Elvis popularized it. Chuck Berry was the storyteller. Richard was the archetype. Maureen and I were so honored being the first marriage he conducted. We were lucky to know him." – Stevie Van Zandt
"In my book, Little Richard was the king of rock 'n' roll. He carried a full horn orchestra and wrote most of his songs. He was the first really crazy rock 'n roll guy that everybody loved, black or white. I always had a Richard album or two even when I was broke. One of The Jordanaires told me that when he met Richard in the 50's his face was painted purple. That about says it all." – Don McLean
"I knew Richard for more than 60 years. He truly was one of the founding fathers of American contemporary pop music, so we all need to tip our hat out of respect for the contributions he made not just the American culture but to the world. RIP Little Richard." – Sam Moore
"Little Richard and I worked together multiple times over the years. I believe the last time we shared the stage was in the 90's. When you think about Rock and Roll music, he is one of those at the top. What amazed me the most about him was the great records he made with none of the technology like there is today. He will be greatly missed by all." – BJ Thomas