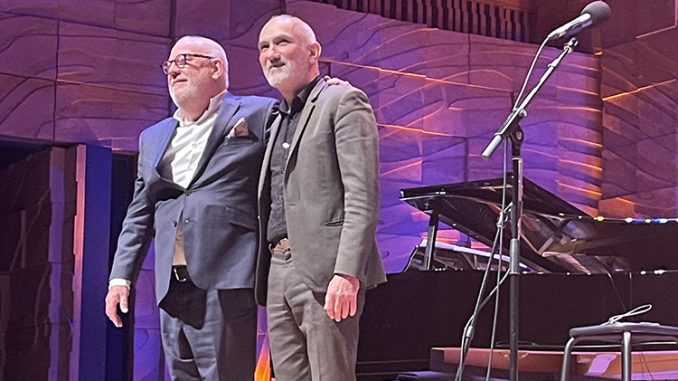 Live Review: Paul Kelly & Paul Grabowsky Melbourne Recital Centre, Thursday 14 July 2022.
Words and photos by Nick Corr.
Having been delayed due to COVID, it was brilliant to finally experience Australian music legends Paul Kelly and Paul Grabowsky presenting their debut collaboration album Please Leave Your Light On in live performance.
The bulk of the show featured Paul Grabowsky on piano with Paul Kelly on vocals – with very occasional addition of acoustic guitar ('A Bastard Like Me' and 'Dumb Things') and harmonica ('You Can Put Your Shoes Under My Bed', and 'If I Could Start Today Again').
As Paul Kelly explained during the show, the song selection process for the album and show was mostly Paul Grabowsky selecting songs from Paul Kelly's glorious back catalogue and creating new piano based arrangements. As Paul Kelly explained with obvious joy, he loved that Grabowsky 'constantly surprised me'.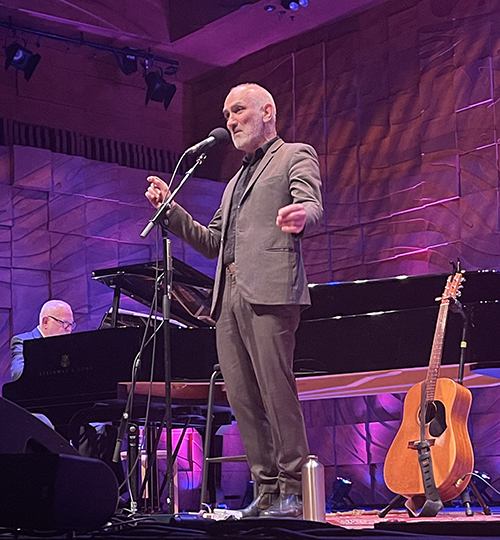 The live show followed a very similar format to Please Leave Your Light On album – in fact they performed the entire record almost in sequence (only 'Pertichor' and 'When A Woman Loves A Man' swapped positions) with a few additional Paul Kelly songs and a solo performances added along the way.
Highlights from the album material were 'Petrichor' with Paul Kelly including a few lines from Bob Dylan's 'I Want You' during the final verse. The more comical 'Young Lovers' was also well received by the older Recital Centre audience. For me 'Winter Coat' was one of many highlights.
For the solo segment, Paul Grabowsky performed his improvisation peace 'Angel' while Paul Kelly performed his adaption of the Les Murray poem 'Once in a lifetime, Snow' from his 2013 collaboration with James Ledger and Genevieve Lacey Conversations with Ghosts, that was recorded live in this same venue back in October 2012.
The show also featured additional piano arrangements of Paul Kelly songs not included on the Please Leave Your Light On album. 'You Broke a Beautiful Thing' originally written for Renee Geyer, but included on Paul Kelly's 2004 album Ways and Means; this piano arrangement was actually available as a download-only single shortly after the album release. 'A Bastard Like Me' from 2018's Nature, and a rollicking 'Dumb Things' to close the main set.
Returning for a two-song encore, they performed another couple of Paul Kelly songs also not included on their album: 'Your 39 You're Beautiful and You're Mine' from 2007's Stolen Apples; and, a crowd pleasing 'How to Make Gravy'.  For me, 'How To Make Gravy' was probably one of the weakest re-arrangements as Paul Kelly seemed to struggle with the phrasing, or possibly it sounded a little wrong given it's one of his most iconic and best known songs.
It was wonderful to see one of Australia's finest songwriters and most accomplished pianists in such a musically intimate venue; and hopefully the additional songs performed point to another collaboration album in the near future.
Setlist:
1. True to You
2. When A Woman Loves A Man
3. Petrichor
4. Sonnet 138
5. Time and Tide
6. Young Lovers
7. Every Time We Say Goodbye
8. You Broke A Beautiful Thing
9. Angel (Paul Grabowsky solo)
10. Once In A Lifetime, Snow (Paul Kelly solo)
11. A Bastard Like Me
12. Please Leave Your Light On
13. You Can Put Your Shoes Under My Bed
14. Winter Coat
15. God's Grandeur
16. If I Could Start Today Again
17. Dumb Things
Encore:
18. You're 39, You're Beautiful and You're Mine
19. How To Make Gravy