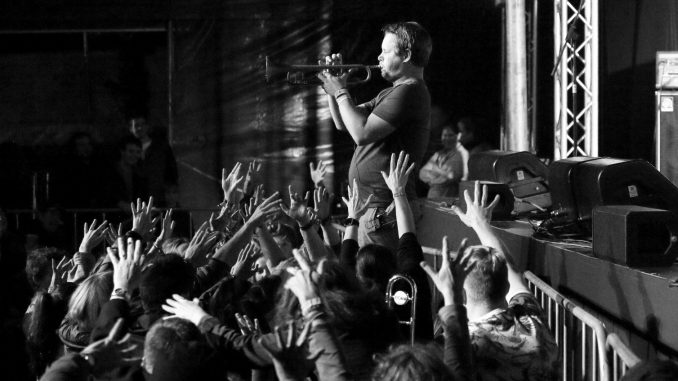 #altitude #muddy #musicshines #bluemountainsmusicfestival2017
The 22nd Blue Mountains Music Festival had it all, from Irish folk to Dutch Ska and Inuk throat singing. The rain hardly stopped in Katoomba, but neither did the music. Words and pictures by Steve Ford.
One of the venues was destroyed by fire prior to the festival, and the main stage was knocked out by rain over the weekend. The sun didn't shine through until Paul Kelly and Charlie Owen closed the main stage on Sunday afternoon. But musos and festival goers are a hardy lot, and together – despite some very real challenges – they made the 2017 Blue Mountains fest memorable for the right reasons.
Just weeks beforehand, the Katoomba RSL club burned down, knocking out one of the popular stages. In the scheme of things, it was a hiccup for the festival, a major blow for the local community. Fortunately, the spacious ballroom at the Palais Royale, about 350 meters away from the festival precinct, was available as a substitute.
Friday night was cold and wet, and with the ground already waterlogged from weeks of wet weather, the rain continued throughout Saturday. For safety's sake, the call was made to close The Big Top – the main stage – for Sunday, along with one of the smaller stages. Several food stalls were also taken out.
With the exception of The Waifs, Paul Kelly and Bustamento, who were moved to the second stage, Sunday's Big Top program was cancelled.
The disruption no doubt caused heartache for many artists, stallholders and punters (particularly those who only came for Sunday) but I saw few sad faces. Quite the opposite.
Friday
Les Poules a Colin, from Quebec's Lanaudiere region, opened the main stage on Friday night. Mixing Quebecois folk with other genres, including jazz, is a tradition in itself in French Canada, and this young band does it well.  (Les Poules a Colin – or Colin's Chickens – consists of five childhood friends – four women and a fella named Colin. The festival proudly pointed out that more than 50 per cent of the artists on this year's bill were women. In my many years of festival-going, that is a milestone.)
I was looking forward to the veteran Irish folky Seamus Begley, and to hearing his amazing fiddler Dezi Donnelly for the first time. Unfortunately their set was marred by PA problems and never really got off the ground.
More successful were The Young Folk, an alt-folk quartet from Dublin, a little like Mumford & Sons, but with well-worked harmonies and better melodies. Lead singer Anthony Furey provided a good laugh when it became clear he didn't realise he was playing a St Patrick's Day gig. (Yes, Anthony is related to The Fureys. George is his father, Finbar his uncle.)
At the Guinness Stage, The Jerry Cans ended day one. From Iqaluit, Nunavut, in Canada's frozen North, The Jerry Cans describe their music as "a unique mix of Inuktitut alt-country, throat singing, and reggae." They are led by Andrew Morrison, whose wife, Nancy Mike, an Inuk woman, does the throat singing. They sing in Inuktitut on most of their latest album. It may sound esoteric but it's ultimately very accessible and danceable music. They rock.
Saturday
With the rain falling in relentless waves, I didn't stray far from the Big Top on Saturday.
I'd been looking forward to the enigmatic Dori Freeman, whose debut album was one of last year's best in the broad Americana genre. As a singer and song-writer her future seems assured. As a live act, she is a work in progress. Her guitar playing is rudimentary and even with husband Nick Falls providing low-key percussion and occasional banjo, the sound needed fleshing out. Close your eyes, however, and she has a voice that simply transports you. If her music develops as it should, she will move well beyong her current cult following.
Despite their music-royalty status, I had no real expectations of Folk Uke, who are Amy Nelson (Willie's daughter) and Cathy Guthrie (Arlo's daughter). It turns out they are the wittiest, smuttiest, most gorgeous comedy protest singers on the planet. They run a good line in self-deprecation, and are honestly not great players, but they are very good singers and harmonise like sisters. With the support of their new best friends, Dog Trumpet, they provided superb entertainment.
I didn't plan on a second helping of The Young Folk, but enjoyed their set immensely. (I've since gone to school on their back catalogue, which is very strong. Try the recently released First Sign of Morning.)
Eddie Reader was a revelation. The Scottish singer is simply better than ever. Backed by an all-star quartet including fellow Scot Boo Hewardine (vocal and guitar) and Galway's Alan Kelly (accordion), she gave a true headliner's performance. From Robbie Burns to jazz to the compulsory hit song, she was pretty well (sorry about this) perfect.
If Eddie Reader was a hard act to follow, The Waifs were the right band for the job. Donna and Vikki played this fest successfully in 2015 as the Stray Sisters. With Josh Cunningham, they took it up a notch. They are considerably better musicians and much more polished than they were in their pop star heyday. Their packed show was the highlight of the festival.
Sunday
We arrived early to catch another set by Les Poules a Colin, to find they were bumped from the Pavillion for The Waifs, playing in trio acoustic format. I doubt they had played a 10am gig before, but they were brighter and cheerier than I could manage at such a rude hour.
I soon took off for The Shed, where Folk Uke were scheduled for Heartland Conversation – a live-to-air on the ABC's Radio National. Despite a few awkward questions, Cathy and Amy came across as serious, intelligent, outrageously funny and just plain nice.
The Missions Songs Project is a well-realised attempt to collect songs from missions, townships and reserves of Indigenous Australia. With the trio of project leader Jessie Lloyd, Jessica Hitchcock and the wonderful Deline Briscoe, I suspect some of these songs never sounded so good. Rarely does an exercise of this sort turn into such good entertainment.
Somehow – and I regret this bigly – the Davidson Brothers had largely escaped my attention until now. Wow! These guys – Hamish (fiddle) and Lachlan (mandolin) – are simply world class. From straight bluegrass, to Charlie Daniels, to David Grisman-style jazzy originals, they didn't't put a foot wrong. Can't wait to see them again.
Thankfully, I got another chance to see the Seamus Begley Trio, and they were all that and more. Fiddler Dezi Donnelly is simply brilliant, playing at lightning speed with the purest tone.
Dutch ska band Bazookas had the Pavillion crowd jumping from the get-go, their high energy set peaking with a visit from Nicky Bomba, who traded vocals with dreadlocked leader Bazz Bernasconi.
Paul Kelly closed the Pavillion to a jam-packed, rapt audience. I've seen Kel many times however, and a curious mind pointed me to the tiny Clarendon stage for My bubba. The essence of Scandinavian cool, the duo of My Larsdotter (from Sweden) and Guðbjörg "Bubba" Tómasdóttir (Iceland) play a minimalist style of roots pop, accompanying themselves on guitar (Bubba) and lap harp (My). It's not for everyone, and a constant stream of punters in and out of the intimate space – and the whirr of the ceiling fans over their breathy vocals – made the set hard going. But I was won over, and glad I made the detour.
Despite the rain and mud, and the cancelled shows, it was another satisfying Blue Mountains Music Festival. Already looking forward to 2018.