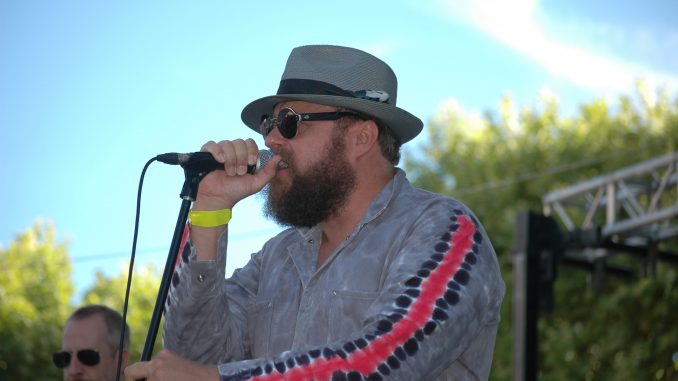 July 11 – July 15  2017
Cahors Blues Festival in the southern, midi-Pyrenean region of France, is now the country's true premiere annual blues music event, a title previously held by Cognac Blues Passions a festival that has become increasingly expensive and detached from true blues over recent years – recent headline acts have included Iggy Pop, The Cranberries and little true blues, for example.
This year, 2017, Cahors – which has previously hosted BB King and is where Johnny Wynter played his last gig in 2014 before passing – billing included leading, legendary gospel-blues singer Mavis Staples, US bluesman Mister Sipp, Canadian multiple award winner Angel Forrest, Louisiana's Kenny Neal, and a true show stealer, with Idaho's blues harp, singer-songwriter John Nemeth.
With Mavis Staples on the bill you always know you're in for a real treat. And taking the stage only a day after turning seventy-eight, she again showed just why she remains a massive crowd puller and pleaser. Her voice was huge, warm, emotive and passionate as she belted out much of her mammoth back-catalogue of over 60 years work. 'Wade In The Water' has become one of her must-do numbers and again, despite her growing age, she pulled out the stops with her usual determined vocal delivery.
Baton Rouge, Louisiana blues picker and singer-songwriter Kenny Neal produced a hi-energy, southern blues set that rocked the joint one night while Ireland's blues-rocker Johnny Gallagher was joined on-stage by UK guitarist Bernie Marsden and delivered a set that ran well into the early hours and celebrated France's National Day on July 14 with firework displays crackling in the skies overhead.
A number of lesser-known French bands also featured including a powerful duo with a keen eye for traditional, pre-war blues, Viscious Steel, fronted by Cyril Maguy a guy with a fine, powerful voice and some fine guitar chops. The Cotton Bellys, a four-piece outfit from the Paris area, were straight-on rock-blues and gave more than a hint of why they're fast being favoured as one of France's finest young blues bands.
With so much talent on offer, and Mavis Staples still clearly performing at the top of her game, it was a surprising delight to find another US bluesman with a hi-energy, full-flow take on the blues and a widely admired confidence and power that took the crowd by both storm and surprise. John Nemeth was, for me, the true show-stealer. His set was blistering and perfectly pitched while his own song-writing talents were also clearly evident, with much of the set featuring tracks from his current album, 'Feelin' Freaky.'  Nemeth made the absolute most of his stage-time, ripping along with an assurance and style that was nothing short of truly masterful. On this evidence, Nemeth is clearly a guy to catch and get to know. He certainly knows how to steal a show and get away with it.
By Iain Patience