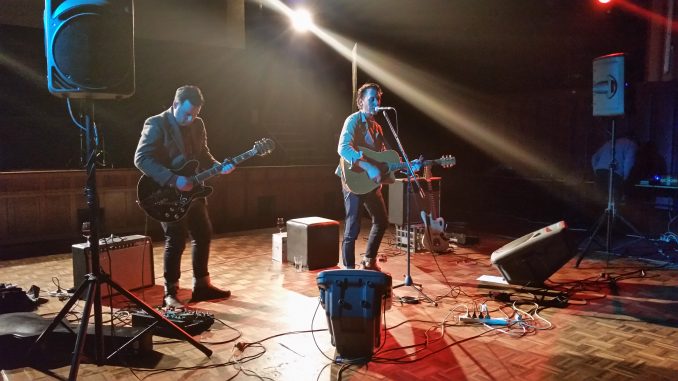 Theatre Royal, Castlemaine
June 25
There's nothing quite like a private concert. On a wintery Sunday evening in Central Victoria, my friend and I ventured away from our firesides and were rewarded like Saudi princesses.  "Bring me Jae Laffer," we might have ordered. "For we wish to be entertained this night." While ours were the only two bums on seats at the advertised 'showtime', other punters eventually rolled up to build an audience in double figures. But those fashionably late-comers missed impromptu pre-show entertainment, as a friendly poppet (Laffer's daughter) danced for us, singing hits from Tay-Tay and 'Frozen' on demand. This was indeed an intimate gig.
Last time I saw Laffer, he was fronting The Panics at the same venue to a huge crowd. I was immediately captivated by their sound – beyond hits I'd heard on the radio. This time it was a last-minute, little-advertised gig 'kind of just for fun'. Originally from WA, Laffer and Drew Wootten formed five-piece The Panics early this millennium. Awards, major tours, publishing deals and stellar support slots followed. Radio loves them – from triple j and community radio to mainstream stations. They were based in the UK for a time where they began recording their debut album. Meanwhile, back in Castlemaine, Laffer and guitarist Ash Blakeney set up on the dance floor of the historic regional venue. An arc of sofas and ottomans slowly filled as the music began with 'Leave A Light'.  It was perfect laid-back material; surprising lush musical twists and turns filling the room like a mug of Cognac wrapped in lambswool. Laffer sang with closed eyes, or gazing up toward the ghosts of dress circle punters past.
The audience was a mere scintilla compared to the 12,000 when his band supported Happy Mondays in London. There was no accompanying symphony orchestra, as there had been at Perth's Kings Park in 2010. No flourish of keyboards where Laffer or The Panics' Jules Douglas usually feature. Just Laffer, his musings set to music, his familiar voice and trusty Maton with the hypnotic bonus of Ash Blakeney's guitar work. Blakeney's modified Epiphone Sheraton and Fender '65 were as vocal accompaniment, adding a reverberating gravitas to the songs. The Panics' bass player Paul Otway stepped in beside Laffer for 'Sleeps Like A Curse' and 'Passenger Side' as Blakeney took a break. "You might have heard this one during the tennis or something," Laffer offered before dutifully, yet earnestly, launched into hit 'Don't Fight It' from 2007 album Cruel Guards.  Maybe not The Panics best, but damn, it's hard not to get caught up in its inviting loop. We were bid a 'goodnight' with 'Weatherman' from latest release Hole In Your Pocket. Vocals with a Paul Kelly tone, poetry in the Mark Gillespie paddock, sonically evocative in the realm of Lloyd Cole via The Smiths. Sometimes a performance unfolds from 'under the radar' to unexpectedly memorable. This one left us feeling warm and fuzzy. No mean feat as we headed back into the silent chill of the goldfields night.
By Chris Lambie