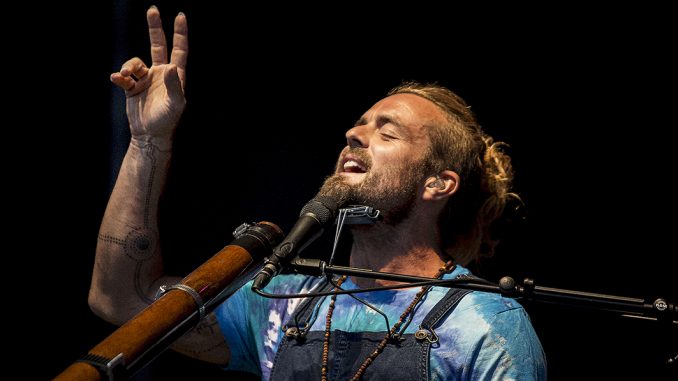 Australia's music festival industry is going through many changes. However, A Day on The Greens' formula is outlasting the changes and they celebrated their 400th Show at Bimbadgen last weekend. Like the festival itself, the line-up was legendary.
It was a warm, sunny afternoon – maybe verging on hot – the skies had some ominous clouds that added cover to what could have been a scorcher.
Looking small, with only a guitar as company, Australian singer/songwriter Mark Wilkinson took to the stage. His guitar and voice blended with the cooling afternoon breeze as his smooth melodies and heartfelt lyrics seemed to brush your cheeks.
He joked that sounding like Tracey Chapman is a little disconcerting given their genders – but the vocal likeness was recognizable as he proved his point by covering Fast Car. Moving into tunes from his highly successful 2013 album 'Let the River Run' he commented on a ' little song – Middle Ground' – finding its way to a Nescafe advertisement. This created another instant (ha ha) link with some.
At the Merch tent, there were fans that had followed him from the South Coast. They had heard him busking and now go to most of his gigs and were very proud that he made his way into the iTunes Top 10 ahead of Ed Sheeran.
As the afternoon cooled down people began to settle into their spots with picnic rugs and nibbles. Archie Roach ambled in, settled onto his seat, and began telling his stories in song.
He told a beautiful tale of the innocence of children and the awe of discovering each new day and experience. His voice wafted across the grounds with his characteristic gruff, tender tones reminding us to keep curious and be grateful for the wonder of the world around us.
With the release of 'Let Love Rule', this month love was beginning to emerge as a theme for the night. Archie took the crowd on journeys across his homelands and gave a more optimistic message about the courage and love of his ancestors.
The diversity of the patrons was once again evident as entire families performed dance moves that belonged in the 60's to Russell Morris' classics. It was a trip through Australia's rock music history. Telling his dad jokes between rocking blues guitar riffs he made them all laugh and dance. He demonstrated why he was still performing, winning awards, and attending festivals. There was a level of showmanship in his act that portraits his love of performing music.
Another type of energy began as Xavier Rudd, Bobby Alu, and Ant Aggs began their set. It was ironic coming into Cessnock to see the motto – Mines, Wines and People, given this group's recent involvement in the Bentley Rally. Xavier noted the diversity of the people in front of him and the beat began.
The pocket of fans to the left of the stage, who knew the music and the causes, were thanked for their ongoing support. Others felt that it was time get something to eat. That felt right at this event, as there were all types of music to please all types of fans but not necessarily everyone at the same time.
It was interesting to hear the birth of new fans in the crowd. They were in awe of the number of musical instruments being played, the talent with which they were played, curiosity about the Sea Shepherd flag and Aboriginal flag and inevitably, they had to wonder why the band had no shoes and how they arrived at A Day on the Green.
Dancers encouraged the sitters, some ran through the walkways giving high fives, peace signs, and the occasional free hug as they twirled and were lifted by the joy radiating from the stage (and perhaps a little wine).
The final song saw Xavier Rudd on stage, sitting alone with his guitar. The tribal chant that begins Nana silenced the crowd. He sang of ancient threads and the creation of new tribes every day, with new reasons for being and the hope that acceptance will be given to each tribe regardless of their origin be it urban, rural, primitive or modern. The hushed silenced ended with a huge ovation.
All that was left after such an epic journey was for the living urban myth that is Rodriguez to take the stage. The joy on Rodriguez's face was divine as his daughter led him on stage. He joked with the crowd that all he wanted was to be treated as an ordinary legend.
Feeling his way around the guitar, his seat, and the location of the microphone, puts on his glasses, adjusts his hat, states that he is now in uniform and breaks into a cover of Sir Elton Johns' Your Song. While glaucoma is affecting his vision, his voice is unmistakable and everyone sings along. He thanks them for their help. Everyone is jubilant, yelling out they love him and he responds that he loves them too – but believes it may be the drink talking.
With all the classics done and a few covers, the night ends and the crowd disperses into a thousand buses, to a thousand places with smiles on their faces and joy in their hearts.
With legends like Russell Morris and Archie Roach, this Day on the Green had all the elements and a new following was being built as their stories transcended the generations. Add in todays' new methods of finding success through iTunes -Mark Wilkinson, world music – Xavier Rudd, and a living urban myth – Rodriguez to the mix and you have a party that encompasses what festivals are all about.
A Day on the Green offers an opportunity to engage existing listeners; invite new listeners, open people up to new experiences and music in an environment that is accepting and joyful.
To echo Ganggajang's wishes – lets make it to 1,000 shows.
BY ROSEMARY BEARD