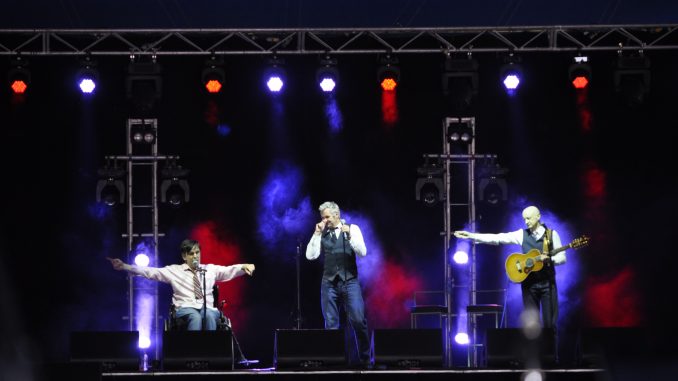 25-27 November, Queenscliff, Victoria
Tickets sold out for the first time in the Queenscliff Music Festival's 20 year history. But organisers haven't sold out in any commercial or artistic compromise of the unique event. They've tweaked the main site layout with some township venues switched around. Otherwise, QMF has never tried to fix what ain't broke. Constants are the welcoming coastal location, gigs on The Blues Train, a medley of food and beverage options, organised shenanigans for littlies, crowd-pleasing buskers and an eclectic line-up of acts. Such as…
Matt Anderson. What a jaw-dropping talent this Canadian singer-songwriter is. At home, he fronts a band, yet his solo sets were a complete feast. Dazzling bottleneck guitar work garnished superbly crafted rootsy tunes. His powerful pipes, the average bluesman can only dream of; somewhere between the dusky grit of Bob Seeger and the soulful croon of Chris Wilson. I'm talking vocals on steroids. Punters were pinned to the ground by effortlessly sustained notes. We howled with delight at rapid fire licks. Originals ranged from the wry to the righteous. Covers of  'Ain't No Sunshine' and 'People Get Ready' got the tent show crowd passionately testifying. A busted string was barely missed in the final song. A worthy standing ovation.
Among the big names at QMF #20, Peter Garrett reminded us why we loved him so in Midnight Oil. Commanding persona, trademark moves, iconic songs. Two of my favourite Oil's hits ignited a frenzy – 'Don't Wanna Be The One' and 'The Dead Heart'. Newies from Garrett's solo A Version Of Now stood tall among them. His band The Alter Egos included Oil Martin Rousey, Jet's Mark Wilson and ubiquitous drummer Peter Luscombe. Nice to see female representation too from Abbe May, Rosa Morgan and two of Garrett's daughters. Covers of Skyhooks' 'Ego' and Divinyls' 'Back To The Wall' were icing on the cake. Paul Kelly and Charlie Owen brought the house down with new songs from Death's Dateless Night between the iconic 'How to Make Gravy' and 'From Little Things…' (50 years since the Gurindji's Wave Hill 'walk-off'.) Sweet Jean's Alice Keith also stepped up to the mic, her own duo sets with Sime Nugent another hit on numerous stages.
Another 20th anniversary was celebrated, marking the birth of Killing Heidi. Jesse and Ella Hooper were back in their element soaking up the 'welcome back' love. Consummate rock chick Ella danced, pranced and rocked the stage, looking oh so fabulous. 'Kettle', 'Weir' and 'Mascara' inspired some fervent sing-along action. The sublime songs and vocals of Melbourne's Liz Stringer included tracks from current release All The Bridges and an evocative cover of Icehouse's 'Great Southern Land'.  Inspirational Mr Positivity hip-hop star Urthboy stirred an all-ages audience with another fine vocalist Kira Puru joining him on stage. Puru admitted she may have hit the bar a little too early before her own evening gig, but fans were with her regardless. I first discovered Puru at QMF a few years back. In fact, one of the sweetest gifts of the fest is its bold programming. So many upcomers, winning buskers and Foot-In-The Door acts have gone on to bigger things. (A feature AWME I really missed this year as the expo was 'rested' for 2016.)  Acapella hip-hop R & B outfit Drums of War get my vote for this year's busking comp. Their solid grooves drew a large gathering on Hesse Street. Local schoolgirl soul ensemble and QMF regulars, 'Sweethearts' presented one of their finest line-ups yet. Others familiar to the QMF family returned to a keen fanbase: Jordie Lane & The Sleepers, Ash Grunwald, Geoff Achison & The Souldiggers with Chris Wilson, Nattali Rize (Blue King Brown) and Sarah Carroll & The Left Wing.
The treats kept coming. From soul to rock, folk to blues, Latin, electronica  and Country. The Polynesian, reggae-kissed 'hammock music' of Bobby Alu & The Palm Royale served as a sweet mid-fest reviver. William Crighton's alt-folk/rock is as compelling for the songs as the powerhouse vocals. More than once I've heard comparisons to Springsteen. Personally, Crighton's writing is more my style. Kylie Auldist latest album Family Tree is making major waves. The sassy soul queen has secured a few #1 spots on UK charts and across Europe. No surprise. Others inspiring hips to shimmy and sway? The Meltdown, Alice Ivy, Quarter Street, Canadian trio The Harpoonist & The Axemurderer with old-style blues 'n roots. The latter impressed at their first show but really hit their straps by the next. In similar crowd-pleasing, foot-stomping fashion, Melbourne's Pierce Brothers nailed the brief – despite twice describing the event as a 'folk' festival. Less wild but no less well-received offerings came from Son Little, Julien Baker and Eilen Jewell, all from the USA. Saturday's Singapore showcase in The Pavilion featured talented young performers Linying and Jawn bookending a rocking set from 5-piece Stopgap. An exciting reminder that the West holds no monopoly on polished full-throttle indie rock.
Of course, no QMF weekend is complete without some funny. We anticipated some naughty as well from the Doug Anthony Allstars and they uncorked plenty of un-PC mayhem and just plain 'wrongness'. With a requisite few gasps and tutts from shocked punters, the big tent wobbled with guilty hilarity. MC funnyman Dilruk Jayasinha introduced Anne Edmonds, Denise Scott and Dave O'Neil. Each confessional offering drew loud guffaws with many a shared wink and nod. A testament to Tex, Don & Charlie's 'The Healing Power Of Helpless Laughter'. American singer-songwriter and Alan Alda lookalike Steve Poltz plays a mean guitar. But it's his loose cannon brand of funny that is most memorable. The 'Silence of the Lambs'-style composition 'Sewing Machine' could trigger nightmares if the delivery wasn't so frenetically comical. Countryman Ben Harper turned down the crazy-o-meter and turned up the rhythms for the festival closer. With killer band The Innocent Criminals playing their hearts out, the mix of hits and fresh material left fans sweaty, spent and beaming.
But for all the legendary names and promising newcomers, one act epitomised the unique weekend world of QMF. Regular on the festival bill, DJ Vince Peach inspired some of the most celebratory times of all. Clever organisers put the Ozone Lounge smack bang in the midst of the main action. Festive décor, tatami mats, beanbags and refreshments bar invited passer-by in between live sets on nearby stages. Peach spun some of the finest Motown, Stax and sweet soul singles from his massive collection. With dancers untied in funk, toe-to-toe, on tables chairs and shoulders, it was the grooviest club in town. Happy Anniversary QMF!
By Chris Lambie