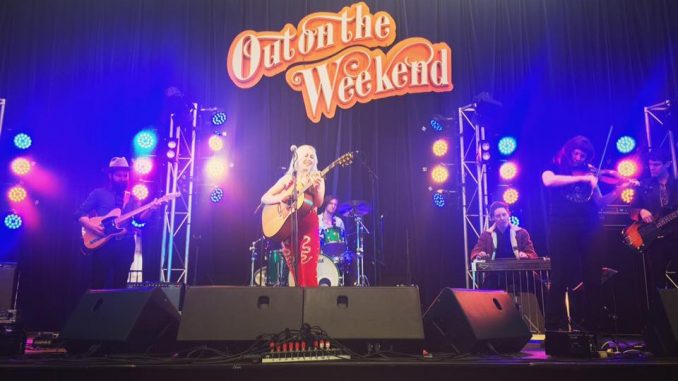 Saturday 14 October, Seaworks, Williamstown 
Shrouded in Sea Shepherd ships, smoking laws, Stetson cowboy hats and suits of the Nudie variety, the fourth annual OOTW was less in terms of punters than 2016 but more by ways of vibe; a roaming, croaky BT testament to the power of work that goes into putting these festivals together each year. While a conventional country bent was the go in 2017 when compared to the alt-country of OOTW's past, some things remain the same with a Neil Young soundtrack blaring on the outside stage. Beatbox burgers, tacos and brisket were a constant while the Pirates Tavern and Ladies Lounge heaved with solid drinking and makeup wizardry.
Current country starlet Freya Josephine Hollick opens the day with 'Tough As A Sundried Dead Man's Skin' from recent EP Don't Mess With The Doyenne; yodels, hollers and twang the order of the set. As if the tracks aren't mesmeric enough, Hollick's flowing golden locks and custom-made velvet dagger halter and studded serpent bells from clothing label The Creatures are the cream on top. Playing with a full band; guitars, pedal steel and drums only serve to enhance Hollick and sidekick fiddle player Kat Mear's classy schtick.
The Davidson Brothers mine their world-class getaway music sound complete with intense harmonies. A cover of 'Man of Constant Sorrow' is a nice touch on a day like this. Raised by Eagles dedicate their set to lead Eagle Luke Sinclair's recently departed 18-year-old cat as guitarist and lap steel cohort Nick O'Mara plus Sinclair's wife Tracy McNeil on backing vocal help frame the melancholy narrative of a gig that works a Wilco A.M.-era angle. Sounds like the ideal time to swill a few banana-infused Jack Daniel's cocktails and settle in for Jack White protege, Lillie Mae's sweet and lowdown showcase.
Fanny Lumsden works the matching band outfits slant with short-sleeve blue shirts for the fellas, while she rocks the long blue shirt ensemble complete with leotard and cowboy boots. Fanny's got a hoot from hell, crafted over the last 16 months as she and band have traversed 100,000 kms of this country in their pop-top caravan affectionally nicknamed 'Little Millie'.
The Pirates Tavern has James Ellis and The Jealous Guys (members of Big Smoke, The Bitter Sweethearts and The Hello Morning) tapping out saloon-style country that finds several of us in the mood to waltz, two-step and polka like no one's watching. Obviously copious amounts of Melbourne Bitter cans and Jameson and Dry plays its part here. Performing for the first time ever in Oz on the Main Stage, Jay Farrar's Son Volt brings the melody and crunch. The first act so far to throw out an edgier country-rock twang, Volt's leader looks more and more like Roy Orbison every day.
All Our Exes Live In Texas are typically brash and harmony-driven angels of the Wild West, New Orleans five-piece The Deslondes, tighter than Bon Scott's denims, and folk and bluegrass storyteller Robbie Fulks solid as always. Canadian acid-folk and country-punkers The Sadies are the revelation of the night with intense pop melodies sparking wild riffs and grins on the bursting Outside Stage.
Traveller inform us they're staying at the Quest Royal Gardens Room 6 and to come party and charge it to BT. "You're all welcome," says joke-boy Jonny Fritz whose cartoonish vocal blends with Cory Chisel's gravelly tone while Robert Ellis with trademark Nudie, devilish smile and killer guitar solo, completes this dream country trio.
Justin Townes Earle returns to our shores and is as methodical as ever. He's lost none of his wit, prickliness and perfection, telling us he'd rather be with his three-month-old daughter but still happy enough to be here before launching into classic JTE, 'One More Night in Brooklyn'. The Sadies are his house-band and add their dynamic twist to the lanky Americana icon's glossy closing set that's dotted with tracks from his latest record 'Kids in the Street'. It was more us middle-aged kids in the street for the majority of the festival before our aching bones spill out and make the short trek to Williamstown platforms (or the fab party ferry) to head back in to reality, Berocca and a nice soft pillow.
By Nick Argyriou