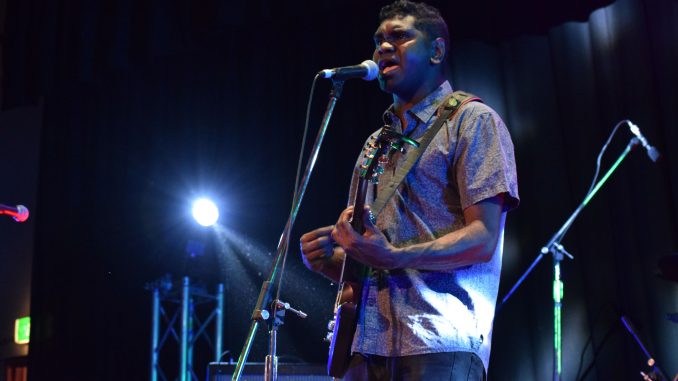 Sunday 20 November 
High School, Mullumbimby Music Festival
Yirrmal graced the stages of the Mullumbimby Music Festival twice over the weekend of music, and each time was an emotional experience for those in the packed-out crowd. Playing his final set at the High School, there was extra energy coming from Yirrmal and those in the room – it was going to be a show to remember.
Coming from the Yirrkala community in North East Arnhem Land, Yirrmal has music in his blood. Speaking of advice given to him by Uncle Archie (Roach), Yirrmal's title track off his EP Youngblood is a moving piece, talking of culture and country and carrying it on with him.
Culture and connection were consistent themes across the rocking singer songwriters set, and themes which garnered the appreciation the audience clearly felt. Another stand out was The Bridge. A song about acceptance and closing the gap, it brought the dancing and enthusiastic audience to a halt. Strangers were holding each other, and the upbeat dance came to a slow, thoughtful sway. A moving experience, to say the least.
As if a nod to his father, Witiyana Marika of Yothu Yindi, Yirrmal put his own spin on the Yothu Yindi rock hit Treaty. Slipping between English and indigenous language across Treaty and his own songs, Yirrmal's delivery is goosebump-inducing and poignant.
There's something magical about Yirrmal's music. And there was a profound connection between Yirrmal and his audience – you couldn't wipe the smile from his face, nor theirs.
BY NADA VAN KEMPEN