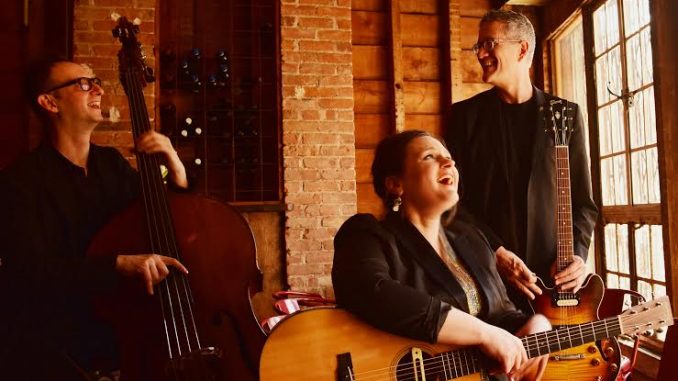 Twenty years ago Madeleine Peyroux literally exploded onto the music scene with her debut album, "Dreamland" attracting enormous world-wide acclaim and critical appraisal. Catapulted from virtual obscurity to the fashionable music limelight, Peyroux was initially bewildered by the change in her fortunes but also found herself burdened to an extent by the critical enthusiasms of many commentators who considered her to be the new Billie Holliday.
'For a long time I felt I was in a bad situation, being viewed as a copyist, devalued in some way. I thought if people want to hear Billie Holliday go out and listen to her, not me. I was unsure of my own worth. I didn't record for many years but I'm over that now, I've experience and I know what I want to do,' she says.
And with seven albums behind her, she sets out her stall with a new, ten-track release that mirrors her interests and showcases her voice admirably as an elemental force with its own life.
"Secular Hymns" started out as Peyroux's tribute to those songs, many standards, tracks that lie deep in the musical psyche and are widely known by most. 'Music has been our spiritual life,' she points out, 'So I think of these as hymns, secular hymns – songs that are individual, personal, introverted.'
Tracks include Stephen Foster's "Hard Times," the traditional African-American spiritual "Trampin'," and covers from the modern music mix featuring Townes Van Zandt, Tom Waits, Allen Toussaint, Sister Rosetta Tharpe and bluesman Willie Dixon. An assured yet assuredly eclectic range of material that propels her voice centre-stage while also hi-lighting the dynamics and quality of her backing band, guitarist Jon Herrington and bassist Barak Mori, a set-up she confirms works well for her. 'It's a very good fit for me,' she says. "It's been eye-opening working with these guys the past three years. And the space between the music – silence – is like a fourth player.'
Peyroux is quick to acknowledge her good fortune, her sheer luck in making the grade in a music world bursting at the seams with aspirants and new talent. Looking back on her start-up as a Parisian street-singer and player she admits with disarming modesty and honesty how grateful she is for the success and good fortune her career has provided.
In reality, her career as a professional kicked-off as a street-singer in France when she was still a wet-behind-the-ears kid in her teens, in Paris's renowned Latin Quarter. From there she progressed to working with bands, but also always anchored to her love of traditional, roots and bluesy music with her acoustic guitar and seductive voice both stealing and steering the show.
In many ways, Peyroux is a jazz-singer and her delectable, sultry voice holds more than a trace of old jazz standard-bearers in its depths. Although she was initially likened to Holliday but there's also traces of Ella Fitzgerald and Bessie Smith there in the delivery, the phrasing and the general tasty mix and capacity. This is a still-youthful lady with a strangely appealing quality who is now self-assured, confident, relaxed and aware of her own worth and importance.
France, with its long tradition and history of jazz-bias and balladry, was almost a natural fit for the young Peyroux twenty-plus years ago and enabled her to gain a toe-hold in the ever-changing, swift-moving international musical world. Initially from Georgia in the USA, a deep-South state with a strong blues and roots music heritage, she moved first to New York, picking up on ukulele while listening to her father's record collection and honing her skills and interests in roots, blues and jazz.,  followed by California  before moving, following a family divorce, to Paris with her mother back around the mid-80s, and says that while never fully encouraged to turn to music as a career, she was never discouraged by her estranged parents:
"I wouldn't say they supported it but more that they accepted it much more than many other parents would have. They never tried to stop or obstruct me in that,' she confirms with a laugh.
'For a long time I had no real sense of identity. When people asked me where I came from, even as a kid, I'd be sort of unsure though I could always reply with a Brooklyn patois.  I was in France but American, I was a bit of a rebel in some ways, I guess.'
Now with her seventh album in the can, released in September 2016, Peyroux expresses her genuine delight with the latest project, an album recorded in a small Norman church in rural Oxfordshire but which has a clear, crisp sound and is no doubt destined for considerable international acclaim.
'We wanted to do an album that reflected where we're at now, after a few years together and wanted a live feel to the whole thing.  We had a mixture of songs we'd sort of piled up day by day, the repertoire of about three years work. There was a slow-build feel about it. It just felt right,' she says.
'I'd been invited to play at this church as part of a concert-dinner affair by the French chef Raymond Blanc. At the sound check I was singing Randy Newman's song, "Guilty", and it was amazing the way my voice sounded in the cavernous room. It has a wooden ceiling that gave my voice a reverb and my live engineer, Doug Dawson, told me I should try making a record there,' she explains.
A few months down the line, she did just that, arriving with her engineer and Jon Herington and Barak Mori in-tow to take over the church for a near-live, straight-forward no-overdub recording session, resulting in her latest album, 'Secular Hymns."
'We'd all become really close and were stretching to come up with some new sounds. Jon had become really versatile on guitar and Barak was good with the bow. Plus, they both like to sing, so were up for that too. Jon said he'd always wanted to do it and had done it previously at a Xmas show we did in Detroit. It was just a blast playing with Jon and Barak and had so much to do with the interplay among us. it all worked well. It was exciting and always fulfilling. It's a recording that reflects the organic way we had been working as a trio on the arrangements of the songs,' says Peyroux with evident satisfaction and pleasure.
As she prepares to embark on another grueling international tour promoting the new release, Peyroux is remarkably honest about her success and the good fortune she has encountered to date:
'It could only have happened the way it did in Paris. It would not have happened if I'd been in New York . I'd never have made it in New York.  I'm not spectacular enough, New York's way too competitive.'
BY IAIN PATIENCE