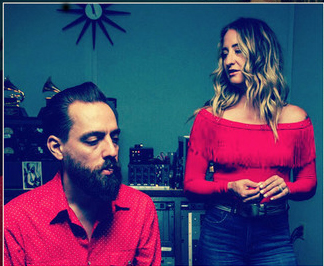 October 10, 2018:- Today, Margo Price – who kicks off her Australian dates at the Caravan Club in Melbourne tonight – has justreleased a video for her Amazon Original single "Leftovers."The psychedelia-infused clip was shot in her hometown of Nashville, TN, in a retro mirrored studio specially constructed by the video's director, Casey Pierce. The song is part of Amazon Music's inaugural "Produced By" series featuring producer Matt Ross-Spang.
Watch the video for "Leftovers" via YouTube:
"I had so much fun working with Casey Pierce on this project. I really got to cut loose during the filming, I smoked a joint and started crawling around on the floor inside the room of mirrors," explains Price. "As far as the styling goes, I brought some of my loudest/most obnoxious outfits and did a lot of costume changes to keep things bright and colorful. In the video, I'm wearing a sequin jumper that my friend Elizabeth NeSmith made me, a red rhinestone Nudie-style suit made by Ashlyn Evans, a white fringe Elvis-inspired number by Wallflower San Fran, and a black suit made by the legendary Manuel."
"Produced By" is a new series of Amazon Original music developed to spotlight today's community of producers working behind the scenes to develop the best in music. "Produced By" pairs producers with a collection of some of today's top artists across various genres to create exclusive, new recordings for Amazon Music listeners.
"Produced By" with Matt Ross-Spang features Margo Price's "Leftovers," and three additional Amazon Original songs from GRAMMY Award-winning artists John Prine, William Bell, and Al Green, with his first individual effort in a decade. Future "Produced By" installments will feature acclaimed producers and artists from a variety of genres including Latin, Indie, Country, and R&B.
Stream "Produced By" with Matt Ross-Spang via Amazon Music:
MARGO PRICE TOUR DATES
Wednesday October 10 – Caravan Muysic Club, Oakleigh South
Thursday October 11 – Australian Americana, Thornbury Theatre
Friday October 12 – Thornbury Theatre
Saturday October 13 – Out On The Weekend, Williamstown
Tuesday October 16 – The Factory, Sydney