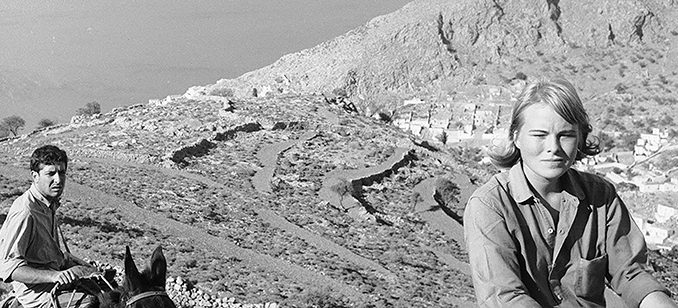 Brian Wise talks to director Nick Broomfield.
In his new film, veteran British documentary-maker Nick Broomfield offers a uniquely personal view on the lengthy relationship between Leonard Cohen and Marianne Ihlen which began on the Greek island of Hydra in the '60s and endured for decades.
As a poet and aspiring novelist, Cohen arrived in Hydra – a haven for writers, artists and musicians (including Australians George Johnston and Charmain Clift) – in 1960 and met Norwegian Marianne Ihlen. It was an instant attraction and Marianne became the subject of some of Cohen's most famous songs, including the 1967 classic 'So Long, Marianne.'
In 2016 Cohen sent a letter to Ihlen as she lay on her deathbed (she died on July 28, 2016). "I'm just a little behind you, close enough to take your hand. This old body has given up, just as yours has too, and the eviction notice is on its way any day now. I've never forgotten your love and your beauty. But you know that. I don't have to say any more. Safe travels old friend. See you down the road. Love and gratitude." (Cohen died less than four months later).
The letter emotionally bookends the film, which contains some remarkable archival footage and captures the life that the couple led, idyllic for a while but doomed by Cohen's restlessness.
"I think there was an enduring love between Leonard and Marianne, throughout their lives and it was a very unconventional love affair," says Broomfield. "It wasn't your normal happily ever after love where they all lived under the same roof. It was very different, and there were long periods where they didn't see each other. But there remained this very, very strong connection between them, which I think is probably more normal than anything. I think one of the strengths of the film is that it reminds people of their own love affairs, and their own relationships, which very often occur in one part of your life and then you move on.
"There are certain people who touch you very deeply. I think obviously in that scene where you see Marianne being read the letter you can see how important it is to her to be getting this. You know, she's just about to die and this wonderful message comes from Leonard. It's a film about enduring love."
Broomfield not only met Marianne when he arrived on the island as a 20-year-old in 1968 but also developed a relationship with her and met Leonard as well.
"I went to the Island of Hydra at a time when I was kind of looking," recalls Broomfield. "I was a 20-year-old adolescent and out of college. I was studying to be a barrister, not really loving it. So, I was kind of wondering what I was going to do with myself, and I think they gave me the encouragement by example and by direct encouragement to make my first film, which was obviously a big step, and just gave me a lot more confidence to do something that wasn't a regular job with a regular employment."
While Cohen went to Hydra because he was running away from his life in Montreal, Broomfield ended up there for a completely different – and unusual – reason.
"I've got a funny story about that," he says. "I was actually on a Hellenic cruise with my parents going around all the archaeological sites. It was a sort of grand cruise with lots of Oxford professors and two of the people on board were the future Archbishop of Canterbury, Dr. Runcie, and his wife – and she encouraged me to go to Hydra. She said, 'What are you doing on this cruise with all us old farts? You should really go and have a great time, and you should go to Hydra. It's wild and magical, and you'll have a brilliant time.' When I got to Athens, I got a ferry out to Hydra, and it was really wild. In fact, the pension I stayed in was known as the Sin Bin. So, it was very funny to me that the Archbishop of Canterbury's wife had sent me there. But she was a very wild woman, and my parents became very good friends with them. We saw quite a lot of them, and I felt incredibly grateful to her for getting me to go there. It was completely by accident that I went there."
Broomfield says that the island had the same profound effect on him as it did on many others, including Marianne and Leonard.
"It's still, I mean, it's intoxicatingly beautiful," he says. "I think one of the wonderful things about it is it doesn't have cars. It's these teeny little…….you can't even call them streets – they're sort of pathways. You can't get a car up them. So, it has remained very natural and there's a magic about the island. Obviously, the people are very different than now – it's now become quite expensive – but I think when Leonard and Marianne were there, you could buy a house for $1,500 and live they're on nothing. That's changed, but it still is so beautiful."
Words of Love utilises some marvellous archival footage shot in the '60s and Broomfield admits that it was "really hard' sourcing some of the film.
"Pennebaker, who had been the year before and had shot that wonderful, magical footage of Marianne in the sun," he explains. "He had never looked at that footage and it had been processed but it'd never been viewed. It took a couple of months of phone calls to get someone to find it in Pennebaker's vault. Then there was other footage of the young Axel [Mariann's son] that had been just in someone's attic and had never been processed. Someone I was working with, Kyle Gibbon, flew out to Norway and went around, visited lots of different people who had lived on Hydra and obviously got all the photographs and processed the film and we found all this treasure trove of stuff."
Marianne Ihlen was a muse to not only Leonard Cohen, but to others, including singer Julie Felix, and seemed to have an effect on all those with whom she came in contact.
"She was really interested in people," observes Broomfield, "and she was interested in people to the extent that she could spot what they were really great at, what their real talent was. I think for a lot of artists, they're artistic, but they're a bit unfocused. Leonard, for example, was playing the guitar but he was playing more old folk songs and stuff. Of course, he was a great writer, and he was doing poetry, but it hadn't occurred to him to put the two together.
"I think Marianne encouraged him to experiment and put the two – the writing and the music together in the same way that she also had encouraged Julie Felix to write her own songs rather than just doing Bob Dylan covers. Part of that, I think, is giving people the confidence to take a big risk. But the other thing is obviously spotting that ability to do it. With me, she encouraged me to make my own first film, which was something I was, really frightened of doing. So, I guess, if she was alive today she'd be charging her 25% and living in a Beverly Hills mansion somewhere. But that wasn't really what Marianne was interested in, I don't think at that time. She was very interested in people and very giving and nurturing."
Cohen eventually made his way to New York where Judy Collins championed him, got him to perform in concert and recorded a brilliant version of 'so long, Marianne' on her classic 1966 album In My Life.
"I think it's very hard for us to imagine that he was incredibly insecure about his talent," says Broomfield of Cohen, "and he required the support of people like Judy Collins and Marianne. You know he hated his voice and for a long-time people would tease him about his voice. It's difficult to go on the stage and feel confident."
While life on Hydra sounds idyllic – and it worked for Leonard – there are also some tragic stories that emerged.
"I think that it was a very tough place for people who didn't have a very strong identity," observes Broomfield, "and they just got consumed by the cheap alcohol and sex and the beauty of the place and they just sort of lost themselves there. Quite a few people. It was very destructive on marriages and so on. Of course, there was this amazingly talented Australian couple, the Johnsons, who were on Hydra, and I think he wrote that famous book, My Brother Jack, and when the family came back to Australia things changed. It was just such a different reality they couldn't really cope with it. I think she committed suicide, and he died shortly thereafter, and one of the children committed suicide, and there was alcoholism. So, it was very hard, I think, to live away from Hydra, which was such a paradise. It was very hard to adapt to normal life for a lot of people."
Marianne & Leonard: Words of Love opens in cinemas on Thursday, December 12.