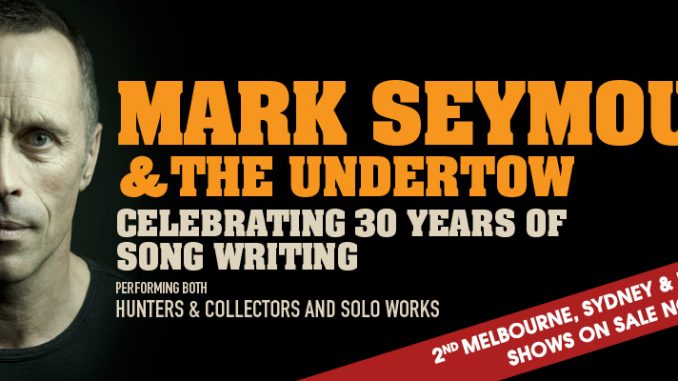 Due to overwhelming demand, Frontier Touring are excited to announce a second Melbourne performance on Mark Seymour's national tour with The Undertow. With ticket allocations exhausted, a second show is confirmed for Friday 21 July at Melbourne's Athenaeum Theatre. Tickets are on sale now!
Last night saw Mark take part in ABC's renowned program Q&A, where the panel discussed some of today's most topical issues. Mark Seymour and The Undertow closed the show with a special performance of 'Master Of Spin' – watch it here.
"Mark Seymour… stole the show on Q&A last night." news.com.au
As the frontman for one of Australia's most seminal bands, the mighty Hunters & Collectors, Mark Seymour is one of Australia's most gifted and respected musicians. He delivered rock classics that immediately etched their way into our national consciousness, including 'Holy Grail', 'Throw Your Arms Around Me', 'When The River Runs Dry', 'Do You See What I See?', 'Say Goodbye' and many, many more.
With his tight-as-a-fist band and full concert production, fans are encouraged to act quickly as this performance will be your only opportunity to see and hear Mark Seymour in the perfect environs of one of the country's best theatres.
Liberation Music is thrilled to announce that Mark Seymour's latest offering Roll Back The Stone 1985-2016 is out now! Recorded over three nights in the Scrap Museum at Bakehouse Studios in Richmond, Roll Back The Stone contains 24 songs gleaned from 30 years of writing.
The Undertow are Mark Seymour (vocals, guitar), Cameron McKenzie (guitars), Peter Maslen (drums) and John Favaro (bass).
VIDEO: Mark Seymour & The Undertow perform 'Master of Spin' to close the show #QandA
MARK SEYMOUR & THE UNDERTOW
All shows on sale now
For full tour information, click here
Sat 24 Jun
Theatre Royal (All Ages)
Hobart, TAS
Fri 30 Jun
Old Museum (18+*)
Brisbane, QLD
Sat 1 Jul
NEW SHOW!
Old Museum (18+)
Brisbane, QLD
Fri 21 Jul
NEW SHOW!
Athenaeum Theatre
(All Ages)
Melbourne, VIC 
Ph: 132 849
Sat 22 Jul
SOLD OUT!
Athenaeum Theatre
(All Ages)
Melbourne, VIC 
Sat 29 Jul
The Gov (18+*)
Adelaide, SA
Ph: 1300 762 545
Fri 18 Aug
SOLD OUT!
The Basement (18+)
Sydney, NSW
Sat 19 Aug
NEW SHOW!
The Basement (18+)
Sydney, NSW
Ph: 1300 438 849
Sat 26 Aug
Astor Theatre (18+*)
Perth, WA
Ph: 08 9370 1777
*U18s must be accompanied by a parent/guardian