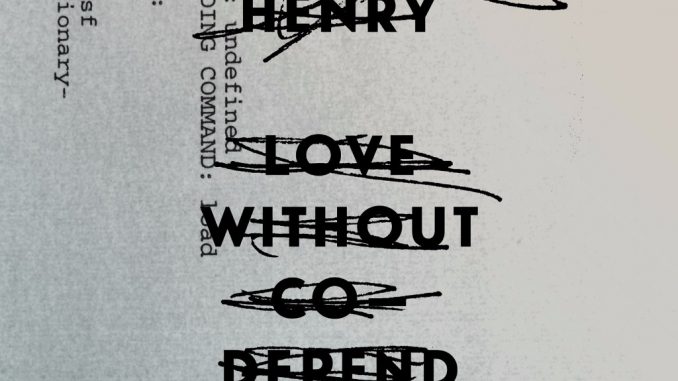 There is a strong buzz around Matt Henry in 2017. Following the successful release of single "The Best That They Could Do" in 2016, which went on to win the our very own Songwriting Competition for a spot at Mullum Music Fest. Henry is is now releasing his stunning debut album Love Without Co-Dependency which we are proud to be premiering in full below.
Matt's mature level of songwriting writing didn't appear overnight, after first picking up the guitar at 15 years of age it wasn't until the age of 35 that Henry found the courage to start performing live. Since then he has toured with the likes of Kasey Chambers, released a successful EP and is now setting his sights on a 2017 headline tour for an album that's been 25 years in the making.
In his own words Matt Henry describes the path that lead him to this point – "Thanks to shows like The Voice and X-Factor the term "musical journey" is so hackneyed and clichéd. But for me I actually HAVE grown as a person through music. The great intangible of life is having a closeness to oneself. Knowing and accepting oneself. The reality is that this growth takes a long time. Actually, Reality TV removes the journey and promises instantaneous gratification. First prize is self-acceptance. But in the 25 years that it has taken me to find the courage to make this album I still haven't found self-acceptance. I am not even sure that there truly is such a thing. But I have great hope – and that hope was the catalyst for these songs."
As the title suggests, Love Without Co-Dependency is a deeply personal record. Lyrically the album visits topics of heartache and loss. However it is the exploration of his psychological deficiencies that makes Henry's music so interesting. A self-described "Dependent Personality" he sings of the overwhelming need for love, a longing for others, his battles with and triumphs over anxiety and depression, and a longing for the security of home.
Henry joined forces with celebrated producer/songwriter Shane Nicholson on his debut album to draw in an experienced perspective in the creative process. The collaboration turned out to be a unique and refreshing experience for Henry allowing his songs to evolve in a way that he could never have imagined.
"The process was really wonderful but incredibly intense. I had so many expectations going in and I quickly learnt that the process of recording /collaborating is a process of letting go and finding mutual points of common ground. There were occasions when we both refused to yield, but the dynamic worked really well and I think it brought the best out of both of us. In many ways Shane and I are cut from the same cloth so we really connected" explains Henry.
Click here to listen to the album in full and catch Matt Henry playing live across the country in the coming months.
ALBUM LAUNCH SHOWS:
Thursday 19th January (7pm) | The Gasoline Pony | Sydney, NSW
Wednesday 25th Jan (10pm) | Late Nite Alt, Downstairs @ Tamworth Services Club | Tamworth, NSW
Friday 27th Jan (4-7pm) | Rhythms Presents: The Cake & Cordial Sessions
at St Paul's Anglican Church Hall | Tamworth, NSW
Sunday 29th Jan (2pm) | The Triffid – Americana Sessions | Brisbane, QLD