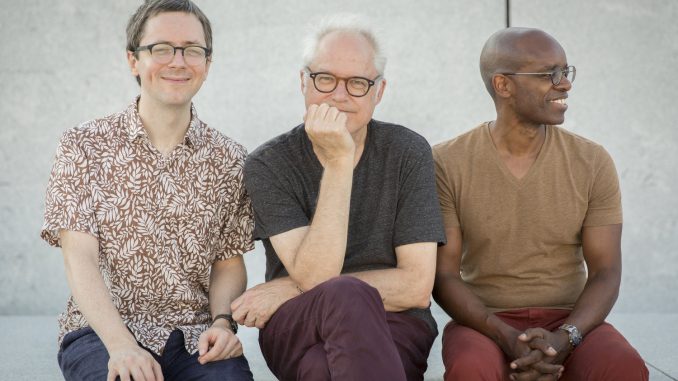 By Andra Jackson.    
The Melbourne International Jazz Festival – May 31 – June 9, 2019
In a festival that included a number of return acts at least three of these were artistic triumphs in the recent Melbourne International Jazz Festival. They were guitarist Bill Frisell, pianist/keyboard player Herbie Hancock, and trumpeter Ambrose Akinmusire. The other was Cuban pianist and composer Elio Villafranca, making his first festival appearance. Akinmusire and Villafranca, brought imaginative projects with depth which is what a festival should also be about.
Frisell, with two sell-out concerts at Brunswick's Jazzlab, stood out for his consummate musicianship and inventiveness. He began in a free-form fashion picking out licks and motifs and teasing them out with extensions and chord changes to see where they might lead. There were echoes of his Americana repertoire but with new twists. His use of a pedal device for looping was judicious in enhancing his guitar lines.
Often Frisell would play a phrase and bassist Thomas Morgan would respond with an idea that was suggestive of a sentence being completed. Rudy Royston added different moods with drum rolls or brushes or energetic playing. Among the tunes Frisell played were Burt Bacharach and Hal David's 'What The World Needs Now' and the theme from the Bond movie, Goldfinger, both imaginatively stretched out and delivered with Frisell's hallmark of exquisite musical taste.
Herbie Hancock's concert has been reviewed elsewhere here but suffice it to say what he does as a musician and bandleader is masterful. Whether playing new material or older material such as Chameleon, he finds new musical pathways.
Ambrose Akinmusire's Origami Harvest at 170 Russell Street, was a remarkable concert that drew of different genres to make a social statement. It imaginatively brought together a string quartet, jazz artists including Akinmusire on trumpet and a rapper. There was often an exchange between the different music forms as well as a blending.
The Silo String Quartet created soundscapes against the compelling and carefully contoured playing of Akinmusire and the dynamic rapping of American Kokayi. At times the Quartet created a mournful, elegiac mood that matched lyrics from Kokayi about police treatment of Afro-Americans. What stood out was Akinmusire's expressive playing, sometimes just a poignant held one note, and Kokayi's delivery that was not just rhythmic bit also musical. A moving and powerful performance.
At the Nighcat night club, Villafranca unveiled a five multi-part suite from his new Cinque album. It was inspired by the story of Joseph Cinque who in 1839 led a successful revolt on a slave ship. The piece encompassed Caribbean and Congolese rhythms. It was performed with a local horn and rhythm section organised by Sydney saxophonist Dr Gai Bryant, and local based Cuban percussionists and singer/dancer.
It was an ambitious work but Villafranca's playing was rich in passion, infectious rhythms and melodic runs with a jazz feel. The horn section most ably navigated complex arrangements while the percussionists and singer injected drama and excitement into the music. I am not sure if a night club was the best venue for such a major work. It ended with the band moving into Cuban dance mode.
The Grammy winning jazz pianist Billy Childs and his band performed at the Melbourne Recital Centre. Childs's playing swings and his rendition of Horace Silver's Peace was thoughtful. But despite some exciting interactions between the band members' there was something lack luster about the performance.
Singer Lisa Fischer has an astounding vocal range, engaging personality and great stage presence. She transformed songs by artists such as Led Zeppelin, the Carpenters and of course the Rolling Stones. On most numbers she reached into a soprano range, in contrast to her deeper lower range that made her also at home singing a blues. But there was a sameness in the approach that made it seem towards the end, a long concert.
Artist Lonnie Holley's has a voice that sounds like an old recording of one of the early blues players. It is the sound of his voice that is captivating. However, he uses it in the same way in spontaneously creating lyrics.
It was not possible to see the full progam because of clashes but other impressive acts included pianist Vijay Iver who has an Indian folk influence in his playing and guitarist Rafiq Bhatia who had a most unusual tuning on his guitar, almost like a sarod. On one number he played hypnotic rhythmic lines.
Of the local acts Audrey Powne doesn't hold back, but 'goes for it'. Her vocals were highly creative and daring in range, phasing and in her version of wordless singing. And she plays trumpet. Saxophonist Angela Davis's playing was smooth and beguiling, complimented most effectively by pianist Tony Gould's chord choices.