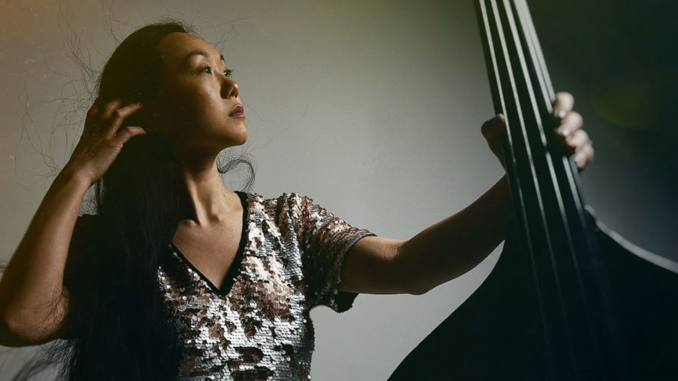 Acclaimed bassist's latest work featuring at the Melbourne International Jazz Festival.
By Brian Wise.
Linda May Han Oh's Adventurine is one of the centrepieces of the current Melbourne Jazz Festival and premieres this coming Saturday June 8 at the Melbourne Recital Centre.
Performed by a quartet of jazz improvisers (including Cuban-born pianist Fabian Almazan), vocal ensemble Invenio led by Gian Slater, and a string quartet, the work – also the title of Oh's latest album – blends references to Cuban dance, Korean traditional rhythms and Charlie Parker. It reflects not only Oh's own cultural background but also the breadth of her musical experience, gained from playing with some
Oh moved to New York more than a decade ago and, after pursuing her studies on the bass, ended up working with such luminaries as Joe Lovano, Kenny Barron and Terri Lyne Carrington. Ultimately, it led Pat Metheny to invite her to become a member of his quartet.
Born in Malaysia, raised in, Perth, Western Australia, began playing electric bass but switched to upright and received numerous awards – including the 2010 Bell Award for Young Australian Artist of the Year. Oh completed her Masters at the Manhattan School of Music in 2008 (she now also teaches there) and immersed herself in the fertile local scene that led to her current high profile with the Metheny quartet. Oh also has her own solo career, with five albums to date, and composes music for various ensembles and short films.
I spoke to Linda May Han Oh last week about her forthcoming performance at the Jazz Festival.
Can you tell us about your work Aventurine which is premiering at the Jazz Festival next week?
The actual project, Aventurine, is an album that just came out recently, it's project of mine. Aventurine is essentially a stone, a type of quartz and it's usually green in colour. People often mistake it for jade, but it has this shimmering quality called adventurescence and so I used that as the name to title this new album.
The album itself, the instrumentation, is basically based on an octet which is a string quartet plus saxophone, piano, bass drums but I also had an incredible group – Invenio from Melbourne led by Gian Slater. I had some vocals on some of the tracks as well. The music that will be playing is music from that album that just came out and it will be mainly local musicians featuring the Flinders Quartet, plus Invenio as well as Angela Davis on saxophone, Ben Vanderwall on drums but then also [Cuban-American pianist] Fabian Almazan, my husband – so he'll be coming from the US.
So, I'm excited to actually be able to perform this work especially with the vocal group, Invenio, because it's just hard to get everyone together and this kind of instrumentation is quite large so I'm really lucky and looking forward to it.
Do you perform the album in sequence or do you only perform selections from the album? How does it work?
So, I guess generally it's kind of selections from the album but I often do like to have it form a sort of similar sequence to the album in some ways. In a way that kind of flows in a live set and works that way. But essentially the album itself isn't necessarily like a suite that runs from the beginning till the end. It's kind of a collection of compositions that I've been working on for more than a decade and have kind of evolving through that. Some of them are relatively new in the sense that they were pretty much started and finished a couple of months before we recorded in 2017 and some were kind of a result of a commission in 2012 but the Jazz Gallery in New York. Essentially they're kind of a collection of pieces, not necessarily like a start to finish suite. 
In many ways the album or some of the themes of the album reflect your background don't they?
Yes, in some ways. Some of it does kind of allude to some of my heritage, I am essentially Chinese in ethnicity but born in Malaysia, so one of the songs uses themes from a Chinese folk song. And some of the other songs relate to more personal affiliations with family and within Australian as well. There's one piece particularly that's about Broome where my sister lived for several years. So, it's kind of a collection of these different things.
Well, Broome is a fascinating place, talking about your background, because it was a multicultural society before we even knew about multiculturalism and this was way back in the 1890s we're talking about.
Exactly – and that's what really struck me when I first went there and decided to learn about the history. Growing up as an Asian in Australia I thought it was fascinating to see all that multiculturalism from an early part of the history and how rich the history is over there and it's a beautiful place.
Yes, and how strong that connection with Asia was despite the fact that perhaps the rest of Australia didn't really understand what was going on there.
Yes, exactly. I guess being exempt from the White Australia Policy in order to have the indentured servitude of immigrants coming from South East Asia and from Japan as well, I find that really interesting.
How are you looking forward to translating this from the recorded work in a studio onto the stage? Or have you done this before? I assume you haven't done it in it's entirety before yet.
Yes, we have performed the works without the vocal group, without Invenio. So, as far as the octet goes it's been performed obviously with the musicians who have recorded on the album and some shows in the US, but this will be the first time I'll be working with the Flinders Quartet who are just absolutely amazing. I'm really looking forward to working with them when we arrive and workshopping that and then to be able to do this with a choir would be really fantastic. So, yes, I'm really looking forward to it.
I assume we're also going to hear a lot of you playing your instrument, aren't we?
Yes, exactly. I'll be playing bass and it'll be all tunes from the record but there's definitely room to move in terms of group improvisation in some of the tunes. So, it'll be really interesting to hear certain aspects with also some of the local musicians and hearing their interpretation of things because there's quite a lot of room to move with some of the improvised material. So, it's pretty exciting for me.
And you are playing the upright bass, obviously, double bass now?
So, yes, it's permanently upright bass with one tune on electric bass, so I have my electric here.
How much difference is there in playing the upright than playing the electric? I mean are they completely different disciplines to you, to bass players? They obviously require different skills, a different set of skills, are they totally different? Because you must spend a fair bit of time playing the electric bass when you're in America.
Yes, I think it kind of depends on the context. In my own music I want it to be as close to me as possible. Whether or not I'm playing electric or upright, I still want it to sound like me. The instrument itself I think is just really interesting to keep both up to par together. I do play, I would say, primarily more upright. I'm probably more known for that. Technically they're very different beasts but I think what is helpful is to think of what aspects of both instruments help inform the other and which you can kind of translate from one to the other in a way that kind of help each other.
In many ways the technical aspect I think is different, but in my mind I still try and see the similarities and bridge the two. But yes, there's definitely unavoidable technical things with both and I think sometimes with an upright you can kind of get away with certain things that you wouldn't necessarily get away with on an electric instrument in some ways vice versa. So, yes, it's just trying to figure out the context and what you want sound like.
I assume that the influences would be different in either case – that you would have different influences on the upright than you would playing the electric, that you would've listened to different people.
As I mentioned that one informs the other and some of the stuff that I practise on electric I actually try to practice the same, similar, things on both. But I started as an electric player playing mainly rock music and Chili Peppers, Led Zeppelin and from that through into Jaco Pastorius – and he was a big influence. That kind of led me to a lot of the Motown, James Jamerson and discovering that and as well into Weather Report. Then through that it was Wayne Short and Miles Davis and then backwards into the Ray Brown, Oscar Peterson Trio and that sort of aesthetic into upright bass.
So yes, although I do have okay different influences on both instruments I do think that aspects of those influences help inform the other and as much as playing a beautifully crafted, eloquent, rhythmic Jamerson bassline that can very much help your upright playing trying to translate aspects of that. I try and think about that when I practice both.
You mentioned Jaco Pastorius, one of my favourites, and he's a perfect example of someone who doesn't have to play a lot of notes to stand out and even sometimes dominate it – the tune – did he?
Yes, I mean he was definitely in many ways. Some of his choices, even if he's not playing a choppy bassline or something quite technical, his choices of whether or not just to play a loud, low bassy note and let that ring. He was fearless and I admire that with some of the musicians who have really kind of struck me personally.
I don't think we're going to hear any of that sort of thing in your performance, but it's interesting to talk about your influences in that regard. You work on a lot of different projects, haven't you? From not only your own recordings to soundtracks and you've been doing a lot of things over the last couple of years.
Yes. I'm interested in various things and although it was kind of my intent initially to just play – be a good bass player and play with as many different people as I could and be a good solid side person – I also enjoy composing and putting music to song and to movement. So, that's something I've been checking out a lot of. Yes, I just try and keep busy and try and diversify into things I enjoy doing.
You've been busy with Pat Metheny's band as well, haven't you?
Yes. We recorded an album at the end of 2016 and it's quite an elaborate project. It's mainly the quartet with myself, Antonio Sanchez and a pianist from Britain, Norman Simcock, but it's also augmented with some harmonics. So, I'm excited when that comes out. It's quite epic.
When was the most recent tour?
The last recent thing was in Japan, we did a string of gigs in Tokyo and in Nagoya. So, this year's a little bit quieter than the last previous two years and he has various other projects that he's doing with orchestra and also with a trio called Side Eye. Yes, the next tour that we have is actually February next year so that's when things start up again.
Working with someone like that, with basically a legend, how does that help you develop your skills? I mean it says something about your skills that you're actually in the group for a start. So how did that all come about and how does it help you?
Yes, for sure. I mean Pat's been an idol of mine for a long time. I've been listening to his music since I started playing jazz and it's just … it's been really inspiring in many ways. I mean just musically just being there and being a part of the ensemble and learning everything from just group communication and band moving and general shaping of compositions and seeing his process has been really informative. Not to mention just the actual tech aspects of things and putting a show together but also just kind of hearing his input from someone that has been doing it for so long and is still very active on the scene and still very engaged.
I think sometimes seasoned musicians can often continue doing what they do. But Pat's someone that's always checking out younger musicians and new music and it's always really interesting having those conversations and seeing his outlook from a point of view of someone who has been doing it for so long and hearing some of this stories and his experiences and all of that is just very informative in how I deal with things and, yes, developing as a musician and a composer.
How did that connection originally come about?
So, I've been living in New York City for the past 13 years. When I first moved over I did my Masters but I played as much as I could: I did jam sessions till early hours of the morning. I did all sorts of gigs and I just wanted to play. I think over time you start playing with more and more people and I was playing at the Detroit Jazz Festival and I was playing with a couple of different groups and he was playing after I was playing at one of the stages. He was playing with, I think it was Gary Burton, he had a residency at the Detroit Jazz Festival. I had just finished playing and I was just checking out some of my friends playing and I was just listening back stage and Pat came early to just practice.
Just to preface it, I had met him two years ago at the same festival because I played before his group in a band called Sound Prints, co led by Joe Lovano and Dave Douglas. So, we had met before and we had a brief conversation and he was very nice.
But it was maybe in 2015, two years later, that I bumped into him backstage and he just said, 'Oh, did you ever get my email? Do you want to come play?' He lives not too far from me – I live up in Harlem and he lives on the Upper West Side – so we just jammed. We played duo a few times and then once with Antonio Sanchez Trio and then we started touring. So, yes, it was just one thing leads to another but it's through me just playing on the scene in the New York and then eventually you get an opportunity and you play with someone. And yes, it's been a wild ride since then.
It's interesting that we have two Australian women playing bass in really high profile bands, Tal Wilkenfeld has played with Jeff Beck, Eric Clapton and Herbie Hancock and yourself. It's an interesting development. It's a great development.
Yes and when I first moved I was hearing Tal's name everywhere and I heard that she would go to all sorts jam sessions and she's worked really hard to get where she is at this point and she's great. Yes, so a lot of great female musicians out there and a lot of great Australian musicians out there.
It must've been a bit of an adventure going to New York, I guess you were studying there first, but it's a big commitment to stay there and study and then try and carve out a career there, because I would imagine the talent is … it would be pretty daunting for a young musician.
Yes. I mean as far as I was concerned I went there to learn. I went there to learn, I went there to just experience and I think the emphasis is kind of more on the process and the experiences that you gain from it, rather than thinking, 'I'm going to move here and make it.' It's all about the process and what you can gain from that and I think that's important.
When I moved out I had no idea what would happen. If someone told me that I'd be playing with Pat Metheny or playing with certain musicians I probably wouldn't have believed them, I would've just thought, 'Okay, I'm just here to learn.' I think that helps when you just have your own personal goals and your own personal reasons for playing music and making art, it's not necessarily about these benchmarks all the time.
Thanks for talking to us. We're really looking forward to your performance in Melbourne next Saturday.
Thank you so much.