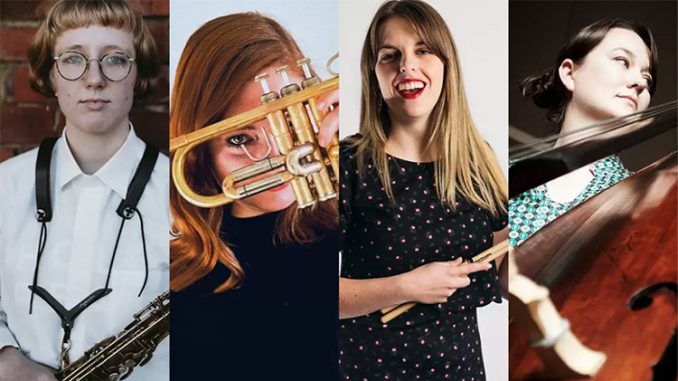 By Andra Jackson.
October was to be the month when jazz fans were able to get back into the swing of things with back-to -back jazz festivals. Instead, one festival was canceled for this year, and another was postponed and kept in a holding pattern as organisers tried to find a later date.
The Covid lockdown in Melbourne and restrictions covering the rest of the state have once again played havoc with Victoria's jazz festivals. But the good news is that two of four jazz festivals planned for this year are going ahead, but in shortened versions of what might otherwise have programmed.
The Melbourne International Jazz Festival moved this year from its previous spot on the festival calendar of June to mid-October, right on the doorstep on the long running Wangaratta Festival of Jazz and Blues. A festival announcement last month said it had been advised by the Victorian Government not to go ahead as planned this month. 
Given there could be no big-name international acts because of border controls, it was still planned as an extravaganza. The program included collaboration with the Melbourne Symphony Orchestra that would include music arranged by a member of Wynton Marsalis' Jazz orchestra. Another highlight was a six-hour concert at the Sidney Myer Music Bowl headed by the New Zealand band Fat Freddy's Drop. With tickets sold in advance but limited by Covid spacing requirements, it was already a sell-out.
The festival will now go ahead with a four-day event from, Thursday December 2 to Sunday December 5 and will stage over seventy performances and events over the four days. (Details at: https://www.melbournejazz.com).
The move makes December 'Jazz Month' as the Melbourne International Women's Jazz Festival is scheduled to go ahead in its regular December spot but not over its usual ten days. Its artistic director Sonja Horbelt says the festival will run over seven days from Monday December 6 to Sunday December 12. Details at: https://www.mwijf.org). The festival is also co-hosting a jazz forum on December 4.
The two festivals that are casualties of Covid and the state's successive lockdowns are the boutique Stonnington Jazz Festival which has run in May but had moved to September, and the Wangaratta Festival of Jazz and Blues that was scheduled to celebrate its thirty-first anniversary at the end of the month.
A spokeswoman for Stonington Council says it had to cancel the festival this year for financial reasons and no decision has been made about whether it would resume next year. It was hoped it could stage some events in conjunction with the Melbourne International Jazz Festival.
The general manager of the Wangaratta Festival of Jazz and Blues, Leanne Mulcahy says a decision to pull the plug on the festival this year was made in consultation with the three levels of government. It was too risky to go ahead with the current restrictions, she says.
The announcement was a disappointment for patrons who had booked out some of the town's hotels in anticipation of the event returning after last year's video version. It was also a blow for the festival, which last was held live in 2018. (The festival was canceled in 2019.)
The festival's business manager Leanne Mulcahy says the festival looked at every possible alternative date through to February. "It is a very crowded space,'' she says of Xmas lead up and the early part of the year. The festival wanted to find a date with a clear gap from other festivals. It also looked at screening the festival online again as it did last year but it was felt audiences were no longer so keen on watching video screened events.
However, the festival is still staging the all- important National Jazz Awards which have always been a keenly followed highlight of the festival. Each year, the contest is for performances on a particular instrument. This year it is the piano.
There were forty entrants from most parts of Australia with ten finalists now selected. Their performances will be filmed and screen online with a date yet to be announced but expected to be in November.
Meantime, Ms Mulcahy says the festival had a well-developed program highlighting Australian talent, which it will build on. The program details will be announced in April.