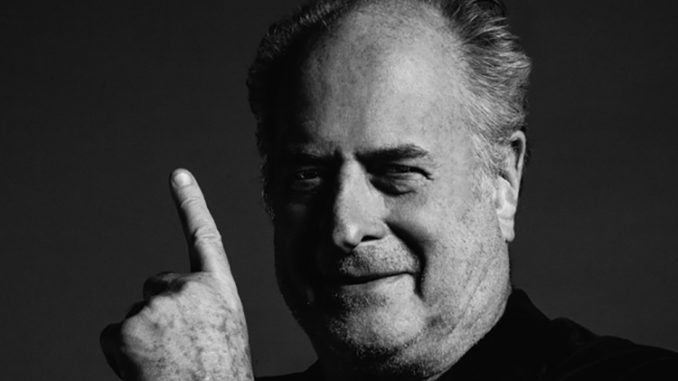 Australian music legend Michael Gudinski has died at the age of 68. In a shock to the industry his death was revealed on news services at 11.00am this morning (Tuesday March 2, 2021). Gudinski founded the hugely successful Australian record company Mushroom Records in 1972 at just 20-years-old and later formed Frontier Touring and Premier Artists. Last year he was named the most influential person in the Australian music industry.
A statement from the Mushroom Group reads:
"It is with profound sadness that we announce the passing of Michael Gudinski AM overnight. The much-loved Australian music legend died peacefully in his sleep at his home in Melbourne, Australia.
Michael Gudinski was a key figure in shaping the Australian music industry. He founded the Mushroom Group in 1972 at just 20 years old, which flourished into Australia's largest independent entertainment group covering touring, record labels, publishing, merchandising, booking agencies, film and television production and creative services. Some of Australia's most iconic albums have been released under one of his Mushroom Group record labels. His touring company Frontier Touring is Australia's leading promoter, touring the biggest names in global music since its inception in 1979.
A larger-than-life figure, Michael was widely respected for his unwavering passion for all music – in particular Australian music. Most recently, with the music industry severely impacted by the COVID-19 pandemic, Michael conceptualised and developed Music From The Home Front, The Sound and The State Of Music, platforms designed to showcase and support contemporary Australian music in an incredibly difficult time. It speaks to the man he was that of his countless illustrious career achievements these projects, that supported the industry he loved, were ones he was particularly proud of.
Michael was renowned for his loyalty and dedication. His ability to achieve the unachievable against unsurmountable odds was proven time and again and spoke to his absolute passion for his career and life.
Michael's family loved him immensely and Michael in turn adored his wife Sue, son Matt and partner Cara, daughter Kate and husband Andrew and their children Nina-Rose and Lulu. They meant everything to him, and he was immensely proud of them. Michael often referred to his 200+ staff as the Mushroom Family, with many having clocked decades in his employment.
Michael's legacy will live on through his family and the enormously successful Mushroom Group – an enduring embodiment of decades of passion and determination from an incredible man.
The family respectfully ask for privacy in this incredibly difficult time and thank everyone for their support."
Bruce Springsteen statement about the late Michael Gundinski:
 
My friend Michael Gudinski was first, last, and always a music man.  I've toured the world for the last fifty years and never met a better promoter.  Michael always spoke with a deep rumbling voice, and the words would spill out so fast that half the time I needed an interpreter.  But I could hear him clear as a bell when he would say, "Bruce, I've got you covered."  And he always did.  He was loud, always in motion, intentionally (and unintentionally) hilarious, and deeply soulful.  He will be remembered by artists, including this one, from all over the world every time they step foot on Australian soil. My deepest condolences to his wife and partner Sue and to the whole Gudinski family, of which he was so proud. 
 
Bruce Springsteen.
Skyhooks was one of Gudinski's first blockbuster acts and they were later followed by even greater successes with Kylie Minogue and Jimmy Barnes. Frontier toured superstars Ed Sheeran and Bruce Springsteen and Pollstar ranked Frontier as among the top three promoters in the world.
Gudinski was also a major supporter of charitable causes and helped put together huge bushfire relief concerts last year. He also supported community radio, making a large donation to Melbourne's Triple R FM in their 2020 Radiothon.
MICHAEL GUDINSKI'S OFFICIAL BIOGRAPHY
Born to Russian immigrants in 1952, the future success of Michael Gudinski could probably have been predicted back in 1959. At the ripe old age of seven years Michael showed his entrepreneurial side on Caulfield Cup day when he charged race goers for parking spaces in a vacant block next to his home. From there he never looked back, promoting gigs at Melbourne halls for alternative acts such as Chain and The Aztecs and developing his first taste for what would be a lifelong love affair with the music industry.
In 1972 Michael and business partner Ray Evans staged, managed and booked all the entertainment at the legendary new Sunbury Festival. In the same year Michael simultaneously founded Mushroom Records – which was to eventually develop into the largest independent record label in Australian music – and Mushroom Music, which is today the principal independent publishing company in Australia.
At the same time, Michael developed his interest in the touring industry, promoting his first ever international tour – John Mayall and the Bluesbreakers – with Ray Evans to overwhelming success. Michael made more money out of one night's show than he had ever dreamed possible – and all at the age of 20.
Michael was also managing a number of up-and-coming bands at this time, including Chain and Skyhooks. Both acts were to produce number one hits, but it was Skyhooks which went on to cement the future success of Mushroom Records. Their debut album, Living In The 70's, spent 16 weeks at number one in Australia, selling 240,000 copies. No Australian album had sold more at that point in time.
In 1998 Michael sold Mushroom Records to Murdoch's News Limited Group while retaining the Mushroom Group name. 1993 had seen the Murdoch Group become a shareholder in Mushroom Records and the company continued to move from strength to strength. Considerable successes with Kylie in Australia and the UK had set up Mushroom Records as a notable force in the recording industry, and UK artist signings with Ash and Garbage (four Grammy nominations) and Peter Andre's #1 success with his Mysterious Girl single and the Natural album in the UK charts cemented the organisation's expansion into the UK with Infectious Records. The eventual sale in 1998 coincided with the 25th anniversary of Mushroom Records and more than 75,000 people helped celebrate the occasion with a spectacular concert at the MCG in Melbourne, starring more than 60 artists and lasting nine hours.
In 2009 Michael was a co-organiser of the Sound Relief concerts held at the Melbourne and Sydney Cricket Grounds. The concerts were staged as fundraisers for those affected by the February 2009 Victorian bushfires and Queensland floods, and featured acts such as Coldplay, Kings Of Leon, Splitz Enz, Midnight Oil and The Presets.
Michael continues to work with enormous enthusiasm across all facets of his companies, and is frequently seen trekking from pub gig to entertainment centre, in Australia and abroad, looking for the next big thing to promote – be it through his record labels, touring companies, agencies or publishing arm.
In the early 1990s Michael's years in the music industry was recognised by ARIA with a Lifetime Achievement Award.
In 1998 Michael was awarded the prestigious Ted Albert Award for Outstanding Services to Australian Music at the APRA (The Australian Performing Rights Association) Awards. In 1999 the AMI (Australian Marketing Institute) awarded Michael The Sir Charles McGrath Australian Marketer of the Year Award, the highest accolade for personal achievement an individual can receive from the AMI. In 2003 at the UK's International Live Music Conference in March, Michael received the ILMC Bottle Award, the equivalent to a lifetime achievement award.
In June 2006 Michael was awarded the Member of the Order of Australia medal (AM) for service to the entertainment industry through the promotion of Australian music recording artists, as an advocate for young people in the music industry, and to the community. In July 2006, he was listed in The Bulletin's "100 Most Influential Australians" issue and was named the Ernst & Young Southern Region Entrepreneur Of The Year.
In 2009 Michael accepted the prestigious JC Williamson Award at the 2009 Helpmann Awards. It is the foremost honour that the Australian live entertainment industry can bestow. In awarding the JC Williamson Award, Live Performance Australia (LPA) recognises individuals who have made an outstanding contribution to the Australian live entertainment and performing arts industry and shaped the future of our industry for the better.
Michael was also listed in The Age Melbourne Magazine's 2009 Top 100 issue for his work on the Sound Relief benefit concerts, which raised more than $8 million for victims of the Victorian bushfires and Queensland floods.
In 2012 Michael was listed in the #1 position in the AMID Power 50, a list of the top 50 most influential people in the Australian music industry.
In August 2012 Michael was invited to speak at the prestigious National Film & Sound archive Thomas Rome lecture on the future of the Australian music industry.
2012 also saw Michael honoured by the city of Melbourne as the Melburnian of the Year. The Melburnian Of The Year award is presented to an inspirational role model who has made an outstanding contribution to the city through their chosen field.