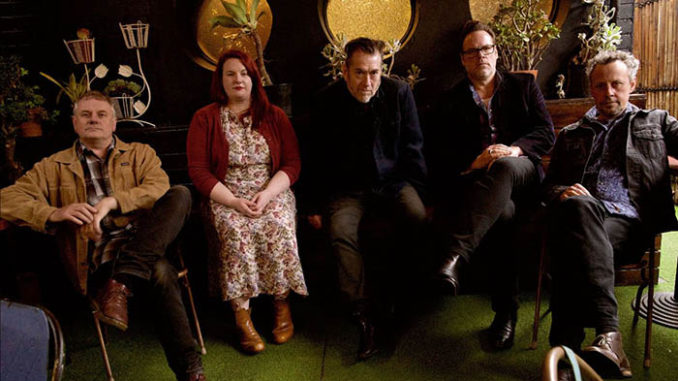 Mick Thomas' Roving Commissioners are itching to get out and play some actual shows. With the Victorian border restrictions still in place the band are looking forward to their annual December run – this year in their own backyard! That's right – an entire Christmas tour in the state of Victoria.

All shows promise to be strictly limited capacity, socially distanced and covid-safe.
Having not spent the Victorian lockdowns idle, Mick and his fine band ended up producing not one but two albums. The first of these was See You On the Other Side which came out in June and featured the landmark 'chain recording' track 'See You When I'm Looking At You' showcasing a plethora of artists such as Angie Hart, Nick Barker, Vicki Thorn and Ron Peno.
The second of these albums is City's Calling Me which will be released early 2021 – although there is a fair chance for some sneak preview, pre-release action this tour. The first single will be a stunning cover of Cold Chisel's 'Forever Now' – once again featuring guest vocals by Angie Hart – this time with Tim Rogers and Sophie Koh thrown in for good measure.
So, after a year spent in lockdown maybe we've got something to celebrate this year. Tiny careful steps back into the sunlight are in order as Mick and the band are keener than ever to get out and play some tunes. There'll be some new Merch for the run with support acts to be announced in the coming weeks.
MICK THOMAS ROVING COMMISSION TOUR
Friday 4/12:Volta, Ballarat
Show 1: 
https://www.eventbrite.com.au/e/mick-thomas-roving-commission-national-tour-of-victoria-1st-show-tickets-126925504601
Show 2:
https://www.eventbrite.com.au/e/mick-thomas-roving-commission-national-tour-of-victoria-2nd-show-tickets-126925125467
Saturday 5/12:Theatre Royal, Castlemaine (beer garden outdoors)
https://theatreroyalcastlemaine.oztix.com.au/outlet/event/86dbdb80-763d-45fa-bef8-4b57b7c254ab
Sunday 5/12: Macedon Railway Hotel, Macedon – 2 Shows
https://www.trybooking.com/BMIFF
Friday 11/12: Westernport Hotel, San Remo 
https://westernporthotel.oztix.com.au/outlet/event/faafab51-3cd3-4deb-b5b5-c772df14502e
Saturday 12/12: Bundy Hall, Maffra – 2 Shows
https://www.trybooking.com/BMJQV
Sunday 13/12: 'Pitch Invasion' @ Devon North Recreation Reserve, Devon North (also featuring Nick Barker) 
https://gutsofgippsland.com/micknick

Friday 18/12: Memo – 2 Shows
https://www.trybooking.com/book/event?embed&eid=674984

New Year's Day: Archies Creek Gippsland
https://www.trybooking.com/book/event?embed&eid=674808

Tickets: mickthomas.com