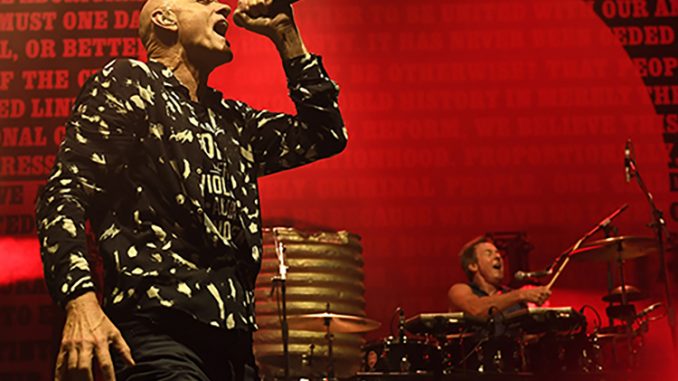 The Oils were forced cancel their remaining Melbourne shows because of drummer Rob Hirst's illness but Nick Corr caught them at Mount Duneed.
Midnight Oil Live Mount Duneed Estate, Victoria Saturday 5th March 2022
Slightly damp but still very enjoyable show as part of Midnight Oils final tour.
Unfortunately, I missed All Our Exes Live in Texas warming up the chilly crowd with their Australia spin on Americana roots.
Goanna kicked off their early evening set with "Razor's Edge", which also included an acoustic run through of "Let The Franklin Flow" before finishing with an extended "Solid Rock".
Despite being announced as their final tour, Midnight Oil showed they were not here for nostalgia by opening the show with two songs from their just released new album 'Resist', the title track "We Resist" and the latest great Midnight Oil song "At the Timing of Writing".
Looking and sounding fantastic, Peter Garrett worked every corner of the stage and performed like a man many years younger. "Blossom and Blood" from their 1985 ' Species Deceases' EP was dedicated to the people of the Ukraine.
The band was in fine form, with drummer Rob Hirst in great voice and rhythm. Bassist Adam Ventoura subbed in for the deceased Bones Hillman. They were augmented by a three-piece brass section that was particularly effective on "The Dead Heart".
Guest backing singers Leah Flanagan and Liz Stringer, heavily involved in Midnight Oil's 2020 album "The Makarrata Project" and subsequent tour, add rich harmonies to classics such as "Short Memory" and "US Forces", and "The Barka-Darling River" from the aforementioned 'The Makarrata Project'.
Closing the main set with an incredible string of classic songs "Beds Are Burning", "Power and Passion" and "Hercules". Despite the rain, the band clearly enjoyed playing, returning for a three-song encore of "Blue Sky Mining", "Best of Both Worlds", and "Forgotten Years".
Full Setlist:
We Resist
At the time of writing
Blossom and Blood
Put down that weapon
Too Much Sunshine
Sell My Soul
Back on the borderline
The Barka-Darling River
King of the mountain
My country
Short memory
US forces
Only the strong
Rising Seas
Redneck wonderland
First Nation
Dead heart
Beds are burning
Power and passion
Hercules
encore:
Blue sky mining
Best of both worlds
Forgotten years