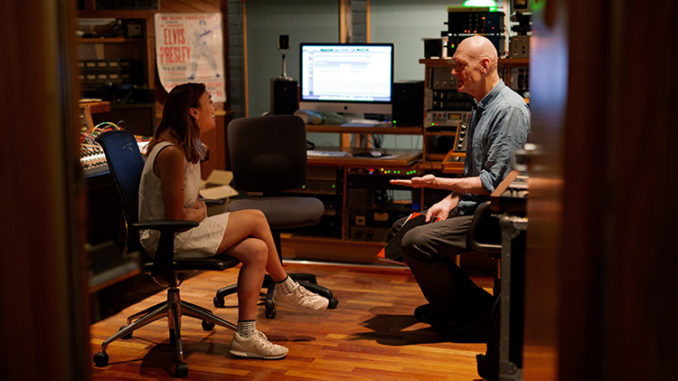 MIDNIGHT OIL TO PLAY MAKARRATA LIVE INTIMATE WARM-UP SHOW
ON 25 FEBRUARY AT SYDNEY'S ENMORE THEATRE WITH FIRST NATIONS COLLABORATORS DAN SULTAN, ALICE SKYE, TROY CASSAR-DALEY, TASMAN KEITH & LEAH FLANAGAN
Frontier Touring have announced that as part of preparations for the WOMADelaide  world premiere of Makarrata Live, Midnight Oil & First Nations Collaborators – Dan Sultan, Alice Skye, Troy Cassar-Daley, Tasman Keith and Leah Flanagan – will perform a special warm-up show on Thursday 25 February at the newly refurbished Enmore Theatre, Sydney. This one-off public intimate performance will showcase works from Midnight Oil and Collaborators from the ARIA chart topping mini-album The Makarrata Project along with iconic Midnight Oil songs of reconciliation. It will also include a special acoustic set from First Nations collaborator Leah Flanagan.
In January 1986, the band played two shows at the Enmore Theatre, marking its debut as a rock'n'roll venue.  With the theatre undergoing a major facelift in the last 12 months, including reinstating many features from the original 1936 plans, it's fitting for Midnight Oil to once again be one of the first to perform there.

This exclusive concert joins a run of highly anticipated outdoor events at Sirromet Wines, Mount Cotton; Hope Estate, Hunter Valley; Stage 88, Canberra; Mt Duneed Estate, Geelong and the world premiere at WOMADelaide. Tickets to all shows are on sale now. As always fans are asked to avoid purchasing through reselling sites such as ViaGoGo where ticket authenticity cannot be confirmed.

These concerts seek to elevate The Uluru Statement From The Heart which calls for a Makarrata – or "truth telling" – to account for the theft of lands and displacement of First Nations people.
ENMORE THEATRE, SYDNEY (INTIMATE WARM-UP SHOW)
MIDNIGHT OIL PRE-SALE
via midnightoil.com
Runs 24 hours from: Wednesday 17 February (11am AEDT)
or until pre-sale allocation exhausted

FRONTIER MEMBERS PRE-SALE
via frontiertouring.com/midnightoil
Runs 24 hours from: Wednesday 17 February (11am AEDT)
or until pre-sale allocation exhausted
GENERAL PUBLIC ON SALE
Begins: Thursday 18 February (1pm AEDT)
TICKETS FOR ALL OTHER SHOWS ON SALE NOW
via frontiertouring.com/midnightoil
ALL SHOWS LICENSED ALL AGES
EVERY patron must have a ticket regardless of age, and under 18 patrons must be accompanied at all times by a responsible adult with their own ticket. This is a licensed, loud music event, staged over a long time: we strongly recommend that this event is suitable for adults only.
MIDNIGHT OIL & FIRST NATIONS COLLABORATORS PRESENT
MAKARRATA LIVE – AUSTRALIA
FEBRUARY & MARCH 2021
WITH FIRST NATIONS COLLABORATORS
Dan Sultan, Alice Skye, Troy Cassar-Daley, Tasman Keith & Leah Flanagan
Bunna Lawrie also joining Midnight Oil for WOMADelaide show ** Monday 8 March
ALSO ACCOMPANIED BY
Liz Stringer (backing vocalist) and Andy Bickers (saxophonist)
** Not promoted by Frontier Touring
FEBRUARY 25
Enmore Theatre, Sydney, NSW (Intimate Warm-Up Show)Plus special acoustic set from Leah Flanagan
JUST ANNOUNCED
Licensed All Ages 
Presented by Triple M 
ticketek.com.au | Ph: 132 849
 FEBRUARY 28                  
Sirromet Wines | Mount Cotton, QLD (Preview)Plus special supporting sets fromTroy Cassar-Daley & Leah Flanagan
Licensed All Ages
Presented by Triple M
ticketmaster.com.au | Ph: 136 100
SATURDAY MARCH 6
WOMADelaide | Adelaide, SA **
Midnight Oil headline performance
womadelaide.com.au
** Not promoted by Frontier Touring
                    
MONDAY MARCH 8
WOMADelaide | Adelaide, SA (World Premiere) **
Makarrata Live performance
Joined by Bunna Lawrie
Plus a special supporting set from The Teskey Brothers
womadelaide.com.au
** Not promoted by Frontier Touring
MARCH 13
Hope Estate | Hunter Valley, NSW
Plus special supporting sets from
Troy Cassar-Daley & Alice Skye
Licensed All Ages
MARCH 17
Stage 88 | Canberra, ACTPlus special supporting sets fromDan Sultan & Leah Flanagan
Licensed All Ages
Presented by Mix 106.3
ticketmaster.com.au | Ph: 136 100
MARCH 20
Mt Duneed Estate | Geelong, VIC
Plus special supporting sets from
Dan Sultan & Alice Skye
Licensed All Ages
Presented by Triple M, Bay 93.9 + Geelong Advertiser
ticketmaster.com.au | Ph: 136 100