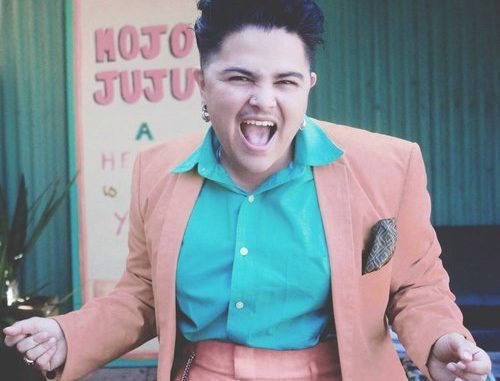 By Meg Crawford
By any measure, 2018 was one a hell of a year for acclaimed Aussie artist Mojo Juju. In particular, the release of her third solo album Native Tongue and killer title track pushed her into the awareness of a much broader audience – hell, even that conservative twat Andrew Bolt was talking about her.
By her own admission, the year was marked by some "serious highs", but there were also some notable lows, mostly stemming from the Australian media's response to her poignant exploration of her own cultural identity spanning Wiradjuri and Filipino heritage. That said, those lows formed the bedrock for overdue discussions about identity and belonging.
Also, when it came to detractors, Juju set a new standard for meaningful dialogue by responding in a way that was thoughtful, honest, firm and the very embodiment of grace: see for instance, her measured missive to Bolt, which concludes with her thanking him for highlighting the issue and including her in the conversation.
"I guess I've had a lifetime preparing for those types of interactions," she explains. "In everyday scenarios you kind of have different interactions like that, obviously to varying degrees, but you just learn how to deal with it. It's unfortunate, but you have to be good at it."
On the flip side was the heartfelt response from industry and audience alike to– Juju's just been peer nominated for the APRA song of the year and has genuinely connected Native Tongue with a new legion of fans.
"The most common response was people reaching out to tell me about their family histories and their experience and journey with identity," Juju confirms. All of which happily flies in the face of initial feedback.
"Prior to releasing the song I'd had people from within the industry I'd worked with expressing to me, 'Oh look, it's good, I just don't know if anyone's going to be able to relate to it'. That was their concern. Ironically, more than ever, people are reaching out to tell me how much they related to it, and I guess that reinforced to me that the Australian identity is way more complex than what we've always been told it is."
As a queer person of colour, the issues Juju address on Native Tongue were nothing new. "I'm talking about experiences that I've had repeatedly throughout my life," she confirms. It does seem like a particularly apposite time in history to lay them on the table though. For instance, just prior to the interview news breaks about the attack on US actor Jussie Smollett.
"Racists and homophobes have always existed, but they've become emboldened," Juju rues. "You can filter that stuff out, but I got to a point where I was like, 'No, that needs to be addressed'."
It was also a year for some whopping new lessons. "I guess the biggest one for me was about the value of authenticity," Juju says. "I feel like I've always been authentic to myself, but I guess that record was the first time I really opened up in such a personal way. It was very transparent, and I hadn't allowed myself to be that vulnerable before in my music."
Not content to rest on her laurels, Juju is already working on new material. As her fans are aware, Juju has often shifted sound over the years, spanning everything from rockabilly and R'n'B to soul and hip-hop. True to form, while she's keeping her cards close to her chest about what's coming next, we can expect another Juju incarnation.
"I don't know where this idea came from that artists are meant to churn out the same stuff over and over. I think as an artist, my job is to constantly challenge myself and to grow and evolve. Otherwise, what am I doing? If you look at a visual artist over the course of their career, their style evolves and people will kind of go, 'Oh, that was that period in the artist's career'. But with musicians, you're expected to just sound a certain way and just do that, but I've never seen myself that way. Look at artists like Prince, Michael Jackson or Bowie – they were always on their own trajectory. I guess that's how I approach it. Whether or not that works in my favour in terms of how my career looks, I don't know."
Native Tongue is available through Universal. Mojo Juju appears at Bluesfest over Easter and then heads to Gumball, April 25-28.
Gumball (Thursday April 25 – Sunday April 28) has already announced the biggest line-up of its 15-year history and its third-round announcement for 2019 included the following acts:
WILLIAM CRIGHTON, THE CALIFORNIA HONEYDROPS (USA), BEANS ON TOAST (UK), CHEAP FAKES, DASHVILLE PROGRESS SOCIETY, CLAIRE ANNE TAYLOR, GRACE TURNER, MASCO SOUND SYSTEM, BAGHEAD, KIMONO DRAG QUEENS, BURGER JOINT, SHRIMP, CORAL LEE, DOC & THE DELEGATES
They join an impressive line-up that features the likes of Tex Perkins, Sampa the Great, Magic Dirt, Mojo Juju and Augie March. The full roster for Gum Ball 2019 includes:
GUM BALL LINE-UP 2019: TEX PERKINS & THE FAT RUBBER BAND + SAMPA THE GREAT + MAGIC DIRT + WILLIAM CRIGHTON + PSYCHEDELIC PORN CRUMPETS + AUGIE MARCH + MOJO JUJU + PHILADELPHIA GRAND JURY + THE CALIFORNIA HONEYDROPS (USA) + THE HAUNTINGLY BEAUTIFUL MOUSEMOON + PERRY KEYES + BEANS ON TOAST (UK) + TAMAM SHUD + MASCO SOUND SYSTEM + MAGPIE DIARIES + BAGHEAD + VAN DUREN (USA) + CHEAP FAKES + NICK BARKER & THE HEARTACHE STATE + CLAIRE ANNE TAYLOR + BATTS + LOS KUNG-FU MONKEYS (MEX) + THEN JOLENE + GRACE TURNER + ALLENSWORTH (USA) + DAVE + THE REGIME + BATTLESNAKE + MIDNIGHT TEA PARTY + WILLIAM JOHN JR. + KIMONO DRAG QUEENS + BURGER JOINT + SHRIMP + CORAL LEE + DOC & THE DELEGATES + DASHVILLE PROGRESS SOCIETY
 The Gum Ball returns on Anzac Day, Thursday, April 25 from midday and runs until midday on Sunday, April 28. There are many sights and sounds for people of all ages, with a line-up of performers, food and market stalls. Announced food stalls include the Taiwanese street food of Bao Brothers and the Mediterranean morsels of Cyprus Kitchen.
Tickets to the Gum Ball 2019 are on sale now through new ticketing partners Humanitix, with booking fees going to help ReachOut.com.
For more information head to www.dashville.com.au/gumball