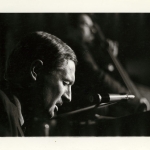 November 11, 1927 – November 15, 2016
Mose Allison, who died on November 15, aged 89, was a singularly original US blues/jazz piano troubadour. Always something of a maverick, he started out as a kid in Mississippi, taking piano lessons until he figured out he could pick out tunes by ear whereupon he quit lessons and started developing a style that included standard Down South blues and northern jazz flourishes.
Always peppered by his bitingly clever lyricism and wicked wit, his own compositions generated praise worldwide and ensured him a place in the modern pop and rock music deity of 1960s US music. UK blues/jazz keyboards star Georgie Fame was clearly influenced by Allison's style which is easily recognizable in Fame's own vocal style, delivery and phrasing.
Allison was always first to take a self-deprecating pot-shot at his own image, perhaps most tellingly illustrated by the title of a UK BBC biographical/documentary show title in 2006: "Ever Since I Stole The Blues."  However, it also winningly highlighted his ability to reinvent and rejuvenate some old Delta blues standards and his remarkable covers of tracks by the likes of Muddy Waters and Willie Dixon, among many others.
But Allison was much more than a copyist, he was also a talented songwriter, albeit often with a humourous tinge. The Who, The Clash, Eric Clapton, Elvis Costello, Bonnie Raitt, The Yardbirds, Van Morrison and John Mayall all recorded his work and he was accurately identified as being one of the most important musicians and influences of the 1960s UK rock phenomenon.
Allison retired from active touring in 2012 and was a recipient of the US award of Jazz Master by the National Endowment for the Arts in 2013. From his first recordings in the 1950s, Allison remained an influential and admired jazz/blues musician for over sixty years. He died at home, Hilton Head Island, South Carolina, from natural causes.
By Iain Patience