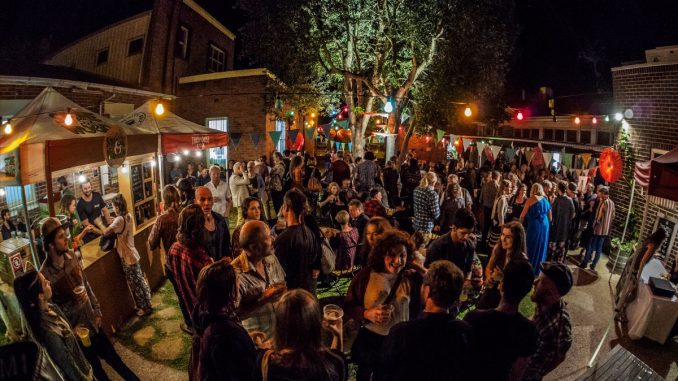 This year's Mullum Music Festival – November 14 – 18 – features bands and musicians from Chile, South Africa, UK, US, Ethiopia, Canada and the Solomon Islands playing alongside a power packed local and national line up. Now in its 12th year, Mullum Music Festival delivers another exciting and diverse line up. This is an inclusive festival for everyone from 2 to 82.
This year's program features Wagons, hot on the heels of their long awaited 2019 comeback album Songs From the Aftermath.  Mojo Juju cleaned up at the National Indigenous Music Awards this year with 'Native Tongue' claiming both album of the year and song of the year.  Conjuring an immersive and psychedelic sonic landscape both live and on record, Steve Gunn (US) is known for telling other people's stories, but on his breakthrough fourth album, 'The Unseen In Between', he explores his own emotional landscapes with his most complex, fully realised songs to date. The heady vocals of Rachel Baiman have you hooked from hello. Her smoky tones move effortlessly between bluegrass and folk, old time and country.
People at Mullum love to dance and this year the call to the floor is from Dereb The Ambassador bringing Ethiopian tinged soul beats and rhythms to the fore.
Mullum Music 2019 also welcomes Nano Stern, Kent Burnside, Ruby Boots, Joe Pug and Allensworth from the US, Z Star Trinity and Blair Dunlop from the UK, Sibusile Xaba from South Africa and Alysha Brilla from Canada.
The local region is well represented with Russian middle aged boy band Dustyesky,Alfalfa, Mr Rhodes and former Mullum Youth Mentorship winners Loose Contentamongst others making up 30% of the bill. They play alongside national treasures such as Harry James Angus, Hat Fitz & Cara, Husky, Claire Anne Taylor and Hussy Hicks – all making their pilgrimage to Mullum Music Festival stages.
Mullumbimby is just a short drive up the highway from Byron Bay. Where Byron has a more commercial coastal feel these days, Mullumbimby is where the wild things are. It's the ideal spot for a mid-November getaway to explore the region's infamous arts and crafts, distilleries, fabulous boutique accommodation and of course, Mullum Music Festival with over 70 performances in 14 venues over four days.
It's like a farmer's market of musical produce, rich, juicy, home-grown and free of industry modifications. This is independent music, uncompromised, fiercely organic and best of all… it's music that's good for you!
MULLUM MUSIC FESTIVAL 2019
Tickets on sale now!
4 days | 12 official Venues | Over 200 performances
14-17 November 2019
Mullumbimby NSW
www.mullummusicfestival.com
THE FULL LINE-UP INCLUDES:
Nano Stern (CHILE), Mojo Juju, Wagons, Sibusile Xaba (STH AFR), Alysha Brilla (CAN),  Emma Donovan & The Putbacks, Harry James Angus,
Dereb The Ambassador (ETH/AU), Quivers, Thando, Joe Pug (US),  Z Star Trinity (UK), Steve Gunn (US), Allensworth (US),  Ruby Boots, Hussy Hicks, Kaumaakonga (SOL IS),  The Wilson Pickers, Dustyesky, Rachel Baiman (US),  Small Halls Feat: Blair Dunlop (UK) + Hat Fitz & Cara,
Husky Presents: First Kiss Goodnight, Tek Tek Ensemble, Jack Carty, Claire Anne Taylor,  Husky Gawenda (Solo), Lucie Thorne, Sunnyside,  Alisha Todd & The Volcanic Lovers, Cigany Weaver, Loren Kate,  Hello Tut Tut, Kent Burnside (US), Alwan, Greg Sheehan, Alana Wilkinson,  The New Savages, Karl S Williams, Brekky Boy, Andie, Monique Clare,  Titan Sky, Graham Moes, Alfalfa, Invisible Friend, Gabriel Otu,  Mr Rhodes, Mandy Hawkes, Palm Wine Ambassadors, Loose Content,  Sophie Ozard, Gideon Preiss's Piano Bar, Tin Can String Band,  Out of Order, Angus Field, Arakwal Dancers, The Cassettes,  Bollywood Sisters, Roundabout Theatre, Sign Of The Times,  Ingenuity Sculpture Walk, The Amazing Drumming Monkeys,  Spaghetti Circus, Street Parade, The Magic Bus and much more…
About Mullum Music Festival
The 12th annual Mullum Music Festival (14 – 17 November, 2019) is a family-friendly, whole-town festival that takes place in more than 14 venues throughout the NSW North Coast town of Mullumbimby. Known for its relaxed and friendly vibe, diverse program and New Orleans style street parade.