New Orleans Jazz& Heritage Festival, Friday April 28, Saturday April 29 & Sunday April 30, 2023
By Brian Wise
It has been four years since my last JazzFest, my 25th, so it felt somewhat like coming home as we entered the gates along with the largest first day crowd I had ever seen. The line extended around the block and halfway way up Sauvage Street to the bus* stop. Luckily, the WWOZ Brass Pass**, a great investment, had a separate entry line otherwise I hate to think how long it would have taken us to get in.
In four years, little has changed. The Fairgrounds racetrack location – a 15-minute bus ride out of the French Quarter – caters for a large crowd, I reckon 100,000 or close today.  To paraphrase the words of esteemed Rhythms scribe Tony Hillier it's the one racetrack where you cannot back a loser!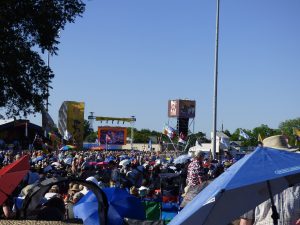 If you don't mind mixing shoulder to shoulder in really large crowds that exude a constant good vibe –  where everyone is friendly and you all share a common bond in the love of music – then come along. It's possible that you will make lifelong friends out of complete strangers over the course of a weekend. You might come across a friendlier festival crowd somewhere on the planet but I never have. [Yet, there is a caveat for potential visitors: if you don't like crowds and you don't like a lot of walking then this is not the event for you].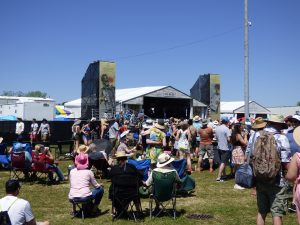 JazzFest features a mix of mainly outdoor, plus tented and grandstand, stages – 13 in all. The music is as eclectic as ever, from the traditional jazz (as you would expect) to cajun and zydeco, rock, rap, R&B, African and Puerto Rican……..you name it is probably here! First day headliners were Lizzo and Robert Plant and Alison Krauss on the two main outdoor stages (Festival and Gentilly) and the Wu-Tang Clan on the Congo Square stage.
While there are plenty of big name American and international acts, the main feature of the festival remains the fact that it exists to highlight Louisiana artists and there are hundreds of them. The locals might be obscured at times by some of the headliners but there are few festivals anywhere that I can think of that give such exposure to their hometown musicians. And, you can still see some of the artists who had hits near the birth of rock 'n' roll, such as 85-year-old Clarence 'Frogman' Henry; and there are those whose musical influence endures into modern rock and pop such as members of The Meters. Many of the attendees here have been to enough JazzFests to see just about every musician they could ever hope to see.
More good news is that most of the food stalls have returned to pre-Covid levels, as some were missing at the return event last year (citing Covid and staffing issues). That makes more than 50 food and specialty drink stalls (not counting the numerous beer stalls). The bad news is that everything is now cashless which might explain the extraordinarily long lines on the first day. [You now pay tax which means a $10 meal is now $10.95. The IRS and state tax office will be happy. Vendors not so]. The main offenders causing the delays seemed to be people who were trying to pay with their phone apps. Perhaps there should be special lines for the technically inept.
The first thing we did upon entry was to line up for Crawfish Monica (spiral pasta with crawfish in a creamy sauce), our favourite dish, and a 20-minute wait was annoying but totally worth it!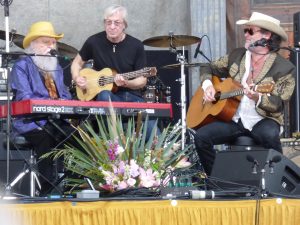 The music for us started with Swamp Pop legend Tommy McLain and CC Adcock, who will be touring Australia next month, and who we had seen last night at Chickie Wah Wah on Canal. The sound in the Blues Tent was way better than in the club and the music on stage was supplemented by Dave Ranson from Sonny Landreth's band on bass, Jon Cleary on piano and Mike Dillon on vibes, along with two backing singers. McLain's latest album I Ran Down Every Dream, features songwriting collaborators Elvis Costello and Nick Lowe, and is a fabulous update on his swam pop sound,  even if the voice, at 83, is a little raspier than in his heyday.
We then hotfooted it over to the Fais Do Do stage (where mostly cajun and zydeco artists appear) to see Steve Riley & the Mamou Playboys, now featuring Steve's 13-year old son Burke. Riley previewed some songs from a forthcoming album and some old favourites.
The Allison Miner Stage Q&A stage is in the grandstand and we listened to Allison Russell relate some emotional stories of her life at her first appearance at JazzFest.
We later saw Russell and her band on the Fais Do Do stage, which is certain to be the last time she plays on a stage that small at this festival. Having seen her in Melbourne recently supporting Jason Isbell, it is a certain bet that Russell is destined for superstar status (though when I said this to someone they replied, 'She already is a superstar!').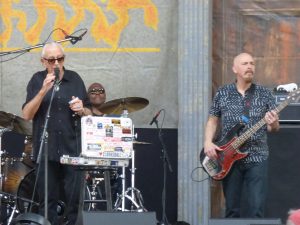 Before Russell's set we caught half an hour of Charlie Musselwhite in the Blues Tent. He was joined by his daughter Layla Musselwhite who is appearing at other gigs in town. We were disappointed to leave because Charlie was really firing but we were later informed that his set ended early anyway.
The obvious highlight of the day was Robert Plant & Alison Krauss. We had to forego seeing Mavis Staples in the Blues Tent but luckily had seen her last month when she toured with Bonnie Raitt. If the Krauss/Plant combo was not enough talent, just consider the backing band: guitarist JD McPherson, Dennis Crouch on bass, drummer Jay Bellerose, Viktor Krauss on keyboards and Stuart Duncan on mandolin and guitar. Incredible! You can immediately hear why these musicians are favoured by T Bone Burnett and Joe Henry in so many of their productions.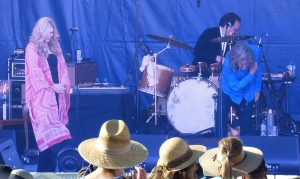 Apart from selections from their two albums together – Raising Sand (2007) and Raising The Roof (2022) – highlights of the set included a couple of Led Zeppelin classics – a 'cajunised' version of 'Rock 'n' Roll' along with 'The Battle of Evermore' and 'When The Levee Breaks'. There was an also a superlative reading of Page and Plant's 'Please Read The Letter', which also appeared on Raising Sand and was expanded here to epic proportions.
Plant mentioned that they played selections from the Great American Songbook – 'not the schmooze, the groove' – and then introduced Scot Bert Jansch's 'Go Your Way My Love' followed by his 'It Don't Bother Me'. The song choice was as eclectic as its superb interpretations. (Compare this with the set list the Rolling Stones trot out every show they do). Plant has long eschewed the commercial path and his career remains vital as a result; as well as that he has found the perfect musical partner in Krauss. They fully demonstrate that you do not have to go down the well-trodden path to remain relevant and successful.
[Later that night Robert Plant appeared alongside Irma Thomas at one of the special sold-out Midnight Preserves shows at Preservation Hall to a small but incredibly lucky audience].
Saturday April 29
An abbreviated day, thanks to the weather. Strong showers in the morning cleared but were predicted for the afternoon. I put on my old walking shows that I was prepared to throw away. One year I waded out of the festival through a knee-deep stream while youngsters swam in a lake that had formed near the main stage. Another year I sat with a friend, trapped in our chairs like Robinson Crusoe and Friday on a tiny mound in the middle of a larger lake that had formed across the arena. Maybe the weather deterred people because the crowd today was significantly smaller than Friday, despite the presence of Ed Sheeran who recently drew more than 100,000 on two nights in Melbourne. Obviously, he is not quite as popular here!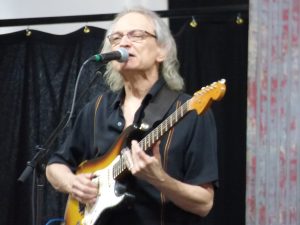 So, the day started in the Blues Tent with an energetic performance from Mitch Woods & His Rocket 88s.  Sonny Landreth followed and soon after he started the skies opened, the rain poured down and a small stream made its way to the middle of the tent. Luckily, it didn't disrupt Sonny's show and it was nice to hear his distinctive slide guitar again. I am looking forward to seeing him next weekend in the Goners with John Hiatt.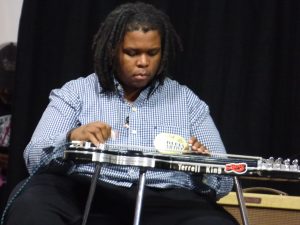 The Revivalists cancelled their main stage appearance due to illness in the and they were replaced by replaced by Samantha Fish & Jesse Dayton who were brought across from the Gentilly Stage.  The Campbell Brothers band brought their steel guitars to sing the praises of the lord with their vocalist Denise imploring the crowd to see the light, which did appear as the rain lifted (but I am not sure she was singing about that sort of light). We made our way to the Gentilly Stage for the Steve Miller Band but before he came on we could clearly hear Taj Mahal on the Fais Do Do Stage and it sounded interesting (we later found out that Rickie Lee Jones guested).
Last time I saw the Steve Miller he was on the main stage and the sound was the best I had ever heard at JazzFest. This time he was bumped to the slightly smaller stage by Ed Sheeran but the sound was still great and crystal clear. Steve obliged us by playing most of his hit songs in the first hour of his 90-minute set: 'Swing Town', 'Jungle Love', a great version of Paul Pena's 'Jet Airliner', 'Abracadabra', an extended version of 'Fly Like An Eagle', 'Dance Dance Dance', 'True Fine Love' and he even threw in Elmore James' 'Stranger Blues'. Great stuff.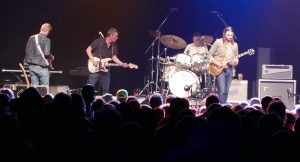 My evening was spent at The Fillmore on Canal to see the North Mississippi Allstars, Tab Benoit and Samantha Fish & Jesse Dayton. The venue is relatively new, having been opened in 2019, and is attached to Harrah's Casino and has about as much soul. It is vast but does have some 'stadium' seating at the back of the hall.
The highlight of the evening was Duane Betts' guest solo on the final NMA song in which he ripped out a fantastic guitar solo worthy of his father Dickey, who we saw here many years ago with his band. Duane has a new album due out soon and I immediately ordered it online when I got back to the hotel.
Tab Benoit looks like he has undergone some sort of life-changing experience and if that is not so then he must have undergone an image changing one because he looks completely different to when I last saw him. His playing is also much heavier than In recall but is balanced by some soulful, slow ballads.
Samantha Fish and Jesse Dayton turned out to be even louder than Benoit and arrived on stage like a steam train. Together they create a full on experience.
Sunday April 30
The spirit of the Allman Brothers Band lives on not only with the NMA and Duane Betts but also with the Tedeschi Trucks Band who headlined on Sunday afternoon in weather that was a total contrast to the previous day. Clear skies, bright sunshine and heat. Around 25C, which was perfect.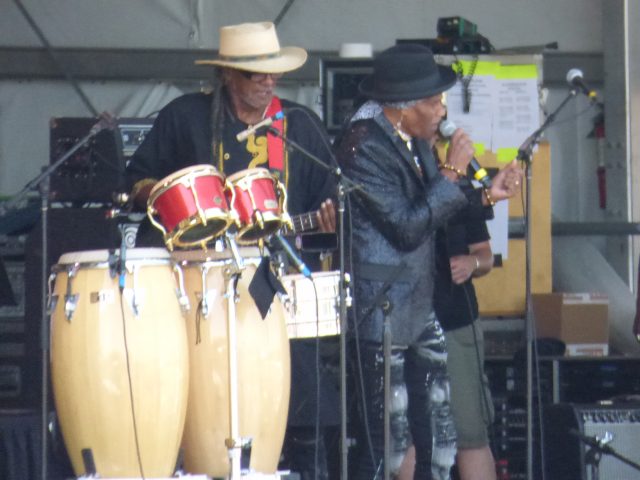 We started with Cyril Neville and his extended band on the Gentilly Stage, which made me realise how much we miss the Neville Brothers being here to close out the festival as they once did. Then we moved to the other end of the racetrack to see Gary Clark Jr, who has managed to add a really soulful edge to his blues and is surely due for a new album soon, though I know he doesn't like to rush these things.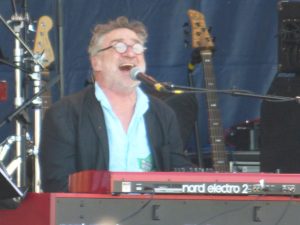 Then it was a hike way back to the other end of the festival site to see Jon Cleary on Gentilly with what seemed to be a largely expanded line-up of The Absolute Monster Gentlemen.
Hike 3. It was back to the main stage to catch 45 minutes of the Tedeschi Trucks Band with Susan Tedeschi often taking the lead role with her vocals and guitar while her partner Derek Trucks seemed pretty content to lurk just nearby and add his own flourishes when necessary. Long-time vocalist Mike Mattison was as reliable as ever.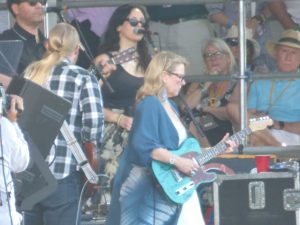 The group not only keeps the spirit of the Allman Brothers band living on but infuses it with the Southern soul of Delaney & Bonnie. Festival director Quint Davis introduced them as the world's best touring band and, in this case, it didn't seem that far off the mark.
The day finished with Los Lobos, my favourite group, back on Gentilly. Sounds like a lot of walking? It is. On Saturday I walked a total of 15km, today another 12.5km – I reckon two-thirds of those at the festival. (That's while still feeling the effects from a broken leg suffered since my last JazzFest!).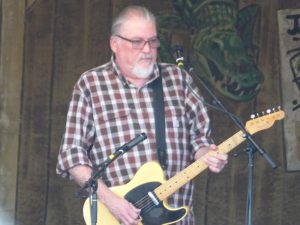 Luckily, for me, Los Lobos were running slightly late meaning I arrived just before they went on stage to open with 'Love Special Delivery' from their latest album. The band always includes plenty of traditional Mexican fare which they went into almost straight away before 'Shakin' Shakin' Shakes' and 'Down On The Riverbed.' We left for the bus stop to the glorious sounds of the band doing 'Come On Let's Go' (from La Bamba). (Apparently, they closed with 'La Bamba').
That was a great way to end the first weekend. Now, we are looking forward to 4 more days next week, though the weather forecast is not great. No matter, we'll be there.
* The 91 Bus along Rampart and Esplanade to the festival. I have learned to love this bus after resenting it for years. The service seems to be much more reliable this year (fingers crossed) but even better is the fact that the drivers are so helpful. One of them actually stopped for us even though we were not at the official stop. (Seniors can buy a 24-hour bus/streetcar ticket for 80 cents!) However, the service back from the festival is unpredictable as they have apparently not put on extra services and you need to get to the stop by 6,45 pm to make sure you can find a bus.
** WWOZ Brass Pass. These are US$185 more than buying advance tickets for 7 days (when you include taxes) but you get a special entry lane, a hospitality area with water, iced coffee and fruit, along with portaloos. Plus, you support one of the world's great public radio stations. A bargain.