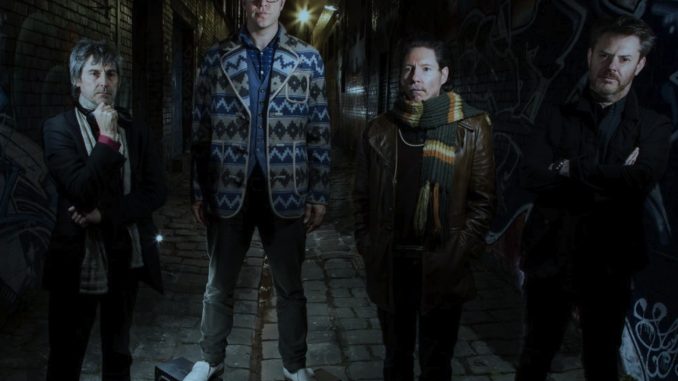 Liam Gerner and The Sunset Pushers – Tjurkurpa (Official Music Video)
Singer songwriter LIAM GERNER and his band The Sunset Pushers celebrate the release of a new film clip for their song Tjurkurpa from their self titled album out now (MGM).
Liam says "I filmed this little home or rather bush-made film clip for our song Tjurkupa recently while up in Nhulunbuy, North East Arnhem Land playing gigs. Tjurkurpa was written with my musical collaborator pals Luke Moller and Shane Reilly, and recorded with Roger Bergodaz drums and Steve Hadley bass. It's on our self titled album.
While in Arnhem Land recently I sang the song at my gigs to a diverse audience of sweat soaked Gove locals including miners and teachers and tree doctors, but mostly the amazingly welcoming local Yolngu community, who often joined me onstage playing yidaki and singing in language. The song Tjurkupa seemed to connect with the themes of the folks and to town as it's a mining town with modern and ancient cultures converging.
So in between my getting irretrievably bogged on a solo bush exploring adventure out in the croc infested Cape Arnhem for a few days, eventually rescued (thanks to mechanical Mike), doing gigs, having morning jams at a ski beach cafe ( where Yothu Yindi's had their old studio) with the great local band Barra West Wind (checkout their new album) and yidaki master Djalu Gurruwiwi and his sons, seeing Prince Charles' visit, and going hunting out bush with the local Yolngu kids and Elders from around Yirrkala I was able to film this clip. I edited it up and here it is.  
The word Tjurkurpa has many complex meanings I read it is the foundation of Anangu (Central Australia)  life and society, and refers to the creation period when ancestral beings created the world. Tjukurpa also refers to the present and future."
A big thank you to all the locals who played their part in the making of this film clip and welcomed me onto their beautiful country and into their unique community. Thanks to all the crocodiles for not eating me too."
Liam Gerner and The Sunset Pushers feature a trio of Melbourne's finest seasoned musicians in Steve Hadley, Toby Lang, Luke Moller and Shane Reilly, and together with Liam they bring experience in droves and a thirst for new songsploration. Bruce Haymes plays hammond on this song.
Since the release of Liam's debut album 'Land Of No Roads', Liam has been touring relentlessly throughout Australia, New Zealand and the USA whilst also finding precious time for writing new songs. Now based in Melbourne after 10 years overseas Liam has had the chance to collaborate and build a band and bond with his new compatriots.
The album was recorded in three days in both Melbourne by Roger Bergodaz and in the USA at Rick Rubins Shangri La studio Malibu where drummer Jay Bellerose (Ray Lamontagne, Robert Plant), bass player Jenn Condos (Bruce Springsteen) Mark Goldenberg (Jackson Browne) joined the band. Kasey Chambers, Luke Moller, Eric Lynn and many wonderful musicians also feature on the album.