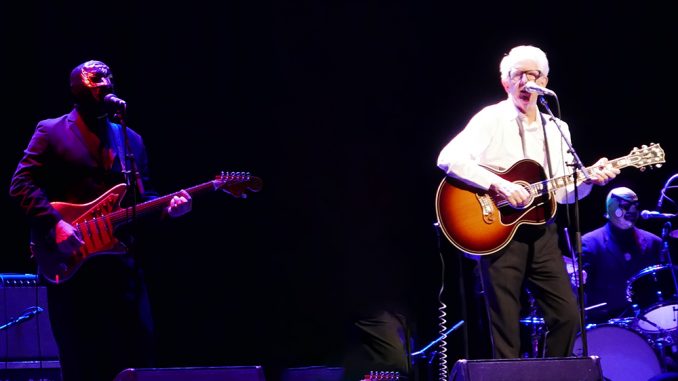 Nick Lowe & Los Straitjackets – Forum Theatre, Melbourne – Tuesday February 18, 2020
By Brian Wise.
In an alternative universe somewhere, Nick Lowe is packing large arenas and outdoor venues like Elton John is at the moment, dominating commercial airplay and is one of the world's most revered songwriters. But in that world, we'd never get to see him up close at a venue as good as The Forum and, if he did play it, we'd be paying the sorts of prices Springsteen commanded for his Broadway shows.
Still, one out of three is not bad: Lowe still remains a revered songwriter and on the evidence of his recent material, including one new song tonight, his skills are undiminished.
Anyway, being a superstar would never suit Nick Lowe's personality, which even his biographer Will Birch described as 'relaxed' and, while he has never had the commercial hits that Mr John has enjoyed, his catalogue is every bit as packed with gems looking for a huge audience. (I know that Lowe made a squillion from his inclusion on the soundtrack of The Bodyguard but ambition seems to have endearingly bypassed his personality entirely).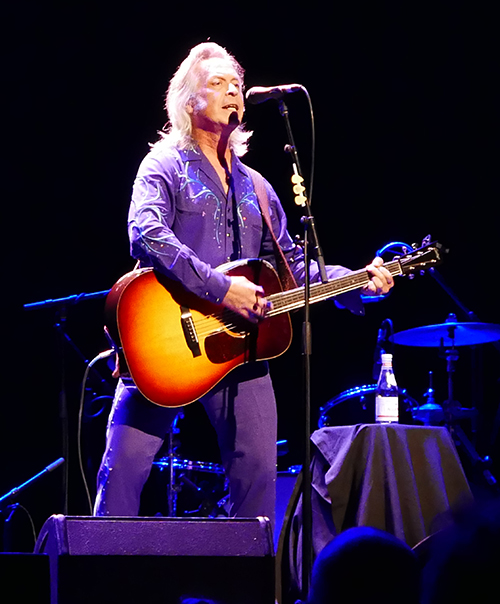 Jim Lauderdale, another 'underachiever' but dressed like a superstar in a glittering mauve suit that would be at home on Elton John, opened the show with an 8-song acoustic set that featured some selections from his latest album, as well as songs from his past, including those he co-wrote with Elvis Costello ('I Lost You') and Robert Hunter ('Headed For The Hills). Lauderdale paid tribute to Hunter, who passed away late last year (there is another of their co-writes on Lauderdale's forthcoming album, When Carolina Comes Home Again). 
For the past few years, Nick Lowe has recorded and toured up with Los Straitjackets, a Nashville-based surf-instrumental band (there's irony for you). His past outfits have featured keyboards which gave some subtlety to the songs, but this outfit certainly lends an energy to the up tempo numbers. All the while, the impeccably attired Lowe cradled his guitar, shaking his left leg in time to the music.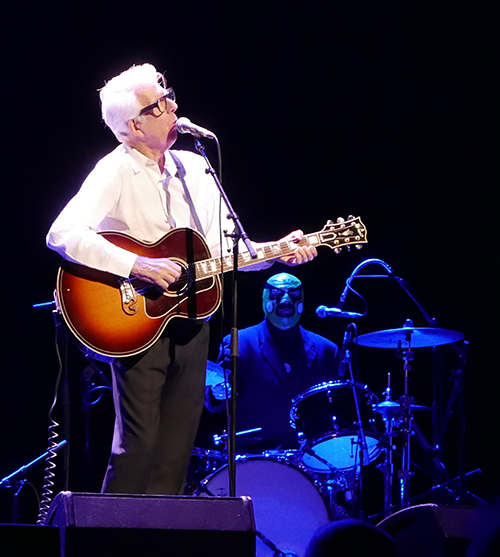 Lowe spent the first half an hour ranging through his catalogue, from 'So It Goes,' and 'Raging Eyes' to the recent 'Tokyo Bay,' throwing in the ballads 'Without Love' and 'You Inspire Me.'
Three songs in Lowe gave a pithy introduction, thanking the audience by mentioning that while he had only been to Melbourne four or five times, he knew there was a lot of entertainment competing for the punters' money. He added that there would be some new songs but not to worry because they sounded exactly the same as the old songs! He also noted that because all the songs were so short there would be minimal stage patter. 
Left to themselves after the first part of the set, Los Straitjackets launched into a five-song bracket that included instrumental covers of 'The Easybeat's Friday On My Mind' and Shocking Blue's 'Venus.' There was a diversion during the tune 'Itchy Chicken' in which a rubber chicken was thrown around before the group started 'I Love The Sound of Breaking Glass' and Lowe re-joined them for an eleven-song second set that rolled out some more of the classic.
Interestingly, Lowe played a new song, 'Blue On Blue,' which as he had promised, sounded exactly like one of his classics. It makes you long for somebody high profile to take some of these great songs and turn them into hits. Surely, there are enough great ballads to fill an entire album? (So far, there have been at least three tribute albums).
By the end of the set and 'I Knew The Bride' many in the seated audience and those from the standing room in the back could not resist the urge to dance at the front of the stage. The encore included a slowed-down version of what has become his classic, 'What's So Funny ('Bout Peace Love and Understanding).' Clocking in at just on 90 minutes this was an immensely satisfying show that left everyone wanting more. (The measure of Lowe's talent is surely the fact that we could think of another great half dozen songs of his that he could have easily included in his show). 
If what you want from a show is to walk out with a smile on your face after hearing a great songwriter run through a batch of brilliant songs, then this show hit the mark to perfection! I daresay there will plenty more spectacular, longer and louder shows this year but not many of them will be as enjoyable!
Nick Lowe Setlist
So It Goes
Raging Eyes
Without Love
You Inspire Me
Shting Shtang
Raincoat In The River
Somebody Cares For Me
Tokyo Bay
I Love The Sound of Breaking Glass
Half A Boy And Half A Man
Love Starvation
Lay It On Me Baby
Blue On Blue (New)
Here Comes The Feeling
Cruel To Be Kind
Heart of The City
I Knew The Bride
When I Write The Book (Encore)
What's So Funny ('Bout Peace Love and Understanding)?
Note: The earlier version of this review referred to Shocking Pink's 'Venus.' Many readers have pointed out that it was in fact Shocking Blue. Freudian slip!