Wherever you are in ye olde England you can bet your bottom shilling that a historical stately home is somewhere nearby, even when attending what must surely be the country's most enjoyable boutique roots music festival.
Folk By The Oak has since 2008 been successfully staged in the salubrious acres surrounding Hatfield House – a 17th century mansion that was built during the reign of King James 1. Queen Elizabeth 1 spent much of her childhood in the area and indeed received news of the death of her sister, Mary Tudor, and her accession to the throne while sitting under an oak tree in the ancient parkland where the event is held.
Nearly a decade on, the one-day festival is evidently still gathering momentum. This year it boasted what by popular local consent was one of its strongest-ever bills, comprising a raft of annual BBC Folk Award winning acts. Naturally, the high calibre of artist scheduled to perform on Sunday, July 24 proved an irresistible lure to your roving, folk-loving Rhythms correspondent.
Hatfield Park might be located only thirty or so clicks north of London, but it feels like it's a million miles removed. Folk By The Oak has a happy blend of village fete vibe and full-scale festival feel. Storytellers, craft skill sessions and other assorted fun activities, including elementary archery, keep the kiddies happy as the grown-ups sup a range of Tring ales, cocktails or Pimms – not to mention a selection of Persian, Egyptian and Caribbean tucker, as well as the staple fish & chips and hamburgers – while they soak up the music.
With the action alternating between the site's two venues, the intimate tented Acorn Stage and the al fresco Main Stage, there was non-stop music from 1:30pm until 11pm-ish. The festival finished with a spectacular firework display to a soundtrack provided by the headline act, the Afro Celt Sound System, who had the throng whirly gigging to their heady musical hybrid under the pyrotechnics in the sky.
Folk By The Oak's festival patron, Jim Moray, proved a genial, hands-on main stage
host. His swashbuckling approach to traditional English folk music corresponds with the festival's own ethos, which was reflected in a well-balanced program of established stars and up-and-coming acts that included Moray's exciting new folk-rock outfit False Lights, a band that owes as much to Radiohead as to Fairport Convention or Steeleye Span.
The day had started some ten hours earlier on the principal stage with a suitably laidback set from Emily Portman & The Coracle Band, highlighted by some celestial 3-part harmony singing by the leaderene and Lucy Farrell (viola & saw) and harpist Rachel Newton, who are established folk stars in their own right.
Some equally fine female talent and harmony vocals followed in the shape of violinist/singer Nancy Kerr and singer-guitarist Maz O'Connor and Sweet Liberties. Commissioned by the English parliament to write songs to mark the 800th anniversary of the signing of Magna Carta, the collective showcased its upcoming album, with the band's male singers – Wales's Martyn Joseph and the West Country's Sam Carter – impressing with passionate renditions of powerful self-compositions.
There was no lack of commitment or panache from Martin Simpson, one of the world's finest finger-style and slide guitar players, and multi-instrumentalist Dom Flemons (from the Grammy-Award winning Carolina Chocolate Drops), in a transfixing transatlantic collaboration that emphasised the confluence between English and American folk song. Simpson's reading of the classic 'John Hardy', with Flemons accompanying on harmonica and bones simultaneously, was a standout, along with the latter's version of the evergreen 'St James Infirmary'.
However, the day's highlight came with a truly spellbinding live recreation by that dynamic trio Lau of pieces from their acclaimed 2015 album 'The Bell That Never Rang'. The rapport between singer-guitarist Kris Drever, fiddler Aidan O'Rourke and "mad professor" accordionist and electronics whiz Martin Green and the inordinately high level of their musicianship had the crowd baying for more. Their intricate compositions ebb and flow like the tide, building to pulsating climaxes before gently slipping away.
Kris Drever's gorgeously mellifluous vocals also featured in an exclusive showpiece put together by Irish singer Cara Dillon that also elicited an inspired performance from her veteran compatriot Andy Irvine, whose version of 'The Blacksmith' – brilliantly backed by Aussie James Fagan on bouzouki and Mike McGoldrick on low whistle – brought back memories of that legendary band Planxty.
That proved a perfect precursor to the aforementioned thrilling finale by the Afro Celt Sound System, a band that your correspondent had stumbled across on their debut at WOMAD UK, way back in 1995. Showcasing works from their excellent comeback album 'The Source' and their new Scottish connection, Griogair on pipes, whistles and vocals, the band had the crowd in the palm of their hand, from whoa to go, despite N'Faly Kouyate's kora being disappointingly low in the mix. They are, justifiably, on the shortlist for next year's Byron Bay Blues Festival.
While The Main Stage preoccupied, some fresh new young talent impressed on the Acorn Stage – in particular the electrifying Dublin 4-piece Lynched and the Welsh quintet Calan, who will assuredly earn spots on the Main Stage at future Folk By The Oak festivals.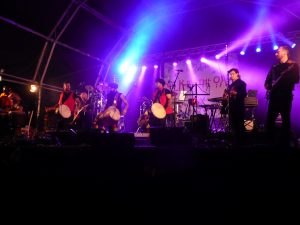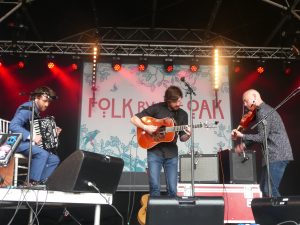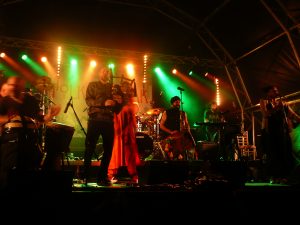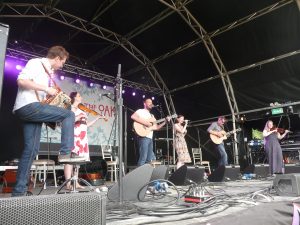 * Photos by Julie McEnerny