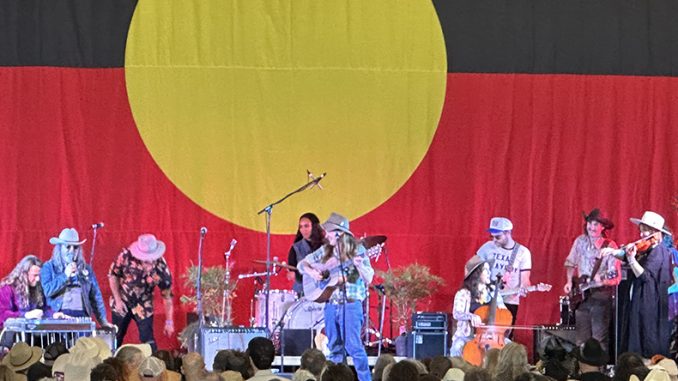 Review by Brian Wise
Over the years, the Out On The Weekend festival has established itself as Victoria's premier 'Americana' festival, featuring an array of some established and many up-and-coming acts from the USA mixed with local talent. It also offers a chance for fans of the genre to get together with friends who share the interest and to break out their Western gear and wear it without being self-conscious. Set on the waterfront, the site could be a little patch of Austin or Nashville transplanted for a day.
Of course, anyone running an outdoor event in Melbourne during the city's wettest month of October would either be a reckless gambler or insane. For that reason, the main festival stage is in a large warehouse-like building while there is a smaller outdoor stage and another in the adjacent Pirates Tavern bar. (While the weather was fine for most of this afternoon, as usual it turned chilly in the evening). This year's line-up was one of the biggest so far of the nine Out On The Weekend festivals to date. Certainly, the headliners Asleep At The Wheel were one of the most legendary names to have appeared there – amazingly enough on their first Australian tour in the band's 51 year history. Like all the other international acts on the bill they are also on tour here. Perhaps the other acts didn't conjure the same spell as some previous acts such as Justin Townes Earle (after which one of the indoor bars is now named), Son Volt, Ryan Bingham, Tony Joe White, The Felice Brothers or even Tex, Don & Charlie and local favourites Wagons.
But this festival is also renowned for exposing newer acts who go on to much bigger things like Margo Price, Sierra Ferrell, Molly Tuttle, Courtney Marie Andrews, Marlon Williams and Freya Josephine Hollick (to name just a few), whose career have escalated dramatically since their appearances at this event. The same should be the case with some of this year's acts.
So, the promoter Brian Taranto (or BT as he is affectionately known by everyone) must be part seer as well as part gambler. No doubt he is probably also some sort of good Samaritan benefactor type because, while the crowd number was solid, and probably more than last
year, it is fairly apparent that the business name behind these events Love Police is apt because it is obviously a major labour of love.
While I arrived, after radio duties, in time to see Summer Dean put in a solid half hour set on the main stage I was then knocked out by Nat Myers on the outside stage, having spoken to him that morning. Myers, who was 'discovered' by Dan Auerbach of the Black Keys and
released on his Easy Eye Sound label. Now 32 years old, the Kentucky-based Myers looks a decade younger and sounds at least a decade older as he plays country blues in which you can hear Mississippi Fred McDowell and other blues from the 30s and 40s. His album Yellow
Peril explores some big issues as the title suggests but like his live performances it is something special.
Speaking of old-time music, Melissa Carper plays it so well that you might think that she had been transported from the 1930's. Carper not only has a distinctive voice but is also a feisty double bass player as she transports the audience, just like Myers, to another era entirely.
'Christian Girlfriend' closed the set, illustrating Carper's sense of humour as well.
Watty Thompson has created a lot of interest this year with his recent self-titled album and he possesses one of the most distinctive voices to come along in Australia for many years. With an eight-piece band behind him Thompson created a huge sound and got the audience
right behind him. Many of his songs not only have that anthemic feel to them but also carry some powerful messages. 'The Beauty That Surrounds Ya' was epic and impressive. It was great to see No Fixed Address given a slot on the outdoor stage and they drew a large and appreciative crowd with a mix of classics and some reggae thrown in. (The band's history is currently being celebrated in an exhibition at the Adelaide Festival Centre).
Ella Hooper was given the task of paying tribute to Linda Ronstadt and fronted the Deadnecks (named after their celebrations of the Grateful Dead). It was an inspired choice and Hooper threw herself into the task with gusto performing all the hits: 'It's So Easy',
'Poor Pitiful Me', 'Tumbling Dice', 'Willin'', 'Silver Threads and Golden Needles', 'Love Is a Rose', 'Carmelita', 'Simple Dreams', 'Long Long Time', 'When Will I Be Loved', 'Blue Bayou' and 'You're No Good'. It was a very impressive 45-minute homage to one of the greats, which prompted the thought that this could also be taken around to other venues in future.
The Pink Stones, led by Hunter Pinkston from Athens, Georgia, were another one of those bands that are appearing here on the cusp of bigger things. They started their set auspiciously with Neil Young's 'Cortez The Killer' with my only complaint being that they did
a four-minute version which was about 10 minutes too short as far as I was concerned. Still, it ticked the right box and while the rest of the set was drawn from their two albums to date they proved that they are on an upward trajectory. Willie Watson on the main stage and Jenny Don't & The Spurs on the outside stage preceded Asleep At The Wheel but there was still a lot happening during the afternoon in the Pirates Tavern with The Pleasures, Bud Rokesky (with people raving about him), The Bures Band, Nat Myers and even some two-step dancing!
The highlight of the day has to be Asleep At The Wheel due to the band's legend, its catalogue of great songs (their own and others) and the great players. Founding members Ray Benson and pedal steel maestro Lucky Oceans (long-time resident of Perth) were joined by tourists Brennen Leigh and Joshua Hedley plus local musicians to re-create the classic sound of the band. Sonically, this is the best the main stage has ever sounded with the musicians somehow able to transcend the cavernous proportions of the warehouse. Ray Benson sounded as sonorous as ever and was supplemented by Leigh and Hedley – who dueted and sang lead when required – and the superb playing of Oceans. They rolled out the classic: 'Miles and Miles of Texas,' 'Route 66', 'San Antonio Rose', 'Faded Love', 'Milk Cow Blues', 'Take Me Back To Tulsa', while Leigh chimed with 'In Texas With A Band' which she recorded with The Wheel on Obsessed With The West' and Hedley added his own 'Mr Jukebox'. It was a treat but those who saw them the night before at the Thornbury Theatre were delirious about that two-hour show. It was a great end to a day that has become firmly fixed in the musical calendar as one of the highlights of the year for Americana/roots music fans.
There is still chance to see Asleep At The Wheel this week if you are in Adelaide or Perth. Similarly, there are still dates for Melissa Carper, Nat Myers and Willie Watson, The Pink Stones and Jenny Don't & The Spurs. Check out: https://www.lovepolice.com.au