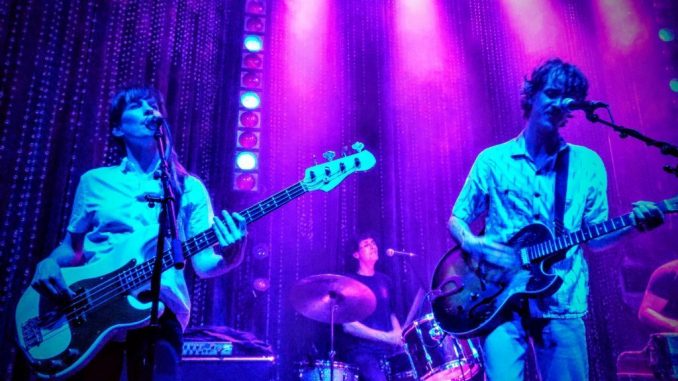 THE FELICE BROTHERS, JIM LAUDERDALE AND POKEY LA FARGE HEADLINE TOURS ANNOUNCED
Hot on the heels of being announced at Out On The Weekend in Melbourne, Love Police are taking some of the superstar artists around the country for special performances in October.
Over a decade and a half since they formed The Felice Brothers have evolved and matured into the very essence of soulful cosmic Americana and along the way have developed a truly powerful but wonderfully unpredictable live outfit combining edgy, rollicking roots music with fine playing and superlative singing. On record The Felice Brothers are magnificent. Live is where they really shine. The Felice Brothers tour hot on the heels of their first album in three years. With Undress, the band's folk-rock, down-home country sound and vision has matured and focused and findsThe Felice Brothers doing their best at making sense of our troubled modern times. And troubled times never sounded so good and so heartfelt as they do at a The Felice Brothers show.
Jim Lauderdale, who is appearing at his Australian shows with his band, has released more than 30 albums since the mid-80s and built a reputation as one of the most contemporary country, bluegrass and roots singers and songwriters.  A gifted and constantly entertaining live performer (he tells really great stories) Jim Lauderdale and his band promises to be a treat of epic proportions.  These concerts will find Lauderdale drawing heavily on his magnificent new album From Another World, along with material from right across his catalogue, plus some surprises.
Pokey La Farge returns to Australia for solo performances, an environment where his inspired mix of country, blues, swing and folk really have the opportunity to shine. Take it from Ketch from Old Crow Medicine Show: "All I can say for certain is nobody sings much like Jimmie Rodgers anymore and nobody crows, rakes, rips, yips, shouts, buzzes or croons quite like Pokey La Farge either."
Joining Pokey La Farge on his run of Australian shows is Sierra Ferrell, one of the big talking points of Out On The Weekend last year. Ferrell seamlessly fuses old and new into something distinctly her own. Call her blues, call her country, call her old, weird, Americana. Call her one of a kind. Sierra Ferrell is all of those things – and a whole lot more.
THE FELICE BROTHERS with guests
OCTOBER
12 – OUT ON THE WEEKEND, MELBOURNE
14 – THE LANSDOWNE, SYDNEY
the-felice-brothers-14-oct.in-tix.com
15 – THE TIVOLI, BRISBANE
moshtix.com.au/v2/event/the-felice-brothers-with-guests/114067
thefelicebrothers.com
lovepolice.com.au/the-felice-brothers-2019
JIM LAUDERDALE & BAND with guests
*CO PROMOTED WITH POTTS ENTERTAINMENT
 OCTOBER
11 – THE LANSDOWNE, SYDNEY
jim-lauderdale-11-oct.in-tix.com
12 – OUT ON THE WEEKEND, MELBOURNE
17 – THE TIVOLI, BRISBANE
moshtix.com.au/v2/event/jim-lauderdale-band-with-guest/114090
jimlauderdalemusic.com
lovepolice.com.au/jim-lauderdale-2019
POKEY LA FARGE (solo) with SIERRA FERRELL
OCTOBER
12 – OUT ON THE WEEKEND, MELBOURNE
13 – LIZOTTE'S, NEWCASTLE  
lizottes.com.au/live/shows/booking/2692
15 – THE LANSDOWNE, SYDNEY
 pokey-la-farge-15-oct.in-tix.com
16 – THE TIVOLI (SMALL ROOM), BRISBANE
moshtix.com.au/v2/event/pokey-lafarge-solo-with-sierra-ferrell/114083