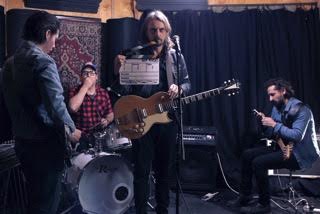 A CELEBRATION OF 1969, AND MORE ACTS ADDED.
It was 50 years ago. The Summer Of Love, Woodstock, Neil Armstrong sets foot on the moon, the 747 plane is introduced, the Easy Rider film is released, the Beatles perform on the roof of the Apple building and the Pontiac Firebird Trans Am muscle car is introduced.
A year so good The Stooges wrote a song about it – and a twelve months that saw the appearance of some of the greatest rock'n'roll, soul and country music in history.

Out On The Weekend festival celebrates three of the finest  of those albums with unique performances.
Bob Dylan's reflective and countrified Nashville Skyline and Dusty Springfield's southern soul masterpiece Dusty In Memphis will be performed by a soon-to-be-announced all-star cast with musical backing from Pete Luscombe, Dan Kelly, Bill McDonald and Clio Renner. And if that isn't enough, the Flying Burrito Brothers'  country rock cornerstone The Gilded Palace Of Sin will be performed by Lost Ragas and Australian music icon Brian Cadd who was part of a previous incarnation of the Burritos.
And there's more – with the announcement of new additions to the Out On The Weekend festival line-up on Saturday October 12 at Seaworks, Williamstown.
Joining the Out On The Weekend line-up are Australian artists Lost Ragas, whobring their cosmic country soul music to the festival, showcasing material from their brand new album and, returning to Australia for a performance at the festival, is now Nashville-based Ruby Boots.
Other newly announced artists include for the first time: Sean McMahon & The Owls, creators of one of the finest deep country/songwriter albums of the past year in You Will Know When You're There and folk rock duo Little Georgia.
They join the already announced The Felice Brothers, Jim Lauderdale, Pokey La Farge, Don Walker & The Suave Fucks, The Jonny Fritz & Joshua Hedley Show, Brian Cadd, Sierra Ferrell, Tami Neilson, The Easy Leaves, Molly Tuttle and Dee White. And that's not all. Still more acts and experiences will be announced down the line.

TICKETS: 
https://www.eventbrite.com/e/out-on-the-weekend-2019-tickets-62343555252

Prices
FIRST RELEASE TICKETS $119
YOUTH TICKET (ages 12-18) $50
CRIPPLE CREEK FERRY TICKET $199
KIDS UNDER 12 FREE
https://www.outontheweekend.com.au/
https://www.facebook.com/outontheweekend/
https://www.instagram.com/outontheweekend/