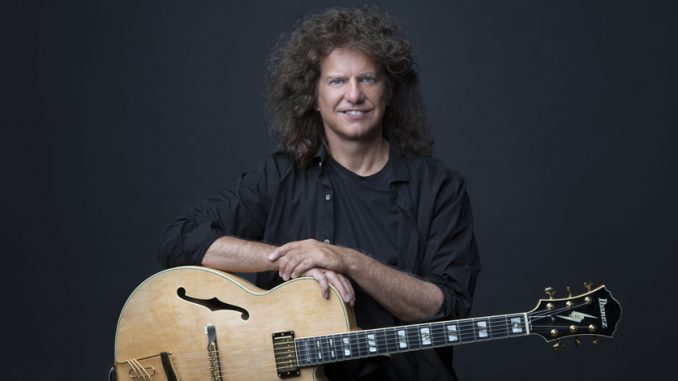 American jazz guitarist Pat Metheny has announced a trio of very special theatre shows in Australia next March.
With more than 40-years in the music industry, more than 40 full-length recordings, and 20 Grammy Awards, Pat Metheny's illustrious career can be described as no less than legendary.
In March 2020, for only the third time in four decades – following tours in 1985 and 2014 – he will bring his incredible repertoire to Australian stages. Helping him bring his catalogue to life will be an incredible trio of musicians; his longtime drummer Antonio Sanchez, bassist Linda May Han Oh and pianist Gwilym Simcock.
Metheny burst onto the international jazz scene back in 1974 thanks to his (soon-to-be) trademark playing style. With his first album, Bright Size Life released in 1975, he reinvented what was known as the traditional jazz guitar sound for a whole new generation of players.
In 2015, at 61 years old, Pat Metheny became the youngest-ever person to be inducted into the Downbeat Hall of Fame – only the fourth guitarist (alongside Django Reinhardt, Charlie Christian and Wes Montgomery) to receive the honour.
Since breaking out in the '70s, Metheny has continued to redefine the genre and push the boundaries and potential of his instrument. Even now, more than four decades on, he still continues to perform more than 100 shows a year, so we know he'll be in fine form when he lands in Australia.
With a catalogue as deep as Metheny's, there really is no predicting just what we might get at each of his Australian shows, in fact, he can't even tell us. "It could really be anything and everything. I have already written a bunch of new music which we recorded and will be released early 2020, inspired just by the thought of this presentation, but I could also imagine playing only old music one night. I like the idea of keeping it open and letting it become whatever it winds up being over the course of a tour," he says.
"At this stage, I have so much music and it all is kind of one big thing for me without borders or distinctions between this period or that period. With Antonio, Linda and Gwilym, I think we could and will do a wide range of things from throughout all of it – and maybe uncover what the next period has in store as well."
Pat Metheny March 2020 Australia Tour Dates:
Wednesday 4 March – Riverside Theatres, Perth
Friday 6 March – Palais Theatre, Melbourne
Saturday 7 March – State Theatre, Sydney
Pat Metheny March 2020 Australia Tour Onsale Info:
Fan Club Presale – Friday 13 September @ 10am (local time) until Monday 16 September @ 1oam (local time)
Live Nation Presale – Friday 13 September @ 10am (local time) until Monday 16 September @ 1oam (local time)
My Ticketmaster Presale – Friday 13 September @ 10am (local time) until Monday 16 September @ 1oam (local time)
General Public Onsale – Monday 16 September @ 11am (local time)
Pat Metheny will tour Australia in March 2020. Tickets are available via Ticketmaster.com.au.