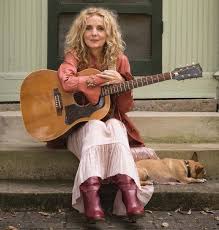 Iconic singer-songwriter Patty Griffin has announced her highly anticipated return to Australia.
For the first time in over a decade, she will bring her spellbinding live show to Meeniyan's Town Hall on Sunday 1 March, Melbourne Recital Centre on Tuesday 3 March, Bendigo's Capital Theatre on Thursday 5 March, Sydney's City Recital Hall on Tuesday 10 March, Brisbane's The Tivoli on Thursday 12 March, and Lismore's City Hall on Friday 13 March. She will also perform sets at Port Fairy Folk Festival on 7-8 March.
Last in Australia in 2008 for sold-out shows, Patty Griffin has attracted a cult following with her intimately passionate performance style, telling heartfelt stories with her vivid, powerful vocal.
Over the course of two decades, the GRAMMY Award-winner – and seven-time nominee – has crafted nine classic studio albums and two live collections, a remarkable body of work that prompted the New York Times to hail her for "[writing] cameo-carved songs that create complete emotional portraits of specific people…(her) songs have independent lives that continue in your head when the music ends."
Widely regarded among the best singer-songwriters of her era, this year's self-titled album, Patty Griffin collects songs written during and in the aftermath of profound personal crisis, several years in which she battled – and ultimately defeated – cancer.
Patty Griffin's universal songbook has been covered by Kelly Clarkson, Dixie Chicks, Miranda Lambert, Melissa Etheridge, Susan Boyle, and more. Griffin has also collaborated with a wide range of prolific artists, among them Emmylou Harris, Robert Plant, Jack Ingram, Gillian Welch, and David Rawlings.
Chronicling love and death, heartache and joy, connection and detachment, Patty Griffin continues with her uncanny perception and ever-increasing ingenuity. A starkly beautiful live show, the return of this pillar of Americana is not to be missed.
PATTY GRIFFIN'S SELF-TITLEDALBUM OUT NOW
Patty Griffin's 10th studio recording and first-ever eponymous LP, Patty Griffin immediately stands among the most creative and deeply personal works of the GRAMMY® Award winner's remarkable two-decade career.
"Sometimes the shit hits the fan and there's nothing you can do about it," she says, "so you dig your way out of it and you learn a lot. That concept has been in place in my mind and my body for a long time. It's normal stuff. It's life. It's a pain in the ass."
Songs accumulated as Griffin spent "hours and hours and hours each day singing," working tirelessly to retrain her voice. As her strength slowly returned, Griffin reached out to her long-time friend and producer Craig Ross to discuss her burgeoning musical ideas.
The stories within Patty Griffin are among the most poignant – and pointed – of any in Griffin's wide-ranging canon. Griffin has long melded her acute self-examinations with reflective observations of the world around her, more often than not circling back to thoughts of love and connection.
PATTY GRIFFIN 2020 TOUR DATES
TICKETS ON SALE 11 AM, MONDAY 16 SEPTEMBER (LOCAL TIME)

MEENIYAN Sunday 1 March – Meeniyan Town HallLyrebirdartscouncil.com.au
MELBOURNETuesday 3 March – Melbourne Recital Centre Melbournerecital.com.au
BENDIGOThursday 5 March – Capital Theatre (All Ages)Gotix.com.au
PORT FAIRYSaturday 7 – Sunday 8 March – Port Fairy Folk Festival PortFairyFolkFestival.com
SYDNEYTuesday 10 March – City Recital Hall (All Ages) Cityrecitalhall.com
BRISBANEThursday 12 March – The Tivoli (18+)Ticketmaster.com.au
LISMOREFriday 13 March – Lismore City Hall Lismorecityhall.com.au